Cougars Head East for Louisiana Matchup
Houston, Ragin' Cajuns meet in rematch of 2015 thriller
http://www.uhcougars.com/sports/w-baskbl/spec-rel/121316aaa.html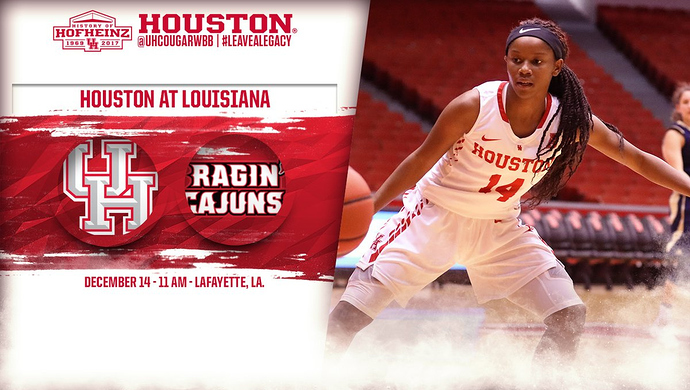 SCOUTING THE RAGIN' CAJUNS
Louisiana enters Wednesday's contest with a 4-2 overall record, and a 2-0 mark inside the Cajundome. The Ragin' Cajuns had just one matchup last week, an 87-57 win over Southern-New Orleans.
Louisiana is led offensively by a trio of players including Jaylin Gordon who contributes 19.7 points per contest. In six games this season, Simone Fields has scored 15.5 points per game, while Jasmine Thomas has added 10.7.
On the glass, Fields paces the Cajuns with 8.5 rebounds per game, while pulling down 4.6 per contest on the offensive end alone.
Entering play on Wednesday, the Ragin' Cajuns are averaging 70.0 points per game, while allowing opponents to score 70.3. On the glass, Louisiana gets outrebounded by 6.3 boards per game at 44.0-37.7. The Cajuns shoot 39.1 percent from the field while allowing opponents to shoot 27.8 percent.