Be nice to beat SMU
http://www.uhcougars.com/sports/w-baskbl/spec-rel/022617aaa.html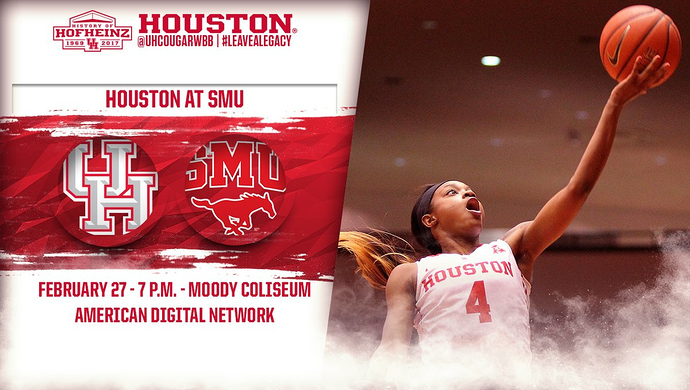 SCOUTING THE MUSTANGS
SMU enters play on Monday with a 15-13 overall record and a 6-9 mark in American Athletic Conference play after falling to UCF 63-37 on Saturday. The loss snapped a 2-game winning streak for the Mustangs.
As a team, the Mustangs average 59.0 points per game, while allowing opponents to score 59.2. SMU shoots 36.9 percent from the field and 26.0 from beyond the 3-point line while allowing opponents to shoot 35.2 percent and 31.9 percent respectively.
Individually, the Mustangs are led offensively by a pair of players who average double-figure scoring. Alicia Froling contributes 14.2 points per game, while McKenzie Adams adds 11.9. Froling has led the team with 200 rebounds this season, a pace of 10.5 rebounds per game, to average a double-double per contest.