And don't forget the Baylor game in the final 4 and the Villanova game we played terrible and got out coached. We were in no way ready for Miami.
Still I am very, very happy we have the Sampson's on our bench
We didn't get out coached in the Baylor game. I wouldn't say Drew outcoached us and I wouldn't say CKS outcoached Drew. Baylor was just way better than us.
I think the Villanova game we were gassed and cold. I don't think we were outcoached.
Miami we were outcoached but I don't know what CKS could've done. The team had internal issues in March and we couldn't shoot. J'wan was sorry against Omier. You can't get a player to stop playing soft.
I am being harsh because J'wan did have an injury last March.
@bigmccoog those are all NCAA tournament games. Against elite opponents
Villanova, Miami and Baylor were all Final 4 teams. The Baylor and Miami losses. You are right. UH had 3-4 days to prepare for those games. And got whooped
UH football gets exposed by average teams Rice, SMU, Tulsa
No way I am comparing our elite basketball program to our football.
We can only hope football will one day be that good.
Just pointing out we have had some disappointing losses in hoops.
I was just hoping the football team would be decently entertaining enough to get me to UH basketball season. I wanted a fall back in case the Astros flamed out early. Now all my hope is on a deep run by the Astros. If Dana can't get his players ready for Rice, the Big 12 slate is going to be brutal.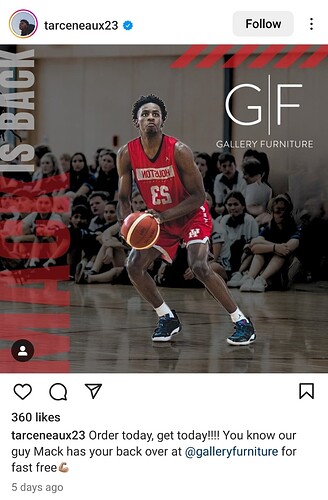 Arceneaux is a lefty now…
(Similar to YouTube, if you inverse the image/video you can avoid copyright issues. This is probably a UH basketball photo, and to be used in NIL, they have have to do this to it)
Coach Sampson has done more than enough for the school and the program. I have legit blind faith in him unlike holgo. We could start 0-5 and I wouldn't sweat it