Our future conference went 7-3 today against the "other" top conference. Next year will be fun!

Shame this was the last year of the challenge if I'm not mistaken. Not sure if the league already has another challenge lined up. Would be cool if they did though.
The "other" top conference is the big10…… just ask them and ESPN

We already have a Big East challenge that hopefully will continue. Rumors are that a Big 10/Big 12 series could start too. Depends on Fox's interest in these challenges. Fox could do a battle of the Bigs with all three Fox properties (Big 10, Big East, Big 12) playing each other
No one really knows right now.
Yes, they will have about a dozen teams in the dance and maybe two or three will win in the round of 64. Maybe one or two will make the sweet 16.
My guess is only 1 makes it past the first weekend.
The Big 12, it just means more!



https://twitter.com/Big12Conference/status/1619830589238177794?t=SIE39cYS5ZuBtcBkOnvOlQ&s=19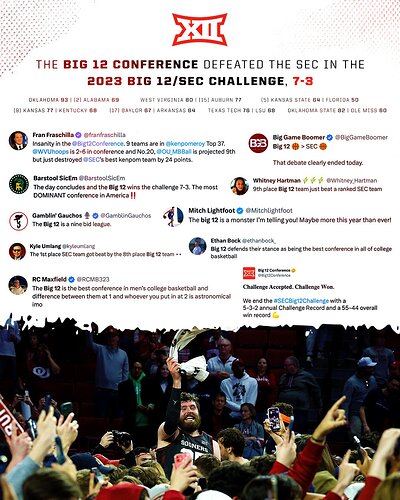 There is no question that the best basketball conference is the Big 12. There isn't a close second.
I've heard that from the talking heads this year… They know they can't make an argument against it.
Haha. I see what you did there.
Securities and exchange commission
Same thing.
Some movements after this weekends huge games.