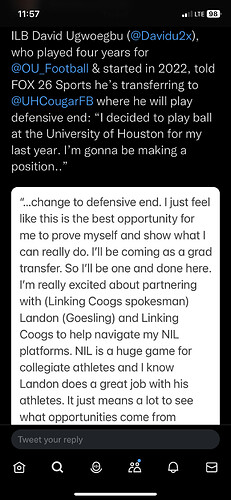 https://twitter.com/markbermanfox26/status/1617926249908953090?s=46&t=KmpBRlxhuj6Xt4h-7mpgpQ
MASSIVE GET!
This guy actually has stats!!! Nice!!!
One year only but I'll take it
109 talckes at OU!? Sheesh our LB core is stacked
Took over once that debacle last week!
Needed to organized UH football NIL plan.
Sounds like he figured it out. He is our version of Jerry McGuire.
Now this is more than a mere "boom."
This is a KAPOW!!!
He probably seen the success Derek Parish was having before he got injured.
Secret weapon: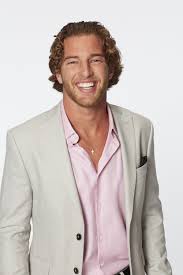 I wonder how Landon gets compensated? By signing let's say the Mattress Mack basketball deal or does he get money every time a player signs under an NIL deal he put together? He is not just doing NIL work for the love of U of H lol
I am sure he is on salary.
He seems to be operating sort of like an agent. I would assume he is getting commission?
Did David give him a rose?
A smart move. All B12 Ethan Downs was in front him at weakside DE at Ok.
"Ugwoegbu played plenty of football in Norman, tallying 36 total games under his belt. He totaled 208 tackles, 16 tackles for loss and four sacks."