2016 Bowl Game Preview: San Diego State
By: Jimmy Schofield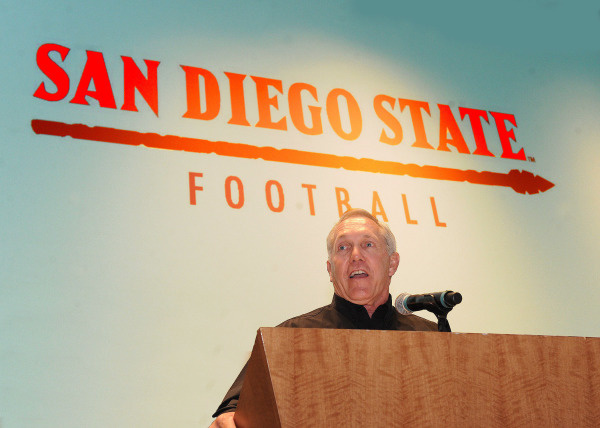 photo courtesy goaztecs.com
Your Houston Cougars conclude the 2016 season in the Las Vegas Bowl against the Aztecs of San Diego State. Game time for this December 17 matchup will be at 2:30pm (CST) and will be televised via ABC.
The Aztecs (10-3, 6-2) are coming off their second consecutive Mountain West Championship (winning the conference three out of the past five seasons) and are led by coaching veteran Rocky Long who's 53-26 in six seasons. Long was the defensive coordinator for the previous two seasons before being hired as head coach, a position he kept since the hiring. Before that, Long was head coach at New Mexico for 12 seasons in which he amassed a 65-69 record. In his 39 seasons in coaching he's spent all but three somewhere in the western portion of the country (New Mexico where he graduated in 1971, Wyoming, Oregon State, the BC Lions of the CFL, and UCLA). Even those three aforementioned years not spent on the west coast were somewhat west as he was a secondary coach for TCU from the 1988 through 1990 seasons.
Long is what we would call an "old school" coach. He preaches physicality on both sides of the ball via a strong between-the-tackles run game on offense and an aggressive, blitzing defense that's about stopping the run first. In that aspect he sounds a lot like new Houston Cougars (9-3, 5-3 in the American Athletic Conference West) head coach (and offensive coordinator) Major Applewhite, who takes over the reins after being hired this past Friday from interim head coach and defensive coordinator Todd Orlando.
Of course having a running back like the Aztec's Donnel Pumphrey (5-foot-9, 180 pounds, Sr.) makes it easy to believe in "three yards and a cloud of dust" philosophy. The four year starter ranks second nationally in rushing yards with 2,018 (on 330 carries) and has 16 touchdowns. Entering the game on Saturday, he'll need 107 yards to break the all-time NCAA FBS record of 6,397 yards held by Wisconsin's Ron Dayne. The shifty Pumphrey has it all; if he gets to the edge it's game over as he has the speed to take it to the house (as he averages 6.1 yards-per-carry). He's not just a "scat back" however as he also has the power to pound it between the tackles as his 25 carries-per-game and 39 consecutive starts attests. He demonstrates great patience in the box in allowing his line to open holes for him, and when he finds one he's a "one cut and go" type of back, meaning once he plants his foot in the ground he's great at cutting back off the weakside when the line is zone blocking. In their man blocking schemes, he's great at "getting skinny" to cut through the hole and once he's met around the line of scrimmage he's got a great spin move that allows him to bounce off of would-be-tacklers. Pumphrey is also great at reversing field when he gets bottled up, so it's going to be important for Orlando's defense to be able to tackle well in space.
The Aztecs run a pro-style offense under first year coordinator Jeff Horton (who's in his sixth season with the Aztecs and a 30 year coaching veteran overall). They average 35.3 points-per-game to rank them 31st nationally and 419.1 yards of total offense (32nd); 273.3 yards rushing (7th) and 145.8 passing (119th). They'll be facing a Cougars defense under Orlando (who's in his second season leading the "Third Ward Defense") that allows just 22.6 points-per-game (27th) and 325 yards total offense (14th); 97.9 yards rushing (3rd) and 227.1 passing (66th).
The Aztecs run game is so much more than just Pumphrey as hard as that is to fathom. When Pumphrey does need a rest, Horton just sends in Rashaad Penny, a 5-foot-11, 220 pound bruiser who "only" adds 995 yards (on 126 carries) and an additional 11 TD's on the ground. If you would assume Penny is "Mr. Inside" to Pumphrey's "Mr. Outside" you would be assuming wrong. Penny has just as much speed as Pumphrey has between-the-tackles power as he averages 7.9 yards-per-carry as well as outstanding speed to the outside. He's also the Mt. West Special Teams Player of the Year as well via his dynamic kick return abilities (we'll get to that more in a bit).
As if you hadn't heard enough of the dynamic duo in the Aztecs run game, Pumphrey is also a dynamic receiver coming out of the backfield due to his soft hands. The Associated Press second team All-American is tied for the team lead with 26 receptions for 205 yards mainly via the screen game. He and Penny will also motion out wide in forcing smaller corner backs to cover them. Penny adds 14 receptions for 220 yards for a tidy 15.7 yards-per-reception and 3 TD's. With opponents stacking the box defensively, Mikah Holder (6-foot, 180, Jr.) is the main beneficiary receiving wise in their West Coast passing scheme as he averages 21.9 yards-per-reception (569 yards on 26 catches and 5 TD's), mainly via play-action. Eric Judge (6-1, 195, Sr.) and Curtis Anderson (6-3, 200, Sr.) share the other receiver spot as Judge has 182 yards on 16 receptions while Anderson has 31 yards on 6 catches. Quest Truxton (6-foot, 180, Jr.) averages 14.2 yards on his 11 receptions (156 yards) with three going for TD's backing up Holder. With as many receivers that have to be accounted for, fullback Nick Bowden (6-3, 240, Jr.) leaks out of the backfield, mainly on short yardage downs via play action as he has 14 receptions for 117 yards.
Holder will probably be locked down by Cougars corner Howard Wilson (6-1, 185, So.) who has 14 passes defended (nine breakups and five intercepted). Jeremy Winchester (6-foot, 190, So.) and nickel back Brandon Wilson (5-11, 200, Sr.) must be able to cover Judge and Anderson one-on-one so safeties Garrett Davis (6-1, 200, So.) and Khalil Williams (6-foot, 200, Jr.) can concentrate on stopping the Aztecs run game. Winchester has shown flashes of nice play in coverage (eight passes defended and 32 solo tackles) but has been picked on and beaten often this year. Of course it must say something about his makeup that Orlando continues to trot him out there week after week despite getting burned deep so often. Wilson is an excellent open field tackler (four tackles-for-loss, two sacks) and will no doubt be paying close attention to Pumphrey and Penny but must also be aware of tight ends David Wells (6-5, 255, Sr.) and Parker Houston (6-3, 240, Fr.) in the play action pass game as both are more than able receivers when they aren't blocking inline. Wells is their second leading receiver in both yards (261) and TD's with four and is third in receptions with 21. Houston has four receptions for 27 yards and a score.
Speaking of blocking, all of the San Diego State receivers are excellent perimeter blockers so the Cougars secondary must be able to get off their respective blocks or the Aztecs will have numerous explosive plays. Both Davis (41 solo tackles, seven for loss, three sacks) and Williams (45 solo tackles, five for loss) have been caught with their eyes in opposing offenses backfields in the Coogs three losses this season so they must read their keys and not get burned off the play action pass game.
The Aztecs quarterback, Christian Chapman (6-foot, 200, So.), is the quintessential 'game manager' in that he doesn't make mistakes to get them beat. For the season he averages just 143.5 yards passing-per-game but completes 60-percent of his passes (143-for-237) with a 3-to-1 TD to interception ratio (18 TD's to only 6 picks). Efficient would be a great way to describe the Carlsbad, California native as his 147.87 efficiency rating is 27th nationally. Chapman is also good at making the right checks at the line of scrimmage to the correct run call so his backs don't run directly into a run blitz. He's also good at using his legs when a play breaks down as he's just athletic enough to break the pocket and gain yardage or give his receivers time to get open downfield.
Anytime a team has a great run game, the offensive line has to get a lion's share of the credit and the Aztecs O-line reminds me of the famous saying, "Lions don't dream of hunting. They just hunt." The line of Kwayde Miller (6-7, 315, Sr.), Nico Siragusa (6-5, 330, Sr.), Arthur Flores (6-5, 305, Sr.) Antonio Rosales (6-4, 295, Jr.) and Daniel Brunskill (6-5, 260, Sr.), (from left to right tackle) have started every game this season and have a combined 139 career starts heading into Saturday's game. They love to get out to the second level and hunt opposing linebackers and defensive backs when they man block and are a cohesive unit when blocking together via their zone blocking schemes. They're also tough as Miller is playing with a broken right hand. Siragusa was just named to the AP All-American third team. When the Aztecs go to their jumbo package, Ryan Pope lines up at tight end with his 6-foot-7, 325 pound frame. Wells and Houston do a great job along the edge as tight ends in the blocking game and Bowden is a true head hunter from his fullback position who loves to clear out the middle in the old "Lead-Iso" play.
If anybody is up for the challenge of this massive and mean offensive front, it's the Cougars front seven led by Ed Oliver (6-2, 290, Fr.) at the nose. The USA Today, Sports Illustrated, Sporting News and AP All-American first teamer has an engine that doesn't quit as he leads all defensive linemen nationally with 43 solo tackles and nine passes defended. Oliver is also a bull in opponent's backfields as he's eighth nationally with 19.5 tackles-for-loss. He'll be flanked by his usual duo at end of Cameron Malveaux (6-6, 270, Sr.) and Nick Thurman (6-4, 290, Jr.) whom add a combined 11.5 TFL, three sacks and two fumble recoveries. Jerard Carter (6-3, 290, So.) and BJ Singleton (6-4, 305, Sr.) add a combined two TFL in reserve but are important in the five man rotation in giving Oliver, Malveaux and Thurman breathers throughout the game. This will be important this week against a San Diego State team that averages 46 carries-per-game and with Oliver still recovering from an MCL sprain suffered last month.
It will be imperative that the Coogs down linemen hold off the Aztecs offensive linemen at the point of attack so the inside linebacking duo of Steven Taylor (6-1, 225, Sr.) and Mathew Adams (6-1, 230, Jr.) can shoot the gaps against Pumphrey and Penny. Taylor must be at his high flying self as he's best when Orlando has him attacking the offense from different angles so opposing Olinemen can't figure out where he's coming from. For the season Taylor leads the team in total tackles with 72 (39 solo) and sacks (8.5) and is second with 11 TFL while adding three forced fumbles, two fumble recoveries and an interception that he returned 75 yards for a TD. Adams meanwhile leads the team in solo tackles with 50 (70 total) while adding seven TFL, two sacks and a forced and recovered fumble. Outside linebacker Tyus Bowser (6-3, 240, Sr.) must continue to play great along the edge in both the run and pressure game. He must "set the edge" and not lose contain when the Aztecs running backs decide to run outside. For the season Bowser has 10.5 TFL and 7.5 sacks.
Defensivley for the Aztecs, Long acts as his own defensive coordinator and loves to attack opposing offenses via pressure, or blitzing. For the season they allow only 21 points-per-game (19th) in the always high scoring Mt. West. Long's defense allows just 320.8 yards-per-game total offense (12th); 111.9 rushing (11th) and 208.2 passing (40th).
With Applewhite acting as his own offensive coordinator and play caller on top of the head coaching duties, it'll be interesting to see how, if at all, the offense changes as the Coogs average 38 points-per-game this season to rank them 20th nationally. Their 459.2 yards of total offense ranks them 34th; 157.2 rushing (87th) to 301.9 passing (15th).
Greg Ward Jr. (5-11, 190, Sr.), who will be taking the field as a Cougar for the final time, has a starting record of 27-6 over his three seasons starting after taking the job midway through the 2014 season. His 302.5 yards passing-per-game ranks him 11thh nationally while his 67.6 completion percentage ranks him eighth. His decision making will have to be on-point Saturday afternoon against an Aztecs secondary that will mix man and zone coverage and that has playmakers at each level of the defense. Ward has passed for 22 TD's to 9 interceptions this season and will have to use his legs against an attacking Aztecs defense. The Tyler, Texas native leads the team with 518 yards rushing (on 175 carries) and an additional nine TD's on the ground.
The Aztecs employ a 3-3-5 stack defense which is great in disguising where blitzing will potentially come from. Up front they're very athletic and will line up in three, four or five man fronts, led by defensive ends Alex Barrett (6-3, 255, Sr.) and Kyle Kelley (6-3, 260, Sr.). The duo combines for 17.5 TFL (11 by Barrett) and 11.5 sacks (6 by Kelley). The middle is manned by Noble Hall (6-3, 265, Sr.) who does a great job at holding his own despite his smaller size (for a defensive tackle) and has four TFL and two sacks. He's joined at tackle by Sergio Phillips (6-2, 295, Jr.) when they go to a four man front as he adds a combined seven TFL and sacks. Dakota Turner (6-3, 250, Jr.) is another athletic end who adds four TFL and two sacks as a reserve.
The Aztecs top two tacklers are linebackers Calvin Munson (6-1, 245, Sr.) and Ronley Lakalaka (6-foot, 230, So.). Munson ranks 30th nationally with 108 total tackles (53 solo) as he has a true nose for the ball from his middle linebacker spot. He also leads the team with 17 QB 'hurries' and is second with 10 TFL while adding 3.5 sacks. Lakalaka has 64 total tackles, 32 solo and two for loss with two interceptions as well. Austin Wyatt-Thayer (6-5, 230, Sr.) adds seven combined TFL and sacks (3.5 each) in reserve.
The key for the Aztecs defense is that anybody can pressure the offensive line from anywhere as they'll run linebackers or safeties up on delayed blitzes while dropping back defensive linemen on called zone blitzes. They'll also call overload blitzes from either side and won't hesitate to send a corner on a blitz. The Coogs offensive line of Josh Jones (6-5, 280, RFr.), Mason Denley (6-4, 305, So.), Will Noble (6-4, 290, So.), Marcus Oliver (6-3, 295, Jr.) and Braylon Jones (6-3, 278, Fr.) from left to right will have to make sure they communicate well or they'll allow an Aztecs defender to attack freely. That communication has been difficult this year considering there have been seven different starting combinations this year, after 11 in 14 games last season. Not to mention that C.J. Irvin, a first year GA (graduate assistant) after graduating from Illinois State in December of 2015, is the new offensive line coach, taking over for Derek Warehime left for Texas. It is possible that Na'Ty Rodgers (6-5, 295, Jr.) could return at right tackle after missing the past five games due to a high ankle sprain. Alex Fontana (6-3, 310, Jr.), Mac Long (6-4, 300, Sr.) and Kam Eloph (6-4, 295, So.) will also rotate inside as the right combination still hasn't been found to help establish an effective run game this season.
In the outside zone game, tight end Tyler McCloskey (6-2, 245, Sr.) must seal the edge on outside runs and QB sweeps as the running backs are not blocking as well as Kenneth Farrow did last year. Running back Duke Catalon (6-0, 210, So.) is right behind Ward in rushing yards with 510 and four TD's while Dillon Birden (5-9, 175, Jr.) still leads the running backs with six TD's. Birden, unlike Catalon, doesn't hesitate to stick his foot in the ground and cut up field, adding 289 yards on 62 carries as his 4.7 yards-per-rush also leads the team. For the season their 3.6 ypc ranks them 110th while the Aztecs hold opponents to just 3.3 ypc, ranking them 10th.
In order to negate the Aztecs constant pressure, Applewhite must use Ward's effectiveness in the quick passing game to keep the offense ahead of the chains. Fortunately for the Coogs, this has been a strong point all season behind Steven Dunbar (6-3, 210, Jr.) and Chance Allen (6-3, 215, Sr.) on the outside and Linell Bonner (6-0, 200, Jr.) from the slot. Bonner leads the unit with 93 receptions (which ranks him sixth nationally) for 1,076 yards and three TD's. Allen leads with six TD grabs and has 56 catches for 815 yards while Dunbar has five TD's with 51 catches for 669 yards. The outside duo must win their one-on-one matchups on back shoulder fades and jump balls against a tough Aztecs cornerback tandem in Damontae Kazee (5-11, 190, Jr.) and Ron Smith (6-0, 170, RFr.). Kazee has 17 career interceptions with 7 this season (for 156 return yards) along with 15 passes defended and 41 solo tackles (60 total and 3 for loss), and is the Mt West defensive player of the year. While Smith may be smaller he's just as physical as Long has no problem in sending him after QB's on corner blitzes as he adds five passes defended and two picks himself. McCloskey had his best game as a Cougar in their last game against Memphis with 7 receptions for 86 yards, including a 29 yard TD down the seam, and has 212 yards for the season on 21 receptions with 4 TD's.
Long's defense has three safeties, two named the "Warrior" (think a strong and free safety) and a linebacker/safety hybrid called an "Aztec." Parker Baldwin (6-2, 215, So.) plays the Aztec and is the fourth leading tackler with 57 (30 solo and 3 for loss), while adding 9 passes defended (2 interceptions) and a forced and recovered fumble. He could be seeing a lot of time matching up on Bonner. Malik Smith (6-0, 190, Jr.) and the combo of Trey Lomax (5-11, 195, Jr.) and Kameron Kelly (6-2, 195, Jr.) play the two Warrior spots. Smith has 53 total tackles (29 solo and 2 for loss), and 8 passes defended with an interception. Lomax and Kelly meanwhile combine for 14 passes defended (8 for Kelly) and 4 interceptions (3 for Kelly) as the deep safeties.
Special Teams
Long places a major emphasis on special teams, and it shows on the field as they excel in almost every unit. Penny was named Mt West special teams player of the year as he averages 31.9 yards on 18 kickoff returns which is fourth nationally. The Aztecs average 28.3 yards-per-return as a team to rank second in the nation. The Coogs kick coverage unit will have its hands full as they allow 23 yards-per-return to rank 105th. Truxton averages 9.4 yards on his 27 punt returns as the Aztecs rank 40th nationally. Houston punter Dane Roy (6-7, 230, Fr.) has done a nice job via his rugby style punts in not allowing many punt returns however as the Coogs allow only 1.8 yards-per-return to rank them third nationally. For the season the Australia native averages 40.7 yards on his 55 punts, pinning opponents inside their own 20-yard line 19 times while booming another six punts at least 50 yards.
Coverage hasn't been the Aztecs specialty as they allow 20.4 yards per kick return (56th) and 9.2 per punt return (84th) including a touchdown. The Coogs however haven't been so special themselves in the return game as the season has winded down as they average just 20.4 yards per kick return (72nd) and only 4.1 per punt return (111th) behind several players in both return games. Wide receiver/backup QB D'Eriq King (5-10, 170, Fr.) averages 25.4 yards on 10 kick returns, including a 99 yard TD return while Brandon Wilson averages 23.6 yards on 17 but hasn't returned any since coming back from his high ankle sprain weeks ago. Reserve safety Colin Wilder (5-11, 175) seems to have taken over the punt return duties as he's been the best judge of knowing when to call for a fair catch or not. The true freshman averages just 4.4 yards on 9 punt returns while King averages 4.8 on six returns himself.
Tanner Blain (6-foot, 205, Sr.) averages 41.9 yards on his 56 punts for the Aztecs, pinning opponents inside their own 20-yard line 23 times while booming another 11 punts 50 yards or more. If the game comes down to a field goal, the Aztecs will have the advantage as kicker John Baron II (5-11, 190, So.) has connected on 19-of-21 attempts this season, including 6-of-8 from 40 yards out. The Mt West first team All-Conference kicker has just 30 touchbacks on 87 kickoffs so either King or Wilson should be able to bring the ball out. Ty Cummings (6-foot, 180, Sr.) has connected on 15-of-19 field goals with 3-of-4 from 40 yards plus. It'll be interesting to see if Applewhite goes for it on fourth down as much as Herman did when the Cougars offense is inside the opponent's 30-yard line. Cummings also has 36 touchbacks on 81 kickoffs so it's imperative that the return unit contains Penny.
Keys to the game
The Aztecs are 12th nationally in turnover margin at a plus-10 (25 turnovers forced to only 15 surrendered). Their 22 interceptions ranks them FIRST nationally so Ward cannot make bad decisions when in the pocket. The Coogs are ranked 84th nationally at a minus-3 ratio (21 turnovers to only 18 forced).
In what's likely to be a low scoring close affair, the team that produces in the red zone will have a huge advantage. The Cougars are 31st nationally in touchdown percentage when inside the opponent's 20-yard line, scoring TD's on 42-of-62 attempts (68-percent). The Aztecs rank only 62nd at 62-percent (29-of-47). Defensively, the Coogs are 43rd (58-percent) as they allow only 18 TD's on 31 attempts while the Aztecs are 100th, allowing opponent's to cross the goal line on 17-of-25 opportunities (68-percent).
Keeping the chains moving in between the 20's will also be important in wearing down the opponent as both teams like to control the pace. The Cougars offense operates at a much higher tempo as they have run more plays (1009 to 841) in one less game. The Coogs rank 16th in time of possession at 33-minutes, 8-seconds while the Aztecs are 32nd at 31-minutes, 39 seconds. One area Ward has excelled at is extending drives as the Cougars are seventh in third down conversions at 48-percent. The Aztecs third down defense is ranked 47th, allowing opponents to convert 37-percent of the time. The Cougars third down defense is 28th at 35-percent while the Aztecs offense ranks 52nd, converting 42-percent of the time.
The team that doesn't beat themselves penalty wise will also help their cause immensely as the Coogs rank 16th and 29th in penalties and penalty yardage with just 4.7 and 45.3 respectively. The Aztecs meanwhile are 106th and 105th with 7.3 penalties for 63.1 yards on average.
When it comes down to it, football is a simple game. Which team will be able to impose its will on the other? The winner will be the team that's able to establish a more physical presence than the other. Can the Cougars third ranked rush defense stop the Aztecs seventh ranked rush offense? Unstoppable force, meet immovable object.