Either he is NBA ready (he isn't) or the grass is greener somewhere else - I'd be surprised. If he wants to do a year in the D League I kinda get it I guess but I think going to another college team is foolish. The only thing I can think of is he wants to go to a program with less defense so he can focus on trying to be an 18-20 point per night alpha scorer to bring up his draft stock. I really don't know to be honest.
He wants to develop his game more on the offense of end like his jump shot. He just never look that comfortable this season and hesitant in Kelvin Sampson's offense. Maybe go to an offense that is more wide open and is more possession orientate. Somewhere like the Gleague would do him good as well.
Thanks for all the memories Tramon.
D League doesn't exist anymore.
Tramon is thinking about making money.
My opinion…
He is gone to the pros in whatever capacity he can make it…
He was making $ here and starting… On a 1 seed… With very high visibility…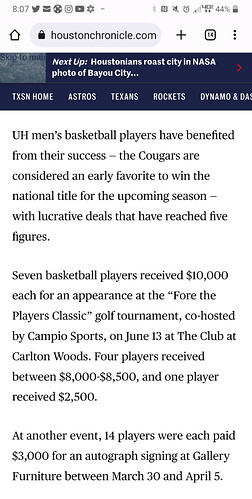 He wants out of Dodge, don't know why, but would guess CKS fatigue.
Probably tampering and someone dangling a big promise of a NIL deal.
Maybe he just likes the city of Omaha and he'll play for Creighton to have that opportunity.
Speaking of Kelvin i can see him handing the reigns to his son soon. He doesnt seem like a guy that would want a world tour goodbye

Penny & Memphis, maybe lol
I've seen Memphis in nearly every Offensive Player in the Transfer Portal, but hey, to their credit, at least they're trying to get more top talent.
Penny already has a Top 20 Recruiting Class of 2023, they're currently sitting at #16.
For reference, we're currently sitting at #25.
Source: https://www.on3.com/db/rankings/industry-team/basketball/2023/
I agree. I went to most all the home games and he did not look that comfortable out there.
Since I he's nowhere close to NBA ready, I bet he gets a huge NIL deal somewhere.
When Mark said he is testing the NBA Draft options it is possible that Sampson told him that he would not hold his Scholarship open for him to return. Same thing happened to Grimes at Kansas.
Why? Sampson has judged that Mark is regressing offensively. Due to shoulder injury? Who knows.
Might well be a giant personality clash. Tramon does not work hard enough. He talked back. Lots of things could have happened.
The turmoil in College Basketball is incredible.
One mention on the class is we got Lath early so he is no longer counted… kinda like Sharp last year so each year was a bit lower as a result. Seems kinda silly.
Now if Memphis actually had a coach…
In postgame interviews, Sampson talks about how he's clear with the kids on what their role is. Sometimes, the kids don't like it. My guess is that Tramon has a good idea of what his role on this team might look like next year, and it's something that he doesn't think is a good fit for him and his growth. He isn't going to convince CKS to change what Mark's role is going to be, so his other option is to go somewhere else where he can get what he wants.