Oregon and Washington have now jumped into the talks.
Add UW and UO…with sizable buy-outs for them…as we know they are already looking/begging.
Kill the Pac and hopefully secure our spot. Hopefully the ACC is stuck for a decade and we can further develop our program before the ACC falls apart and this all begins again.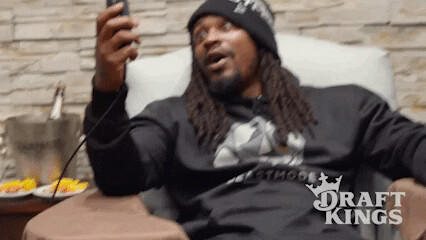 Don't screw this up now B12. I know y'all are new here and all, but this is so weird to see the B12 on the offensive instead of the defensive.
"Notre Dame's "preference" is to remain independent, according to Sports Illustrated. The possibility of earning $80 million to $100 million in the Big Ten could impact that stance, but Notre Dame has left money on the table before – actually for decades.'
Has there been any mention of ND getting their $$$ tripled or more by NBC & staying independent ? @ $15 million now. Till 2025.
NBC pays $2.7 billion for the EPL.
Why not go all in on ND for $40 + million if they like the fit.
Well well well it seems the Big12 put their big boy pants on.
"The difference in earning value between the Big 12 and Pac-12 would be "negligible" after this round of realignment…"
Uh oh, where's UHLaw with his steadfast affirmation that PAC would be making so much less than the B12 with LA schools gone?
I do believe that the Big 12 will come out on top. Too much is going its way very quickly.
Thank God we have Yormark leading the B12 at this point. We need a barracuda, not a flounder, in the lead.
If six PAC-12 schools join the Big 12, then the PAC's next media deal, even if the PAC miraculously survives, will be FAR lower than the Big 12's.
And take Oregon and Washington out of the conference. It is a lot less than the Big 12.
Agreed, but that's not what you were saying before.
Maybe lower than AAC money with 6 PAC leaving for B12.
The only way they remain a conference. Is if Oregon and Washington sign their rights over. And say they will never leave.
That's not going to happen. And once Oregon and Washington leave, the 4 Corner Schools have even less leverage than they do today.
That's not correct. I always said that the Big 12 and PAC-12 would have comparable payouts. That's what the forecast was BEFORE USC and UCLA bolted. Of course, our travel expense in the PAC would be much higher, leading to less profit. That's why I always recommended UH to the Big12 over the PAC.
That said, as I posted many times over the last few days, without its two blue bloods, and the LA market, the PAC's next media deal promised to suck balls.
Glad we didn't ever go to the PAC!
The statement in the article is (or at least reads to me) that the Pac-12 is worth about the same without USC and UCLA. (Which I don't think is correct. But that's the estatement.)
Dodd proposed combining the 8 best teams from each conference in that next article . How does this league shape up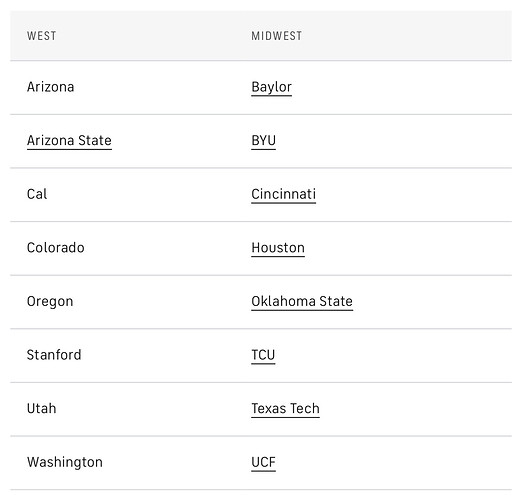 Iowas State is great with fan support and a damn good travel school for road games. They give you a good footprint in the Midwest along with Cincy. You do not want to drop Iowa State.