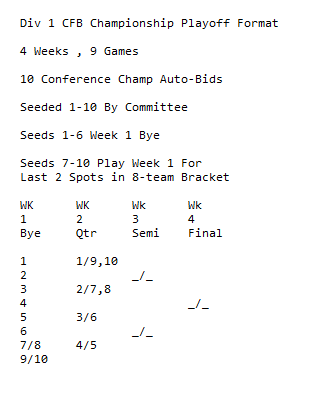 What is wrong with this?
I like it and have said it before. In addition, no Notre Dame, no conference, no conference champion, no playoff!
It is the most likely format if for some reason all conference champs are allowed in. The issue is that tv ratings have proven no body cares about watching a MAC or Sun Belt team. Also that they have almost no chance against the best teams in the country. The only way this format happens if the NCAA took over the playoff and started acting like a real non-profit that didn't care about money.
Living in reality, the best case scenario is to get an expansion to 8 that leads to 6 conference champs being auto bids. Far in the future, a 12 team playoff where the top 8 conference champs get an auto bid.
I think that most in the country are for the "little guy' and would pull for a Miami of Ohio vs. Clemson.
Undefeated Western Michigan in the Cotton Bowl did very badly with tv ratings and didn't come close to selling out the stadium. The following year they got USC-Ohio St and ratings went up 84%. Having a second SEC team will always be more profitable. Then you get into some ugly years where a G5 team may have 4 or 5 losses including huge blowout losses against average P5 teams. I see no reason why an 8-4 LA Tech who got beat by 40 to a 7 win P5 would be a good tv draw in the playoff. If it is about money, there will never be an auto bid for every conference.
Even in the NCAA basketball tourney, when you get down to the sweet sixteen and especially final four, the "cinderella" teams kill tv ratings.
If the little guy wins, then it destroys the crafted narrative that the big boy conferences are better. If they never play, you can't confirm and myth lives on.
Exactly. I do believe the Sun Belt pretty much owns the Big 12 this season at least.
I think if there were a playoff birth for every conference, the G5 would start recruiting better–maybe not Alabama or Clemson better–but better overall.
I don't think you can assume everything stays the same if you expand.
Right. The Cinderellas can deliver ratings sometimes when there is a great narrative or it's a Cinderella that's already developed a brand or has some uniquely marketable star, but most of the time the ratings are worse.
The ratings for 8 win Georgia Southern against Bama in a playoff would be awful.
As a Coog fan I'd love to see a playoff with autobids for every conference but it makes zero sense commercially and I also wouldn't make much of an effort to tune into a lot of the bloodbath playoff games unless they were close deep into the game.
The proposal for an expanded 8 team playoff with autobids for the P5 and a bid for the highest G5 is best case right now.