Ward's TDs rally No. 6 Houston to 40-16 win over Cincinnati

HOUSTON: The Cougars have their highest ranking since they were No. 3 in 1990. Any chance to move up? The top three teams in the poll - Alabama, Florida State, Ohio State - all play road games against ranked teams this week, while Michigan and Clemson are at home.
HOUSTON COUGARS OVERCOME MISTAKES, CINCINNATI; PROVE THEY'RE A CFP CONTENDER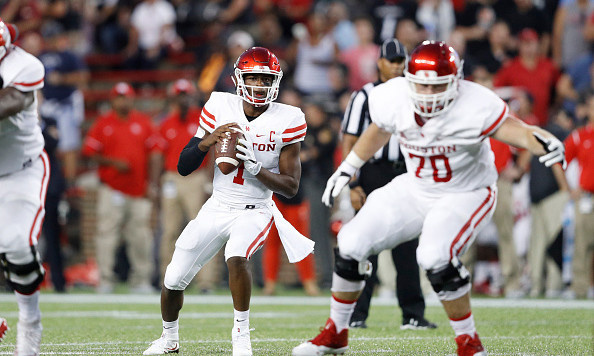 So, what does this victory mean in the grand scheme of things?
Simply put: it proves that Houston is a College Football Playoff contender. Even though the game was close for most of the evening, it's hard not to be impressed with what we saw out of the Cougars. Although Greg Ward wasn't 100%, he still had a solid outing, completing 24 of 36 passes for 326 yards, while rushing for 73 yards and two touchdowns. He was especially impressive when Houston fell behind, connecting with Linell Bonner on a 26-yard completion on third and five to keep the drive alive, and allow the team to take the lead for good.
Tom Herman has Houston playing more than offense

"I've never been around a championship level team that hasn't played great defense," Herman said. "We've got 4 keys in our plan to win, and the very first one is Play great defense, because if you play great defense, you're always going to have a chance to win. Offense is very rhythmic. It can be up and down and cyclical a little bit. But when your defense keeps you in ballgames you'r e going to have a chance to win."
NFL scouts from 15 teams attended Houston vs. Cincinnati
http://www.todayspigskin.com/pigskin-news/nfl-scouts-15-teams-attended-houston-vs-cincinnati/
NFL scouts from IND, ATL, HOU, OAK, MIA, DEN, ARI, PHI, SF, MIN, TEN, CIN, PIT, STL & JAX all in attendance for #6 UH vs.
Ed Oliver is the JJ Watt of College at only 18 years old and a true freshman. Imagine barring injury (knocking wood) into his jr yr.
Ward's TDs rally No. 6 Houston to 40-16 win over Cincinnati
http://collegefootball.ap.org/article/wards-tds-rally-no-6-houston-40-16-win-over-cincinnati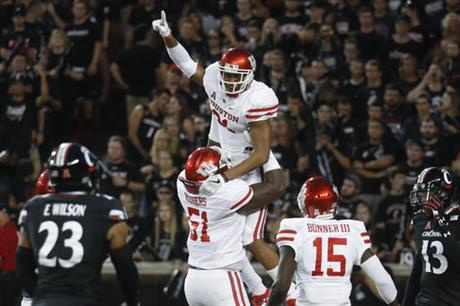 "We put in a defense just for him, some guys that were faster," Cincinnati coach Tommy Tuberville said. "We did a good job in pass coverage and he'd just pull it down and run. That's hard to defend."
Houston survives sloppiness, Cincinnati to keep playoff hopes alive

Still, Houston flirted with disaster, and the Bearcats nearly provided it. And as Herman's program found out a year ago against an underwhelming UConn team, a contender should take nothing for granted. Houston clearly looks more dangerous defensively, with touted defensive tackle Ed Oliver wreaking havoc up front and a secondary that put the victory away with timely interceptions and a pair of fourth-quarter touchdowns. But the offense needs some fine-tuning, and it also needs Ward to be completely healthy.