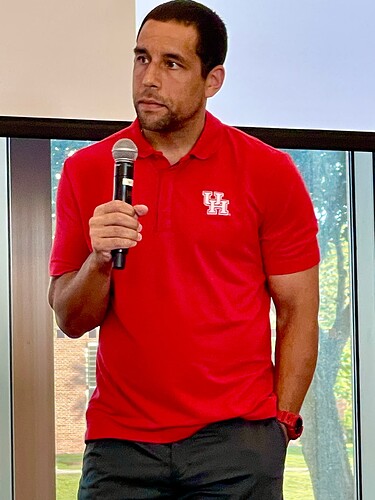 DISCLAIMER — All this is my recollections — Any mistakes & errors in this are all mine.
Mike Pede spoke 1st, then Coach Kellen talked for almost an hour. Both very interesting.
—MIKE PEDE—
Cullen Blvd. torn up both sides, a big mess, and probably won't be done until Christmas. One lane each way with wide sidewalks.
UHAA Football Tailgates including Life Member are moving back in front of Athletics/Alum Bldg because tent rents in front of Stadium have tripled.
Pretty sure he said you will have to pre-register for admittance to all UHAA & Life tailgates. Life member will be in the A/A building. We can use restrooms in the building. Will move to pavement if it rains so we won't be muddy.
I think UHAA tailgates will still be free but have to register & small fee ($10?) for other UHAA events. Small fee increases the % registered who show up — currently, without a fee, only 1/3 of those who register show up — wastes food, etc.
UHAA does campus tours so call 'em and they'll show you new Law Bldg., new Hotel, etc.
FB Team will stay at Campus Hilton before games and Cougar Walk is through campus. Cougar Walk will change again when $140mm Football Facility is completed end '25.
Visiting team tailgate will be near Lynn Eusan Park.
B12 requires visitor tickets to be bought by June or July (I think) so if you are going to buy away FB games through UH, do it soon.
Ft. Bend UHAA Thirsty Thursday will only meet 4X next year — twice each in fall & spring — next meet is August, I believe.
—KELLEN—
Kellen's nickname for his Dad is 'Chief'.
On wearing sweatpants at games — COVID year they were wearing dress pants & polos at games. When Caleb left, the Coogs were discouraged & the next roadie was a tough game with a pretty good SMU team. Chief forgot his dress pants & had to wear sweats. Good guys win! So it's sweats from there on out. If they lose a game, switch to new style of sweats. One year, Trainer had nine sweat styles to start the year & Chief said "You think we're going to lose 9 games?!"
NIL helps. Example: Parking is $800/yr. because players live in the Lofts. With NIL, this was the 1st year they've all had parking. Previously they'd been scrambling. Galen had to pay $1200 in parking fines before he could register sophomore year. One time Galen got booted by UH one day & the City the next day.
Kellen had long talk with Galen re: coaching after pro career — Kellen said the big shift is from being 100% focused on 'me' during career to 100% on players as a coach — Can't straddle that: full commit & shift.
Galen's nickname is the "Godfather" because he was the start of where Coog Basketball is today.
Said Chief would tell Kellen 2 minutes into some games, including Syracuse, that they were going to win. Someone asked for a special Kellen hand sign from the bench when that happens. Big laughs.
RE: Cookies & film at home before games — Been doing that since Kellen was 1 so 37(?) years — Started when Chief wanted to be home as kids were growing up. Redid cellar as a film room to make room for players. Kellen taped a court on the cellar floor as a small kid and played with his basketball set. Said he put on his Easter suit and threw his jacket off like Chief. In grade school had a "What do you want to be when you grow up?" form with room for 3 answers. Kellen wrote "Coach. Coach. Coach."
Interviewing at the Bucks: Chief worked with new GM when he was at the Bucks. This is GM's 1st head coach hire so he got advice from Chief.
He said Chief taught each one of the assts. how to do their jobs. It took 'em a few years to learn & then they started making the Tournament.
///
Food was good. Attendance was maybe 50-60 — weak, IMO. I wish I knew how to increase attendance at these things.
Repeat: All this is my recollections — Any mistakes, errors are mine.
Maybe @czcoog can add some info.