Coming around to the idea that TCU may have missed a big opportunity there.
TCU, like most FBS schools and their boosters, do not want coach Prime's . . . swagger. I think he should stay at Jackson State and try to build his HBCU dynasty there. After 2 losing seasons at a P5, those boosters are going to fire him.
Yeah, I think that's why it didn't happen but I think that may prove to be short-sighted (and I don't even think Dykes was a bad hire!).
They still diminish JSU by questioning if he will stay there or move to a "BIG TIME PROGRAM".
Prime doesn't need the $$$… I'd love to see him create a program that challenges the BIG TIME PROGRAMS for recruits annually.
If Sanders can get JSU's annual overall recruiting rankings in the 40s or maybe 30s, P5 programs will start calling him.
Right now, his overall recruiting ranking which includes transfers, is 73. Ours is 57.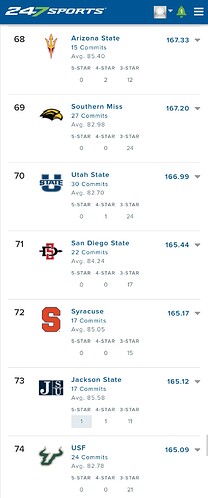 Prime will jump as soon as he is offered by P5. The rumor is that he is telling recruits an offer is coming soon and he'll take you with him when he does.
My point is maybe Prime says I can make as much through endorsements at JSU and turns down the P5s who didn't want him first… And if he does do that he may be able to build something special at JSU.
I don't think the #1 recruit in the country would go there if he thought Prime was leaving in 2 years.
I think he'll jump for a P5, but probably not any P5. He's not taking a job at Syracuse.
That's what seems most likely, though he'd probably take a job at a lesser school than that if he believed an invite to FSU-level program was not in the short-term cards.
Prime is serious Coach people get caught up in the persona, and don't see the underlying being under the persona. Prime is building something special for sure. I don't know if he will leave Jackson, he's a different breed.
That will never happen. JSU's ranking for recruits only is 110.
We have had coaches leave because they wanted a chance at a national title. If Sanders wants that chance he will leave and take his top players with him.
JSU is ranked 73 overall which includes transfers as you see in the screen capture.
He may have a different mission in mind…
Building up an HBCU into a legit football program may leave as much of a legacy as going to FSU and winning 3 nattys.
Sanders may be waiting for Saban to retire. Oops, no SEC school is going to call him.
May end up at Bama after Saban ( especially Saban endorses him for the job.) Lord help all CFB. Like Coach Nick said, "always room for one more" ring
It sounds like there are 2 more really good players he's trying to get but maybe they have not made up their minds.