nice list…not to be greedy but where are the 4 star recruits?
Petry is a four-star on one site, and we're recruiting a few. But this class likely won't have another Ed Oliver, maybe a Courtney Lark. Still, it should be a stronger class top to bottom than the last group, which included (going by Rivals ratings) seven two-stars. We only have one at this point, and he's a three-star on the two other major recruiting sites, he's the fastest player in the state, and he has offers from Arizona State and other P5s. Keep in mind Levine's last class only had two three-stars out of 26 signees. All the rest were two-star. We should again sign the top G5 class. How the season plays out will likely affect just where we end up in the big picture.
Personally … I've never ever believed in the star system …
Its the heart and key coaching … NOT THE STARS …
Texas and A$M have more stars than the Andromeda galaxy … and look where they wound up last year.
We were OUT STARRED by Florida State in the Peach Bowl and who won.
Give me a two star with more heart than a 3 or 4 and with our coaching he will out shine/play them.
while I understand that the stars are not absolute in predicting future success and the coaches will evaluate the talent themselves and decide who rates physically, mentally and has the right attitude and fortitude…I would rather be getting a few of the higher rated recruits every year so that we are viewed as an "in place" to go. this will help continue our recruiting dominance year in and out.
also imagine what CTH and company will do with 4 star talent…and great attitude.
But like I said, it is a very nice list at the camp…
Nice to see Bimage hanging around the program
Great stuff, Pray. I wasn't even aware of Rogers, and he's a big, local DT with an Aggy offer who's predicted to sign with us. Cool. I did know about the JC OT. He's also visited Alabama. Don't know just how good he is (don't see a 247 profile) or how likely we are to sign him.
EXACTLY!!! Spot on! - "We were OUT STARRED by Florida State in the Peach Bowl and who won"
Recruiting tweets I ran across today:
Kary Vincent - CB - Memorial - Holds UH offer

https://twitter.com/__KCINCO/status/740322153489256450
Daniel Young - RB - Westfield - Holds UH offer

Daniel Young (@Kidddvnn) w/#GoCoogs & #BoiseState offers caught everything at HOU #SMSBTakeover | pic.twitter.com/u02eexeDjq

— Nick Krueger (@RivalsKroogCity) June 8, 2016
Mohamed Sanogo - LB - Plano West - Holds UH offer

Mohamed Sanogo (@_momosanogo) has been killing it this spring, HOU #SMSBTakeover included... #GoCoogs #IUFB offers | pic.twitter.com/OEET5QKhJ2

— Nick Krueger (@RivalsKroogCity) June 8, 2016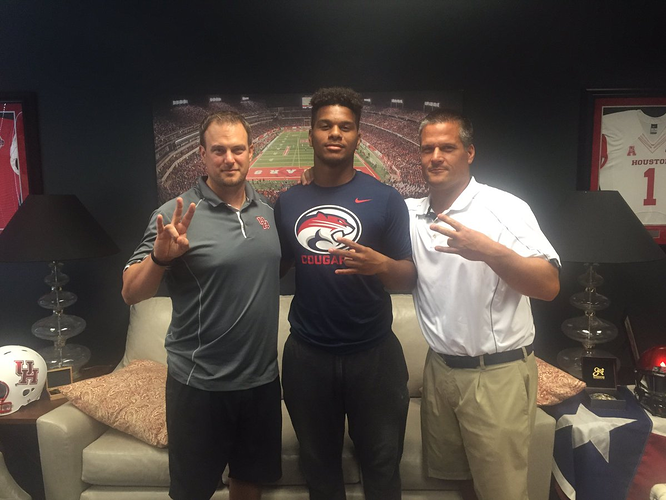 Brennan Eagles - WR - Alief Taylor - Holds UH offer (junior)

Stank eye from Brennan Eagles (@_xTOKYO) after stealing back a TD at HOU #SMSBTakeover - only has #GoCoogs offer | pic.twitter.com/t2oWXzZgYr

— Nick Krueger (@RivalsKroogCity) June 8, 2016
DJ Green - DB - Woodrow Wilson


Harold Watson - DB - Judson

Just a little something from U of H yesterday #GoCoogs 🔴⚪️ pic.twitter.com/A7JNZqKB0C

— Harold Watson (@lilwatson23) June 8, 2016
Michael Maldonado - TE/LS - Somerset

https://twitter.com/Michael_M22/status/740696887401930752
Anthony Williams - LB - Madison (junior)