Post Game Analysis: Connecticut
By: Jimmy Schofield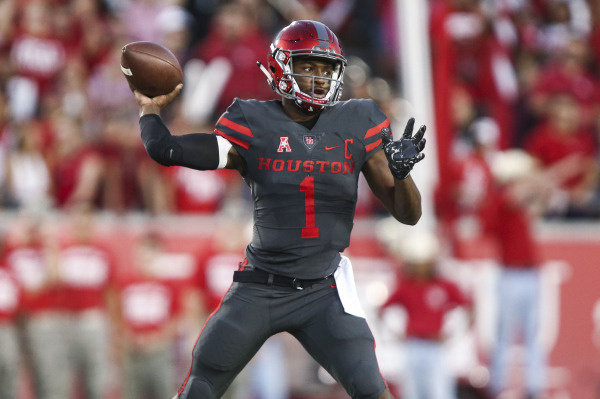 Photo courtesy of uhcougars.com
In a hard fought, physical contest, your sixth ranked Houston Cougars showed off their depth in a resounding 42-14 victory over the Connecticut Huskies Thursday night at TDECU Stadium.
Let's take a look at how each unit performed:
Offense
Head coach Tom Herman wasn't joking around when he said that offensive coordinator Major Applewhite wasn't even going to really plan on attacking the Huskies interior defense during his weekly media press conference earlier in the week. That was apparent early on; especially with starting running back Duke Catalon sitting out with a concussion. The game plan was solid however as Applewhite had the offense attacking on the perimeter with the quick passing game as quarterback Greg Ward Jr. had perhaps the best game of his career passing wise, hitting on an amazing 32-of-38 passes for 389 yards with three touchdowns to zero interceptions.
While the offense started out slow early, having to punt on their first two possessions, Ward and company got on a roll in the second quarter, scoring on four possessions to take a 28-7 lead to the locker room. Whether it was the screen game to the outside, swing passes out of the backfield, or intermediate or the deep passing game, Ward could do no wrong as his passes were on-point giving his receivers room to run after the catch.
Slot receiver Linell Bonner also had the game of his career, catching 12 balls for 159 yards and a TD on an amazing one-handed grab on an out-route from the four yard line midway through the third quarter to up the lead to 42-7. Ward spread the love passing wise as nine different receivers caught a pass Thursday night. The route running of the receivers was crisp as they set up UConn defenders with clean breaks on out routes, slants, digs, crossing patters and deep posts. Their blocking for one another was also excellent, especially in the quick screen game to the outside which was basically an eight to nine yard pop on each pass, which basically played out as an extension of the run game.
Starting outside receivers Chance Allen and Steven Dunbar were no match for smaller UConn cornerbacks as Allen caught seven passes for 85 yards with Dunbar adding five for 97 and a TD from Ward on a 15 yard out route. D'Eriq King continues to be a jack-of-all trades as he hauled in four passes for 7 passes for 32 yards. Tyler McCloskey continues to be a weapon in the red zone as he caught another TD, this one from the three yard line on a play fake from Ward in the second quarter to put the good guys up 21-0.
The offensive line of Josh Jones, Kameron Eloph, Will Noble, Marcus Oliver and N'Tay Rodgers gave Ward time to go through his progressions as he was able to pick UConn's secondary apart. As Herman mentioned after the game, the senior who's now 23-2 as a starter, is growing up right before our very eyes as a pure pocket QB. In the past if a play broke down, the electric Ward would pull the ball down and make something happen with his feet. Under the tutelage of Herman and Applewhite however, Ward now keeps his eyes down field as he uses his feet to extend plays in the passing game, giving his receivers time to get open if the play breaks down initially as was the case on a 19-yard pass to Allen in which he scrambled, staying behind the line of scrimmage to float a pass to Allen on a crosser leading Allen perfectly to make a 10 yard reception into nearly 20. Three plays later Dillon Birden would score from a yard out to give the Coogs a 14-0 lead early in the second quarter.
Speaking of the running game, with Catalon out Birden picked up the slack in the run game as he rushed for 27 yards on nine carries with that hard fought TD in which he broke a tackle from one of UConn's 300 plus pound defensive tackles. Ward was actually the best rusher on the night as he had 65 yards on 12 carries with two additional TD's, the first an impressive 30 yard scramble for the first score of the game. The second a ten yard scamper to start the third quarter giving the home team a 35-7 lead. Bonner also carried the rock three times for 12 yards on outside zone run plays as he would motion into the backfield from his slot position. Mulbah Car only had eight yards on four rushes with King adding four yards on one carry himself. With Catalon being dinged up with ankle and now concussion issues early in the season, it'll be interesting to see how the offense evolves from a run game standpoint.
Defense
Todd Orlando's "Third Ward Defense" had yet another stellar game, allowing the Huskies only 62 yards rushing on 27 carries. They did allow 273 yards passing but much of those came in the second half when the game was over. The defense did have issues with UConn receiver Noel Thomas, who caught six balls for 135 yards including a 62-yard TD right before the half in which he managed to run through several missed tackles, a talking point Orlando, safeties coach Craig Naivar and corners coach Jason Washington will harp on at practice this week I'm sure.
Without three of their better defenders in linebackers Tyus Bowser, Mathew Adams and defensive back Brandon Wilson all sitting due to off the field issues and injuries, the defense showed its depth off as Emeke Egbule and D'Juan Hines started at outside and inside linebacker respectively, adding seven combined tackles with Egbule having two pressures. Nomluis Fruge took advantage of Bowser and Adam's absence as well as he had the game of his career with a tackle-for-loss and a sack. Steven Taylor had a quiet game, with only four total tackles but did add a pass breakup on one of the Huskies huge tight ends, who weren't as big a factor in the game as they should have been.
The secondary was a mixed bag as the corners would have allowed two deep scoring passes if the ball had not been over thrown by the Huskies QB. Orlando continues to have cornerbacks Howard Wilson and Jeremy Winchester so far off opposing wide receivers, sometimes almost 10 yards off, I'm surprised many more intermediate passes aren't completed. Both corners had four total tackles each with Winchester adding a pass breakup.
Garrett Davis played Wilson's role of playing in the box as he had four solo tackles, including 2.5 for loss and a sack as he rarely missed tackles in the open field. Fellow safety Khalil Williams added four solo tackles as well. Reserve safety Austin Robinson added a tackle-for-loss and a sack in the fourth quarter.
Up front, the down linemen continue to do their job of pressuring opposing QB's, especially nose guard Ed Oliver. The true freshman continues to eat up double teams as he had three solo tackles, including one for loss and a sack. While fellow linemen Cameron Malveaux, Jerard Carter, Nick Thurman and B.J. Singleton didn't have big games stats wise, they continue to muck up interior gaps, which allow the linebackers to shoot through unimpeded for tackles, sacks and pressures. If they weren't able to get to the QB, they did a good job of getting their huge mitts up as Malveaux used his 6-foot-6 inch frame to bat down two passes while Thurman used his 6-foot-4 inch frame to knock down anther. In all it was another great night for the defense, though things do need to be cleaned up, especially communication wise in how the defense passes an offensive player off from one unit to the next.
Special Teams
The coverage teams played solid, allowing only 49 yards on four kickoff and punt returns. Return wise, King has to gauge better when to call a fair catch or not as he almost had his head taken off on his first punt return attempt. He's also catching too many balls inside the ten yard line for my liking. It's probably better to allow the ball to bounce and perhaps make its way to the end zone for a touch back, but that may not be how Washington coaches his return men as it has the potential to be downed at the one yard line. And of course King is still a true freshman so he'll continue to learn each week. He also added a kickoff return for 21 yards. Punter Dane Roy downed three of his seven punts inside the UConn 20-yard line and kicker Ty Cummings had four touchbacks on seven kickoff attempts.
Overall, all three units performed well as the offense went five-for-five in the red zone, scoring all touchdowns and converting half of its 16 third down opportunities. And for the second week in a row the team did not kill itself penalty wise, adding just two for 20 yards a week after committing none. Probably the most impressive fact about the game was with four starters out the team didn't feel sorry for itself. Herman's culture won't allow for it as it's next man up. Stay logged into Coogfans as we'll have a scouting report on Navy in advance of our next game, next Saturday October 8.