AD got a replacement for the Shasta Pass, which wasn't offered last season, and now it includes baseball. This is a great deal if you like the other sports like I do.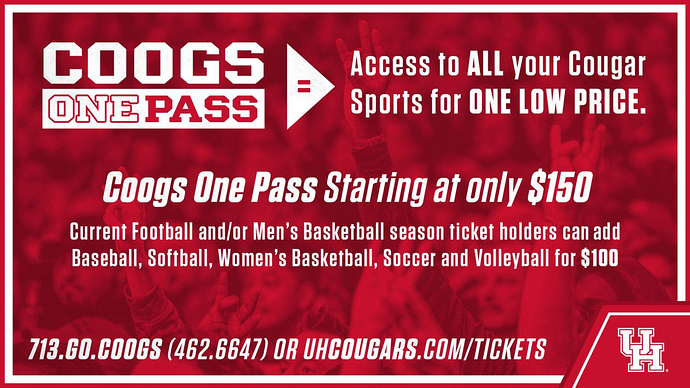 With each Coogs One Pass, fans receive one ticket for general admission seating to Houston Athletics events for one low price. Coogs One Passes begin at only $150 for five sport programs' home events with the $375 Red Pass providing entry to all home Football, Men's Basketball, Women's Basketball, Baseball, Softball, Soccer and Volleyball games.
"The Coogs One Pass is a great option for our fans to enjoy their favorite Houston Athletics events," Deputy Director of Athletics David Tagliarino said. "This is one of several new initiatives that we're introducing this year and will provide a flexible, convenient and affordable way to support our program."
Fans can purchase Coogs One Passes by clicking here any time or by calling the Houston Athletics Ticket Office at 713-462-6647 or visiting the Ticket Office during regular business hours. Fans who would like to be contacted about ticket options should fill out an interest form or click here .