Son of Mr. "Keep the Faith, Fellas".
Chet the Jet Jr. Hopefully he doesn't start a Cougar Pride volunteer weekend to paint TDECU.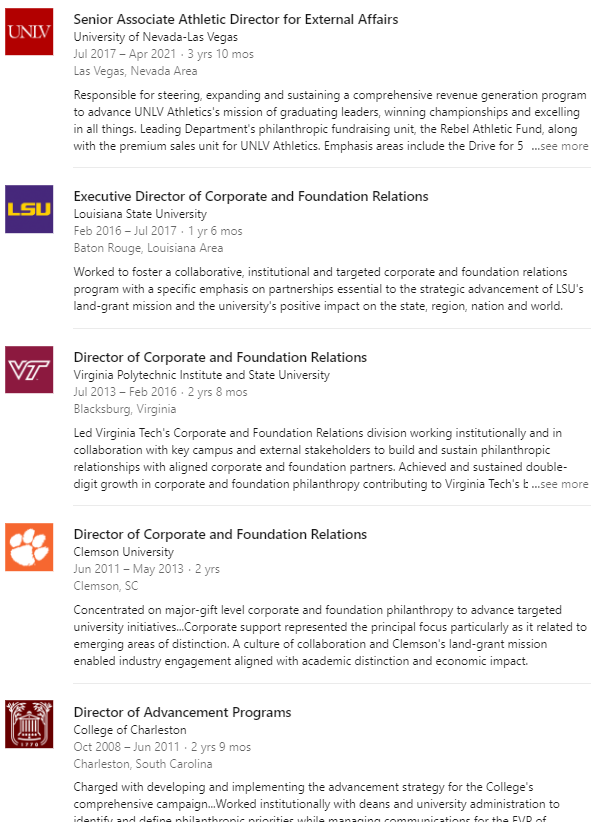 5 jobs over the last 12 years.
Like father, like son.
That is a pretty nice list of stops on the resume. Seems like a great hire.
I must now worry about my Palm Trees PTSD reoccurring, I thought I was cured.
Seriously, I liked Chet, the elder. First, he overcame a serious birth defect, which was being born a yankee, to become UH's AD. Second, he was a stand up guy. During Chet's tenure as UH's AD my wife and I went to Austin to see a basketball game between UH and UT in the Super Drum. We stood in line outside to buy tickets and, after I got mine, I turned around and found Chet standing in line behind me. I asked him why he needed to wait in line for a ticket and he said that he never asked UT for anything if he could help it. I knew then that he had become "one of us".
"Houston announces hiring of John Gladchuk as Senior Associate Athletics Director for Development/Chief Development Officer." Does this mean that Katina Jackson is leaving CP as her title listed with her profile in CP is "Senior Associate Athletics Director for Development?"
Pretty typical of someone moving up the ladder in his line of work. The typical engineer changes jobs every 5 years, so don't expect long tenure for young guys who are working their way up.
Once he reaches a position where he feels he is has reached his goal, he will then stay as long as he can. His dad has been at Navy for a long time now, and unless he is forced out, I think he will retire there. It's a good position at a prestigious university, in a good location, why would he leave?