Total Defense, allowing 264 per game.
and we have a ton of room for improvement.
A ton? I will agree to the room for improvement. This is the most complete defense I can remember since 2015-2016 timeframe and this team has more depth on the DL.
I do. In fact I see some improvement from game to game. This is highly encouraging.
there are still communications issues and blown coverages in the secondary…not as bad as vs tech but if they don't fix them smu will take advantage
Better than Texans defense……not really joking either.
Good Click-bait title.





Looks as good as 2015-2016. And with more depth.
Best defense since…Pardee?
2015 was pretty salty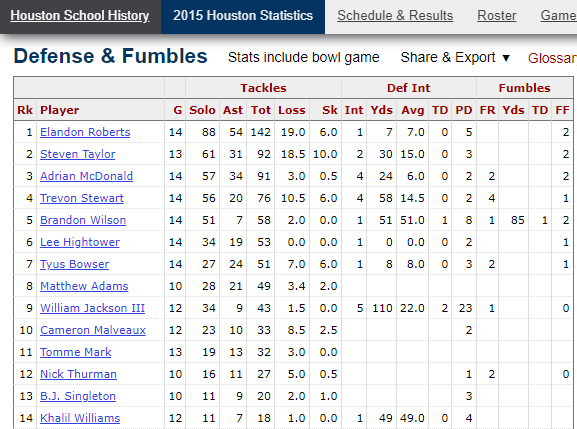 Oops! Misread the stats.
#4 it is.
Doug Belk has done a nice job! I will be interested to see how they look on 10/30.
I always like to put things in persspective. I often showed how our defense wasn't as bad a people thought under previous DCs and right now I'm going to show why we aren't as good (I love our defense) as this thread is making them out to be.
Against FBS teams we are 71st in yards per play. Which is a better measure than yards per game. Just think of how misleading Navy's defensive stats are for total defense. There are fewer possessions so less yardage and points.
Now, we aren't as bad as the stat I just posted says either. We are 21st in points per game and 29th in points per play.
FEI which uses advanced efficiency stats has our defense at 35th.
4 of those are currently in the NFL and an additional 3 or 4 have played in the NFL or on practice squads.
No wonder we beat FSU.
…I have to say it…against offenses that are ranked where, nationally?
Which I still think is damn good and we can definitely improve a bit more…
I wonder where BJ Singleton ended up. I thought he was pretty solid for us but then Ed Oliver showed up and didn't hear about him again.
Finished his college career at UH in 2016. He was reported to be on several NFL teams' radars but I cannot find where he was signed to a team or practice squad.