Cougars Ready for U.S. Olympic Trials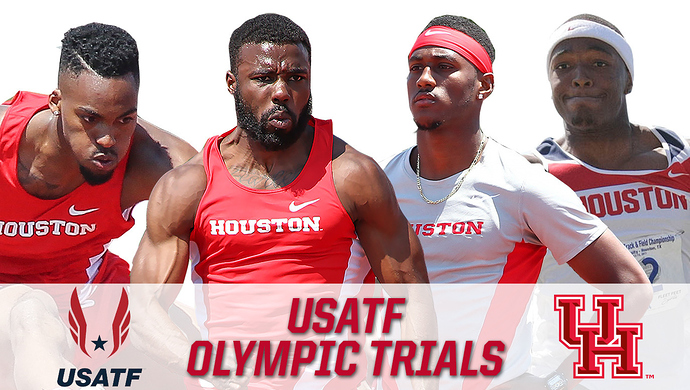 http://www.uhcougars.com/sports/c-track/spec-rel/063016aaa.html
UH sprinter LeShon Collins ready for Olympic trials
UH sprinter has U.S. track logo inked on chest

[Google Search Link to access for free]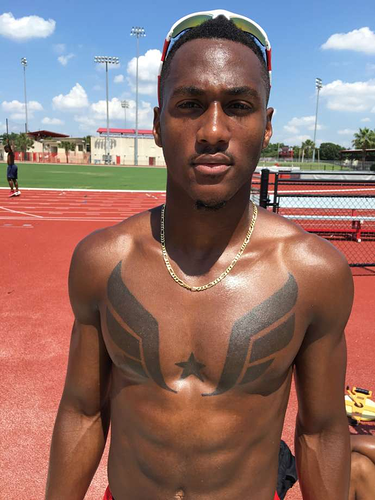 Lewis joined the UH staff two years ago. He came to the team with a one-three-five plan: one year to teach his runners how to train properly, three years to be relevant, and five years to truly be an elite team.
But things have gone faster than planned, considering four runners with UH ties are competing in Oregon this weekend.
"This was one-five," Lewis said, alluding to the Cougars' quick progress to becoming elite competitors.
Cougars Wrap U.S. Trials Opening Weekend
Four Cougars competed against the nation's best
http://www.uhcougars.com/sports/c-track/recaps/070216aaa.html
Houston opened Saturday's competition with Jack Thomas on the runway for the men's javelin. Thomas missed the 2016 season due to redshirt, but was competing unattached at the trials after meeting the standard mark at the Texas Throwers Invitational on June 18. Thomas finished the event 20th after throwing 213-8 (65.14m) on his opening throw.
Two Cougars began the track portion of the trials, when senior LeShon Collins and sophomore Cameron Burrell competed in the first round of the 100-meter dash. Running in the fourth heat, Burrell finished in 10.18, just two-hundredths of a second slower than his NCAA Outdoor Championship time on the same track during the outdoor season, to finish 25th. Collins competed in heat three where he ran 10.41to finish 31st overall. Collins will be in action again at 7:30 p.m., Thursday July 7 in the 200-meter dash.
Incoming freshman Samiyah Samuels competed on the opening day of the trials in the women's long jump. Samuels, who will be a freshman for the Cougars next season and was impressive on the national stage after collecting a top mark of 20-3.75 (6.19m) to finish 17th. The leap for Samuels would have given her the second best mark in The American Athletic Conference this season.
Chris Carter will be competing in the triple jump on Thursday, Leshon Collins will be competing in the 200M on Thursday and Isaac Williams will be competing in the 110M Hurdles on Friday.