We are at 101% capacity with ~7100 seats.
Captain obvious is walking around here somewhere.
I don't see him could you explain
Sorry i wasn't trying to be rude, just snarky.
Whilst sellouts are of course amazing, (remember taking UTPanam to overtime in front of 260 people in 2012!!!) we probably have the smallest arena in the list.
Allen is twice as big, Tech's holds almost that at 15k.
I understand why we downsized. But we were bad before. Now we are among the elite and about to play in a stacked basketball conference. I was curious because I think it can be safely assumed that demand for mens basketball will maintain going forward. But also because FC was completely redesigned on the inside and it doesn't look like there is much room for growth. I'm not suggesting it should happen, I'm just wondering if it is possible without major construction to grow by 1000 seats or whatever.
Some people want a bigger arena. Some want every seat filled all the time. Someone is gonna be disappointed.
When Fertita Center was built, we were still in the AAC. Kelvin hadn't signed a long term contract extension (signed in 2019).
The design for the Fertita Center was probably done in 2017. What were the attendance numbers like in February of 2017.
So, i think the 7,100 capacity was a wise decision. Empty seats blow. Its a buzzkill at the arena to see big chunks of empty seats, even if you have several thousand in attendance
The expansion question is, would the Athletic Department rather pay those millions of dollars on upgrading the Guy V Development center or adding like a 1,000 seats to Fertita Center?
I dont think we can do both. Especially with Football and sports needing new facilities
For the foreseeable future, any extra funds will go to GVL center, is how i see it
Home game vs UCONN. February of 2017.
Attendance: 4,131
Maybe the idea was, we're tired of seeing half of Hofheinz filled. Even with a good team on the floor. 2017 was a good team. So, lets downgrade the seating capacity a little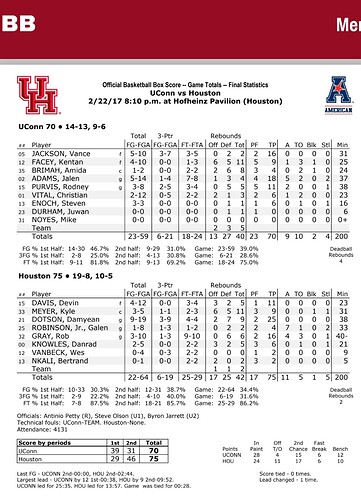 Gonzaga has a smaller arena than ours, that hasn't hurt them.
I'm sure if we are balling out of control (which we kind of are in the literal sense), we can always play a game at Toyota Center
Speaking of which, how many dominant seasons does UH have to have to earn the right to host a pre-season tournament at TC?
Gonzaga is a way smaller school playing in a way smaller city.
We rarely have all seats full
I was always told that when the arena was originally built, they put in the structure support beams that would allow the arena to be doubled in size with an upper deck, if it was ever needed. When it was being remodeled, I was told that the support beams were removed to put the new mostly glass entrance in place. On one of the tours when the remodel was taking place, I was told that 7000 seats were more than we would ever need by our tour guide. I don't see us ever needing a 15,000 seat arena, but about 10,000 would be nice.
Hofheinz was at 10k before those awful boxes and. I remember some raucous crowds back in the early 70s.
I don't see how, the infrastructure that supports the roof is to low to add an upper deck
The seats have been purchased. They are not empty for a lack of demand.
it is a virtual guarantee if we continue to win and grow our arena will be too small and the demand will price out most casual fans like duke
we are doing 7k now at the START of our brand rebuild, if we have another 4-5 year run in the aac 7k would have been too small… not adding the big12 to the mix…
now adding that tcu restricts tickets being sold to other schools for certain games becuase their fans overrun the tickets becuase the instate teams travel
if we are still good could we could sell out a 10k arena every game in just 2 years… i said this when the 7k decision was made, and i still stand by it now, stating we'd never need more than 7k was basically saying you didnt believe in UH growth potential… i stated i felt we were following a SDSU growth path, who did 2k historically before fisher but by year 7/8 they were doing 13k… i truly believe we are following that same path we just don't have the capacity
we are good and have duke price points (limited accessibility to average fans) …or we arent a good team and 7k is fine
7k is fine in the event we have an off year and we'll be able to resale our tickets to cover the cost or a portion of it. I'd rather have that than a big empty stadium again. I was there as a student. It was brutal.
I also think there will be people who will continue donating them when they can't go.
I think 7k is the sweet spot for the long term.
There's generally at least min 1500–2,000 seats available on the resale Market for every game. Still not enough demand from actual Coogs Alums imo or big Coog fans in general, so many seasn tiks are sold to Resale outlets. Anywho its been discussed at nauseum on here. I've had Season tiks for 4 of last 5 yrs n there is 4500-6,000 seats filled … even when Sellout is announced. 6-6500 for the more higher profile Teams.