Terrible that either Holgy is lying or that our players aren't communicating to the coaching staff when they are injured.
Wonder how much that affects his throws. Must not be too serious if he plays Saturday
Why would that even matter now. The guy knew he was injured and handicapped us. Should've let someone else play if it was affecting him.
Im fine with that. Give ANYBODY else a chance.
Exactly. If it's not bad enough to say something before/during the game, then the only reason to talk about it now is to make excuses.
To me, Smith cared enough about the team to play hurt. That is leadership.
Now, if he can remember not to throw the ball out-of-bounds on fourth down, we will be making progress.
It's a tough call - leadership is also realizing that playing hurt doesn't help the team. Leadership is also owning it when you don't play well and not offering up injury excuses after the fact.
He should have informed the coaches that he was hurt but thought he could fight through it, but I have to assume he didn't think it was a big deal, or he didn't want to take the chance on losing his job.
I don't doubt that he cares a lot and really wants to win. He just has to learn that doing it the way he did won't get them there.
Hell, its the perfect alibi. A player didn't report an injury.
See! Its not the play-calling, you little people!
You have to play the best you have. For a few years fans complained Neal Brown kept starting Jarrett Doege over current starter Garrett Greene and even now i think its questionable whether Greene can play the position. As bad as Doege was, he was the best QB we had on the roster at the time. Be careful about wanting the QB change…it could be worse. Trust me, ive learned that lesson all too well.
Or it could be better:
King vs Allen
Ward vs O'Korn
Keenum vs Joseph
And to show how old i am
Ware vs Dacus
yep, often it IS better. Holgy has proven he will not play the backup unless he has no other choice basically. If you don't have a guy that is clearly getting it done you HAVE to see what the others have in game action or you are being negligent as a HC - that's my opinion.
This is true and we have to look no further than Clayton Tune. Tune was forced into the starting role when D. King got injured. Tune was not ready for the role and took his lumps but grew in the process. If King had not gotten injured or transferred, we may never know how good of a QB Tune really is.
At the end of the day, everything worked out. Both King and Tune became starters.
I support the QB that Dana runs out there. And I'm a fan of giving Coley a shot. Seems like the perfect opportunity. But I have my doubts, even with the disappointing play of Smith. I really thought he (Smith) would come out blazing. I was enamored with his play against UT. Maybe one of the statisticians can tell me what bias that is. You pick a guy's best game and apply that to his ability to perform in his next game. Because that's what I did.
Most coaches are reticent to make a change at QB, unless the starter is really struggling AND the backup is showing out in practice.
I'd like to see Coley, as well, but I know there would be some WTF moments from that. I think there were good reasons for Smith to win the job, and Coley hasn't given enough good reasons in practice to take it away…yet. Even if he's a guy who would be better in game action than in practice, he has to show something to get that chance.
According to Rob on TOS, Uli Ale has moved up and has passed Coley in the 2 deep.
That was my fear regarding Coley.
I don't care who is QB. But Smith can't hit the side of a barn. He sucks
Levine had some open practices. Walked by one day and watched two trees ( Okorn, Piland) taking reps, with a third shortie (Ward) whom I readily dismissed, throwing last…way last.
Turns out Ward is the only QB to win a championship here in 17 years.
Dana, set Ui Ale free. Let him fly.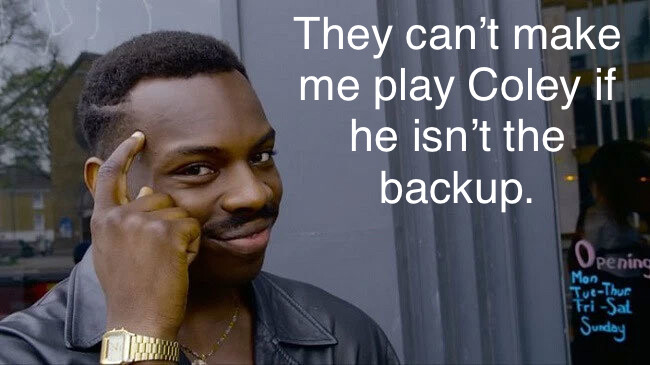 I was told by someone that Ale's ball isn't pretty but is in the right spot.