http://www.uhcougars.com/sports/w-tennis/spec-rel/050318aaa.html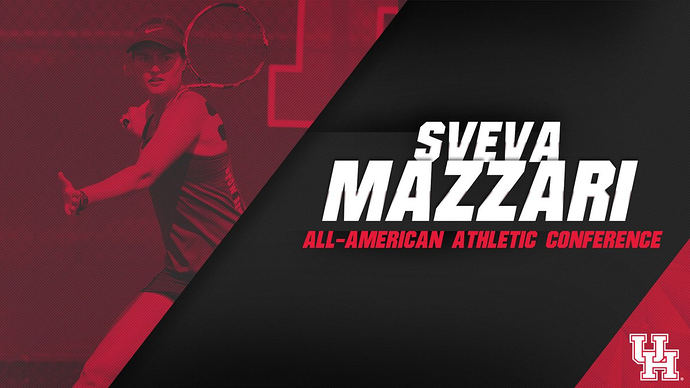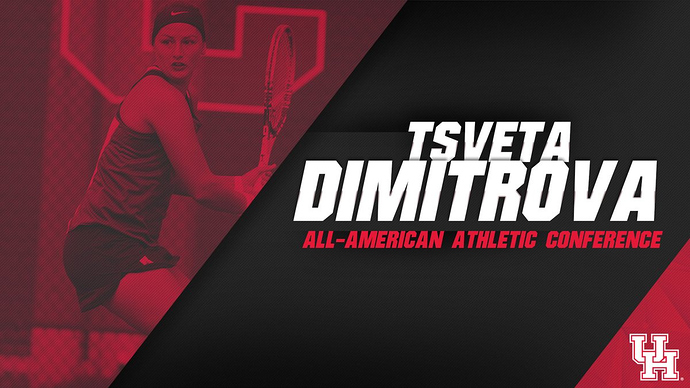 Senior Sveva Mazzari and sophomore Tsveta Dimitrova have been named to The American Athletic Conference All-Conference Team, the league office announced Thursday.
Mazzari paced the Cougars during the spring season with a 19-1 record while playing primarily at the No. 2 singles position. Her historic singles season featured a 16-match winning streak, in matches that finished, from opening day on Jan. 21 until March 24.
Mazzari's 95.0 winning-percentage is the top winning-percentage in school history for the Cougars in a single spring season, topping the previous mark of 92.6 percent set by Elena Kordolaimi in 2015.
Dimitrova finished second on the squad in wins this season with 18 in the spring, including a 6-4, 6-4 victory over No. 66 Maria Kononova (UNT), and is currently ranked as the No. 94 player in the ITA/Oracle rankings. Dimitrova's 81.8 winning-percentage ranks tied for eighth in program history, and the sophomore tallied winning streaks of five matches from Jan. 21- Feb.3 and a seven-match spurt from Feb. 24 – March 24. Dimitrova capped her season in impressive fashion with a 6-2, 7-5 victory over No. 67 Fatima Bizhukova (Wichita State) in The American Quarterfinals.
Dimitrova finished the combined season with a 6-1 record against ranked opponents after picking up wins in the fall over No. 48 Giulia Pairone of Arkansas, No. 45 Lindsey Hodge of Rice, No. 83 Jessica Golovin of LSU and No. 125 Sarah Dvorak of Texas Tech.
The duo was Houston's most dominant force on the doubles court, picking up 13 wins in the spring season and 17 overall. The team compiled the ninth-best winning percentage in program history at 81.0, while their 86.7 percentage during spring season sits fourth all-time.
Dimitrova takes home the All-Conference honor for the second-consecutive year, while Mazzari earns the laurel for the first time in her career. The awards are the eighth and ninth overall for Houston since joining The American.