6 games? Serious question.
No way. Defense is baddd!!!
Last year felt more like a fluke, easy schedule & Alton McCaskill our off. MVP
Not a snowball's chance in hell.
Definitely. Our conference schedule is absolute garbage. We'll win 8 or 9 games at minimum. Just enough for Dana to save his job and go a cool 0-9 in Big XII play our first year.
We now have the 18th most difficult schedule in the country. We are only winning 2 games max.
Possibly but looking at another embarrassing trip to Dallas
SMU, Tulane, ECU, and Memphis all questions marks right now.
I hope Rice doesn't have a mobile qb.
Without knowing enough about our opponents, I'm thinking 7. Road trips to Memphis, ECU and SMU don't look winnable today. Team showed that they can compete in the first two, but I can see things spiraling down more than I can see these guys pulling together and being the team we through we would be seeing.
Sets up with the easier games at home. @ Navy after a bye is handy.
Some of these road will be tough w AAC fans getting their last
shot. Tulane should be 4-0. Defense looks good w a big win vs KSU. USM next week.
Hopefully the leaving the AAC bias officiating don't cost UH a win in one of these away games.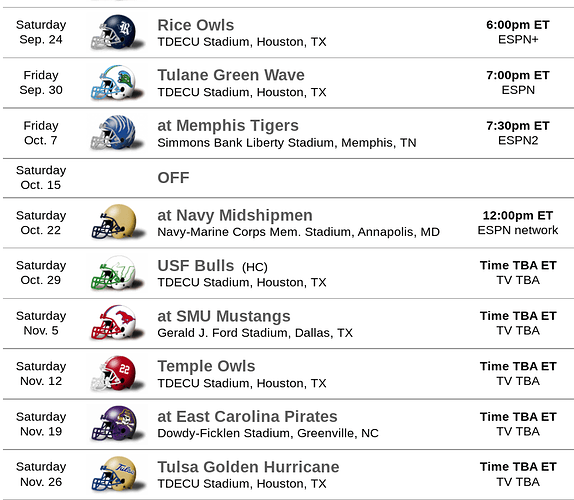 they should at least finish 3 above .500 and play air force in the armed forces bowl…
We'll eek out 7 wins and go to a meaningless bowl game.
Barf.
Dana is the true coach in his first 2 years here, last year a anomaly
5-7. No way we beat Smooo, tulsa, and tulane. Ecu will feast and Mumphish will get the final kick in. Fffffffffffff…

Can I place a bet with you?
I don't do bets, but this defense is bad enough that we don't have any winnable games left.
Of course. We'll win out on the rest of our schedule. Go to the AAC championship game and lose to Cinci once again. We'll play in a decent bowl against a team that barely has a winning schedule and probably lose. Book it.
We lose one more this year 8-4