Yep, happy for both guys. Think both have a good chance at moving up quickly.
Vidales goes in the 28th round to the A's
Austin Moore, who was with the Coogs in 2015 and transferred to West Texas A&M, was drafted in the 22nd round by Colorado.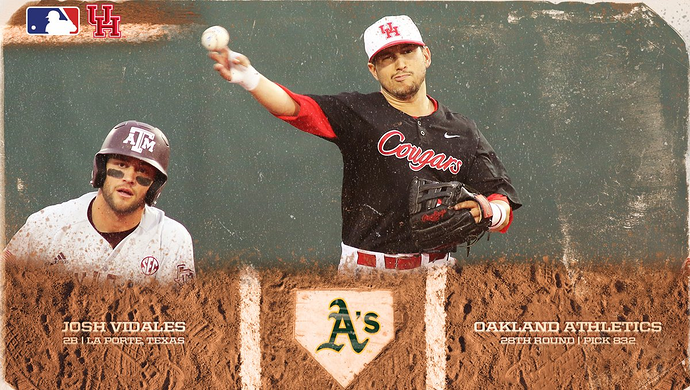 Vidales Selected on Final Day of MLB Draft
Four-year starter Josh Vidales selected by Oakland in 28th Round
http://www.uhcougars.com/sports/m-basebl/spec-rel/061116aaa.html
Vidales, a La Porte, Texas native, is a four-year starter for the Cougars at second base and wraps up his career with a nod from Oakland. He finishes his career as Houston's all-time leader in walks with 133 in his four-year span.
Love to see Hernandez move through the Astros system quickly
Lantrip update:

- 8th round pick right-handed pitcher Andrew Lantrip is signing, per the IBI's Corey Crisan. According to Lantrip, he will be coming into Cleveland on Monday for his physical and then is scheduled to sign his contract on Tuesday.
---
And VIdales already signed with the A's. Don't know about contract details.
https://twitter.com/joshua_logan08/status/742721618762403841
Lantrip signed his contract with Cleveland yesterday and will be heading to the Mahoning Valley Scrappers
Bubba Maxwell got picked up as an Undrafted Free Agent by Anaheim today.
Hernandez is with the Tri-City ValleyCats. Pitched 1.1 innings of scoreless relief today.
Vidales is with the Arizona League Athletics. He's played in 3 games and has gone 1 for 5 with 4 walks (go figure).
Apparently Bubba Maxwell's tryout with the Angels didn't end in a contract. According to this article, he was picked up by the Independent League Sioux City Explorers.
Friday, the Explorers announced the signing of Bubba Maxwell, a 5-foot-11, 185-pound righthanded pitcher from Beaumont, Texas. The 22-year-old, who went 6-1 for the University of Houston in the last three years, will be utilized as a reliever.
Looks like Maxwell may have injured his elbow again and his status with Sioux City is tenuous: