Still quiet as everyone kind of waits until mid-October:
Bohls is now predicting that BYU and UH will be left out.
Salt Lake Tribune writer says that BYU should soften the Honor Code to get in the Big 12
Dan Patrick continues to try and push for UH & SMU to the Big 12. Talked to Mark Berman (inlcuded the tweets that Berman sent out as well as Mike Finger's (SANewsExpress) comments
Big 12 is moving forward with 4 cities expected to bid for the Big 12 Championship
Tim Montemayor thinks that it'll be quiet for the time being regarding expansion
---
Bohls: Could BYU, Houston both get left out of Big 12 expansion?
http://www.mystatesman.com/news/sports/bohls-could-byu-houston-both-get-left-out-of-big-1/nsb6h/
1. It seems clearer and clear that BYU isn't getting into the Big 12. Just too many negatives for the conference, which knows all about negatives. Remember, it takes only three "no" votes to kill any expansion candidate, and BYU's stance on its Honor Code, gays and lesbians, not playing on Sundays, the issues of it already having its own TV network and geographical distance from the Big 12 has definitely hurt the Cougars' chances. Playing in a western time zone doesn't help either, especially after Texas just arrived home at 7 a.m. Sunday from its road trip to even more distant Cal. … And who really knows if Houston is a viable candidate. I've heard nothing to dissuade me from thinking many in the Big 12 still oppose (i.e. are afraid of) Houston's inclusion. I find that very small thinking. Houston deserves to get in.
---
Monson: How BYU can get into the Big 12 — and find some peace

Here's the truth about what BYU can do to make itself more attractive to the presidents of the Big 12, increasing its chances for inclusion in the conference and making its position more acceptable. Not just acceptable to those outside its community, but those inside it, too:
Soften the language in its honor code. Leave some parts out and administer the remaining parts with a little more kindness and understanding.
It wouldn't be that difficult, and it would relieve problems moving forward, at least some of the problems that will only intensify over time.
---
"We'll see how Oklahoma votes," Patrick said. "I mean after the trashing they took from the University of Houston, could they really vote no? I can't imagine they'd vote no."
---
Twitter Musings
---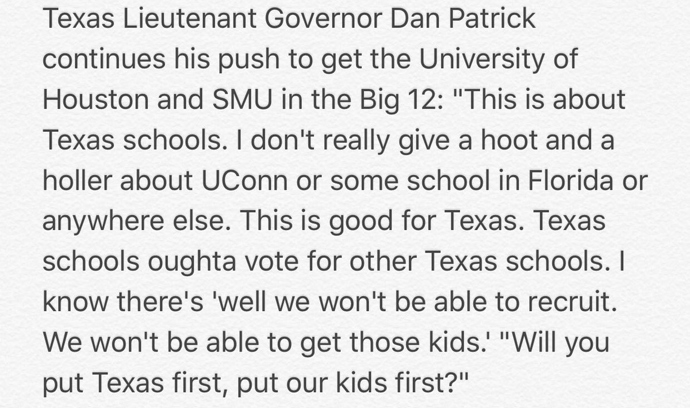 ---
---