2016 Fall Camp Primer: Special Teams
By: Jimmy Schofield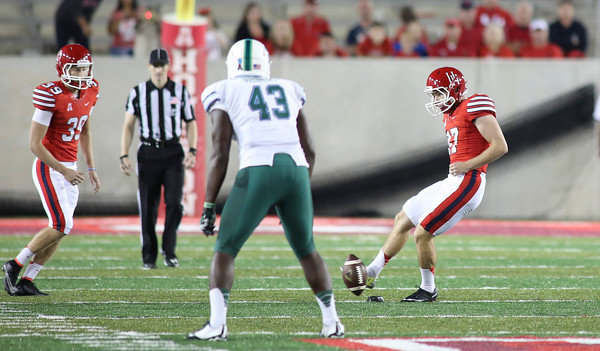 With Fall camp for the 2016 season quickly approaching, Coogfans.com previews the special teams unit under second year coordinator Jason Washington.
When thinking of the 2015 season and why it was so successful, people will remember head coach Tom Herman's pre and post-game speeches in which he could get his players to run through a brick wall for him, the play of dynamic play-making quarterback Greg Ward Jr., and an impressive, physical and high-flying defense that flew to the ball. What many should remember is the often forgotten, yet critical, phase of the game; special teams.
Washington will have his work cut out for him this season as he has to replace his starting punter, long snapper and punt returner, all of whom we'll take a look at in this article.
Jared Guberman of the 'Ultimate Kicking Academy' said, "Special teams is the most important element of football because it sets the tempo of a game, determines field position, swings the momentum of a game and builds confidence in a team. A team feeds off whether a kick is great or if there is a big tackle or if the opposing teams starting field position is horrible. Starting field position is one of the most important statistics in a team's ability to score on a drive. From the snappers, holders, kickers and punters to the coverage teams, every aspect of the special teams is important and can determine the outcome of a game."
Last season the Cougars offense had a six yard advantage in starting field position as they started their drives at their own 32 yard line while their opponents started at their own 25. While turnovers forced and given do factor into this, so do the Cougars return and coverage units. The punt return unit averaged 10.4 yards-per-return to rank them 41st nationally while the kickoff unit averaged 23.5 yards-per-return (28th). Their coverage units meanwhile allowed opponents to average a paltry 2.2 yards-per-return average on punts which ranked them FOURTH in the nation while allowing 20.4 on returns (46th).
A huge reason for the low punt return average total was because of the foot of punter Logan Piper. The two year starter averaged just over 40 yards on his 64 punts but boomed 10 of 50-plus yards while forcing 23 fair catches. His specialty however was not allowing any return yards at all as he pinned opponents inside their 20-yard line another 23 times. Because of the strength and accuracy of his leg, the punt coverage units had plenty of time to get down the field to make the tackle before the opposing punt returner could gain any space.
Unfortunately for Washington's unit, Piper graduated, leaving the job open between backup punters Kyle Postma (who was running first team at the end of spring ball) and freshman Dane Roy (who isn't officially listed on the roster yet). Roy is no typical freshman however as the 27 year old (yes, 27 years old) is a former ice cream salesman who hails from Australia. He was offered a scholarship after winning a longest kick competition (79 yards) at the Australian Football League's 'Grand Final,' or their Super Bowl.
Nathan Chapman of Prokick Australia on Dane's determination, "Dane is an older guy and probably feels like it is a second chance, therefore he understands how he is not going to let it go this time," via the Herald Sun out of Australia.
Prokick Australia is where Dane has been learning about the American version of football, under Chapman's tutelage, who's the founder of Pro Kick. Chapman played in the AFL for 8 years before punting for the Green Bay Packers during the 2004 pre-season. Prokick Australia is an American football punting and placekicking school in Australia which trains and assesses Australians to the standard required for NCAA, NFL and CFL punting and placekicking positions.
While Joel Scarbrough (5-foot-10, 182, RFR.) is listed as a kicker on the official roster, the walk-on can also punt as he received an Honorable Mention on the 6A All-State football team out of Langham Creek in 2014.
Chapman on importance of special teams, facetiously speaking, "simple, they come to us when they can't get the job done. They ask us to clean up the mess of bad field position or score if they cannot take it all the way. I am sure they will not admit it but deep down they love special teams," via kickology.blogspot.com.
Herman takes the opposite approach as he was quoted in a Houston Chronicle article before the Peach Bowl, "It's an interesting position they play because they are so important to the team, punters, kickers, deep snappers, but yet for only a limited amount of snaps per game. They certainly don't go through the physical rigors that the rest of the team does. They have to earn their stripes from me."
The kicker spot is in the secure arms (or foot in this case) of Ty Cummings (6-foot-0, 185, Sr.). After taking over during the fifth game of the season, Cummings connected on all eight of his attempts, but only had one opportunity from 40 yards on out as it's Herman's philosophy to "go for it," especially on fourth-and-short from the 30 yard line on out. The only other kicker listed on the roster as mentioned earlier is Scarbrough as redshirt freshman and fellow walk-on Blake Boyles left the program.
The one spot nobody notices is the long snapper, unless he happens to bobble a snap, which hasn't happened to the team in years because of the outstanding play of Nolan Frese. The three year starter graduated and took his talents to the Seattle Seahawks however, leaving a gaping hole at the position. The three LS's listed on the roster are Payton Pardee (5-foot-10, 190, RFr.), Jon Letter (6-foot-3, 191, Fr.) and Zach Fairies (6-foot-2, 235, Sr.), none of whom have snapped in live game action.
As for the return units, Ayers takes his game-changing ability in the punt return game to the Pittsburgh Steelers. The only players on the roster with punt return experience are defensive back Joeal Williams with a one return for 12 yards, and Ward with 9 for 69, and we all know Ward won't ever be returning a punt again. Who steps up here will be key to field position as two seasons ago the punt returner (of whom there was a myriad of) was lucky enough to field a fair catch without bobbling it. Could Ra'Shaad Samples (5-foot-11, 190, Jr.) or one of the true freshmen receivers claim the spot?
As for the kick return spot, corner back Brandon Wilson returns after averaging 26.6 yards-per-return (20th nationally) with two TDs. The only other two players that have any experience are fellow receivers Steven Dunbar and Linell Bonner, whom each have one return for 37 and 3 yards respectively.