D1baseball still has us in Ft. Worth

Nolan keeps us in Ft. Worth as well:
http://warrennolan.com/baseball/2017/projection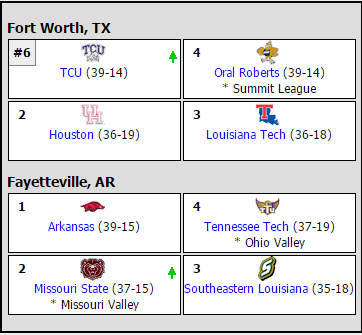 How can d1 say we're on the bubble to host and then send us to the regional hosted by a protected seed? Seems contradictory.
I don't know how the regionals are chosen, but please don't try to make sense of anything D1 says. It's not worth the effort.
I know - it's basically a glorified blog - still bothers me because they get a lot of respect.
The committee tries to send the top 3 seeds to regionals that are close if they can as they don't seed 1-64. The choice comes down to LSU or TCU for us and they can't slot a 2 seeded Baylor to TCU so they put us there. If we don't host, we'll probably end up there.
TCU has struggled a bit down the stretch, but they are almost unbeatable at home.
I remember UH losing in the Super Regionals in back-to-back seasons to the eventual CWS Champs (Rice / UT) assuming I am recalling this correctly. I wish they would not group by region like this but I get that the match ups are much more compelling to the fans.
Baseball America has us going to Ft Worth as well. They also have UCF hosting, which they acknowledge probably won't happen after their early loss in the tourney; say that USF, UH, or Arizona could replace them.
I honestly think if we win out, we will host:

Things really shaping up well for the Coogs to host. According to Nolan, Coogs are currently 19th in RPI and the highest in the AAC after USF lost to ECU tonight. With Virginia collapsing in their tourney, there may be another spot opening up as well:
Getting ahead of myself, but a potential Houston regional: Houston, Texas, Texas A&M/Rice, TSU.
Coogs are sitting 18th in RPI, but winning the conference tourney should impress the selection committee. Need to win though to solidify that opportunity.
Only one other game to watch that may have an impact and that's the Big12 championship between OK State and Texas. Texas is currently 16th in the RPI and we all know how the NCAA will fall all over themselves to give Texas what they want.
Other than that, I'd expect 3 ACC teams that are ahead of the Coogs to be on the bubble in regards to the hosting discussion: Clemson, Wake Forest, and Virginia. Clemson was 10-14 against Top 50 competition, Virginia had one of the worst OOC SOS among P5 teams (235th), and we have 2 head-to-head wins over Wake Forest so hopefully that puts us above those schools in the committee's minds. If so, we may end up hosting even without a win on Sunday.