Yeah, me too. I think I've financed a doorknob to the janitor's closet.

Chris Pezman sounds like he is very optimistic that he will receive that lead gift soon.
It will include a football only weight room also
On the master plan, it's supposed to be attached to the west side of the stadium and indoor football building.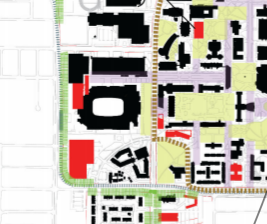 Duarte seems a bit bitter he didn't break it with a write up.
Yes it's been mentioned for about 5 years, then Herman left, then Applewhite happened , then Covid hit . When he says soon, I'm thinking within a month for an announcement. To many mentions lately for it not to be
If Tilman Fertitta donates the lead gift, he can have his name on two athletic buildings!
Uh oh dont tell them about garage 7
It would be nice (as they are in the planning stage now) to perhaps dedicate the Entry Hall (suggestion) to Harry Fouke, with some memorabilia on his All World tenure as AD…
We are woefully remiss here…
Well there goes what little is left of the tailgate area.
Once a vibrant tailgate area that jump started attendance, completely gone
Ya, why bring it up now unless something was imminent. Probably just stoking up the base and the community so that its back on the radar and the announcement has more ears.
The Club will not be touched. The current press box can be converted to additional luxury boxes and a new press box built above the south side 3rd deck.
I 100% agree. I have never heard any leadership address this issue.
PAPER CITY does it again. Another great article.
MAKE SURE TO SHARE TO ALL YOUR SOCIAL MEDIA TO DRIVE MORE CLICKS.
So they're going to cover the H O U S T O N out front of the indoor?
Unless they board a bus and drive around the stadium like they do at Clemson. This would keep the club viewing area.
Are they going to move the students to the other end zone?
Sorry, I didn't mean the glass (window) club enclosure. I was speaking specifically off the glass tunnel that was built to allow people in the club the ability to see players exiting the locker room to the tunnel.