Note the last sentence:
Until they meet again – perhaps not for another 12 or 13 years if Texas continues in the fashion it pleases – they do so with the knowledge that they were not the best team in Texas on Wednesday.
I shot a half court shot at that game, during half-time!
That win put us 1 ahead in the all time series.
So wild that a couple of months after that Michael Young got fired, then Joe was off to Oregon, then they were suing the school to get his release.
and then they would leave the program as soon as Sampson was hired… regrets anyone?
screen grab from the above video… HORNS DOWN!!!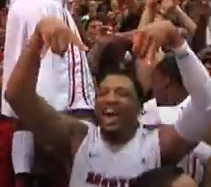 That was a fun game that entertained hundreds of fans.
I like the Tom Penders era but dreaded the James Dickey years. He set the program years back and Sampson inherited a mess…
Still one of my favorite sports memories. I don't care that it didn't mean nothin' to y'all, I was a Freshman at UH and it was special to me.
I totally get it…Memories like that are meaningful…Mine was when I had just graduated around the time Tom Penders came on board and this was around the time Art Briles was hired as well. UH sports started to pick up a little and the moment I'll never forget is when UH beat a ranked team in Arizona and everyone stormed the court after the win…UH was ranked 25th after the win and ranked for the first time in so many years but was only ranked for a week…May of been around 2005 or so…
I can't wait for our team to do this 10 years later, if they beat out Xavier.
The best two game stretch we had had in years.
Coming off beating an Uber-talented LSU team in Baton Rouge when Oliver Lafayette took the game over. The game with Zona had lines to the street trying to get tickets.
It eventually fizzled that season but having a group of Roberson, Thorpe, Lafayette had a much different look than the athletes we had been accustomed to seeing for UH.
Gentlemen, we've come a long way
Hope everyone is enjoying the greatness
Yup, lost to South Alabama the next game after we were ranked if i recall correctly.
Does anyone have footage of this game?
Nah it was South Alabama. But we played Sam Houston state before South Alabama, and didn't play VCU in the regular season.
Exactly, the only team that was decent before that was the 2002 season which was McCallum's team that had Louis Truscott, Patrick Okafor, Kevin Gaines, and George Williams and made the NIT from a deep Conference USA when Louisville, Cincinnati & Marquette were still a part of the conference before the 2005 realignment…Unfortunately Gaines was expelled from the team and it went south after that…
Around that time I took pictures from my phones and didn't save the photos onto the next phone. So many picture lost around that era