2016 Game 10 Preview: Tulane
By: Jimmy Schofield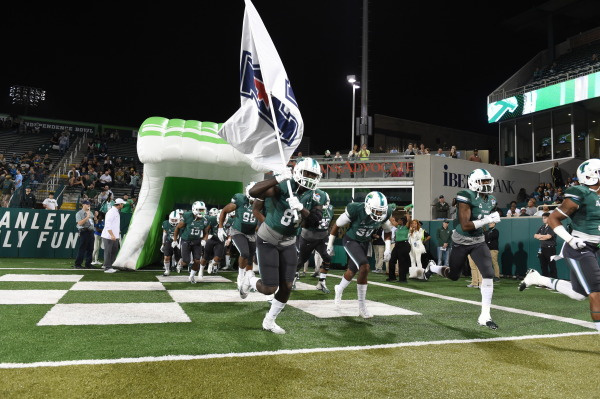 photo courtesy sportsnola.com
Your Houston Cougars look to continue their winning ways as they host the Tulane Green Wave this Saturday (November 12) for Homecoming. Game time at TDECU Stadium is set for 2:30pm CST and will be broadcast by the CBS Sports Network.
Tulane (3-6, 0-5 in the AAC West) is led by first year head coach Willie Fritz, who's 20-13 in three years as a head coach at the FBS level (going 17-7 at Georgia Southern in 2014 and 15) and 137-62 in 17 seasons on the Division I and II levels at Central Missouri and Sam Houston State respectively from 1997 through 2013.
Houston (7-2, 4-2 in the American Athletic Conference) should be well rested, coming off their first off-week of the year after three months of games and head coach Tom Herman's self-proclaimed "toughest training camp in America." In fact they will be returning many starters from injury including; outside linebacker Tyus Bowser (6-foot-3, 240, Sr.) from a broken orbital bone, inside linebacker Mathew Adams (6-1, 230, Jr.) – sore shoulder, wide receiver Linell Bonner (6-0, 200, Jr.) – groin issues, center Will Noble (6-4, 290, So.) – stinger and right tackle Na'Ty Rodgers (6-5, 290, Jr.) – ankle, all returned to practice Sunday and are looking good to play Saturday.
Bowser and Adams should be welcomed back with open arms as defensive coordinator Todd Orlando's unit faces another triple option offense. The Green Wave are ranked 15th nationally in rushing offense, averaging 251.6 yards-per-game. Like with most triple option teams, they don't pass well as they average just 103.2 yards to rank them second to last in the nation (127th). Their 354.8 total yards-per-game ranks them 110th while they score just 25.9 points-per-game (85th).
The matchup of the game will no doubt be Tulane's rush offense versus Houston's run defense, as only two other teams in the nation allow less than their 92 yards-per-game on the ground. In all, the "Third Ward Defense" surrenders only 299.1 yards of total offense per game (10th), 207.1 through the air (39th) and allows just 21.7 points-per-game (27th).
While Tulane runs the triple option, it doesn't look much like Navy's (which gashed the Coogs for 306 yards earlier this season). The Green Wave's version is more like a "spread option" attack as their quarterback lines up in shotgun and pistol formations and utilizes three wide receivers to spread the field. They'll use motioning from a wide receiver as the third leg of the triple option (instead of a slot back which lines up just over either tackle in a conventional triple option offense). Instead of a fullback, Tulane uses their running back on 'dive' plays up the middle. Along with the traditional option dives, keepers and pitches, Tulane adds in a heavy dose of the QB run game via the speed option and zone read option games. No matter the differences or similarities, Fritz will be patient via outside runs in hopes of gashing Orlando's D inside.
The most dangerous player in any triple option is the QB as he makes the final decision on where the ball is going, whether it's the dive, the keeper or the pitch. Glen Cuiellette (6-0, 215, RFr.) won the battle for starting QB over summer practices for the Green Wave. The three-star rated prospect as a dual threat QB out of Madison, Louisiana's Mandeville HS averages just 21 yards per game rushing and 98 yards passing as he's still learning the offense in just his second season in New Orleans. Behind him is true freshman Jonathan Brantley (6-1, 195) out of Houston's C.E. King HS. Both are substandard passers as Cuiellette completes just 40-percent of his 163 passes (in 7 starts) while Brantley has completed just 35-percent of his 20 total. Brantley is more of a true option QB while Cuiellette is more of a passer as he's thrown for 8 touchdowns. As with all young QB's, Cuiellette has a tendency to stare down his receivers as he's also thrown 7 interceptions (zero TD's or int's for Brantley). Tulane's offense consistently being forced into third-and-long hasn't helped. As a unit Tulane converts on only 28-percent of their third downs which ranks them third to last in the nation (126th), while Orlando's defense is 25th at stopping opponents on third down at 34-percent.
Any coach will tell you the key to converting third down is having success on first and second down. Too many times this season Tulane's offense has put themselves 'behind the chains' with minimal yardage on early downs. This all starts up front as Tulane's offensive line must get a good push against Houston's front seven. Tulane's offensive line is led by left tackle Todd Jacquet (6-5, 292, RSr.). Though he's a multiple year starter this is his first year as the number one at protecting the QB's blind side as he started as a tight end his first two seasons before playing mainly right tackle (12 starts over two years) before becoming the permanent LT this season. Chris Taylor (6-3, 320, Sr.) is another veteran and multi-year starter (30 starts in 36 games) at left guard. John Leglue (6-7, 292, RSo.) started the year at right tackle but moved over to center after the starter went down during the second game of the season.
Look for Orlando to try and attack the right side of Tulane's offensive line as it's held together by the massive yet inexperienced due of guard Leeward Brown (6-3, 345, RFr.) and tackle Kenneth Santa-Marina (6-6, 325, RSr.), who had a combined zero starts prior to this season. Leglue and Brown (along with Taylor) will have their hands full with Houston nose guard Ed Oliver (6-2, 290, Fr.), whose 15 tackles-for-loss ranks him THIRD nationally. The true freshman leads the team in solo tackles with 37 (52 total) which is amazing for any defensive linemen, let alone for a true freshman. As if that wasn't enough, Oliver adds five passes knocked down, three sacks and two forced fumbles. He's flanked along the line by Jerard Carter (6-3, 290, So) and Cameron Malveaux (6-6, 270, Sr.) whom add a combined six TFL from their defensive end spots. Houston's defensive line must get good penetration up front in order to disturb the timing of Tulane's option plays. The Green Wave's offensive line has allowed 17 sacks on the season (54th), while the Cougars defense has registered 22 (40th).
The Green Wave will alternate four running backs, led by dual-back Dontrell Hilliard (5-11, 195, Jr.). The veteran is tough enough to convert the tough yards inside yet has homerun speed along the edge and will often line up out wide as a receiver (as he's third in both receptions with 8 and yards with 99). He leads the unit with 724 yards on 122 carries (for a 5.9 yards-per-carry average) and has scored 9 TD's. The two bruisers are Josh Rounds (5-11, 205, RSr.) and Lazedrick Thompson (6-0, 220, RSr.) with Rounds running for 571 yards on 91 carries and 5 TD's (6.3 ypc) to Thompson's 356 on 58 (6.1 ypc) with 4 scores. Sherman Badie (5-11, 200, RJr.) rounds out the foursome as he adds 137 yards on 32 carries in only five games as he's just starting to round into form coming off a groin injury. Tulane's 20 combined rushing TD's ranks them tied for 33rd nationally.
The return of Bowser and Adams at outside and inside linebacker will really help Houston's defense in terms of setting the edge with Bowser as he has five TFL and 3.5 sacks in four games while Adams is aggressive and hard hitting in hitting the gaps as he's second on the team in solo tackles with 32 (49 total), with 6 being for loss while adding two forced fumbles and a fumble recovery. Steven Taylor (6-1, 225, Sr.) needs to step up and be a disruptor as he leads the defense with 6 sacks and is second with 8.5 TFL. D'Juan Hines (6-1, 225, Jr.) and Emeke Egbule (6-3, 230, So.) split time at the other outside linebacker spot and have a combined 38 solo tackles (26 for Hines). Houston's linebackers must have eye discipline against Tulane's option game and not be distracted by "eye candy" or various receivers or tight ends motioning from one side of the field to the other. They must read their keys, and as Herman always says, "do your job," even if it means tackling someone who you think has the ball if that player is your assignment while hoping your teammates are doing their jobs.
If every Cougar defender does their job, every Tulane player should be accounted for. Houston safeties Garrett Davis (6-1, 200, So.) and Khalil Williams (6-0, 200, Jr.) got caught with their eyes in the backfield too many times at Navy and got burned via the play action passing game. Tulane's QB's aren't as good passers as Navy's, but they don't have to be. If Tulane passes more than 15 times Saturday, that'll be good news for Houston as it means they'll be ahead. In Tulane's three wins they average 125 passing yards per game with 5 TD's and 2 interceptions. In their six losses they average 90 yards and have 3 TD's to 6 interceptions.
Tulane's main receiver is Terren Encalade (6-1, 185, RSo.). He has the speed to burn corners deep as he averages 14.2 yards-per-reception lined up along the outside, but can get open against any type of coverage as he'll line up in the slot to force matchups against linebackers or safeties. For the season he doubles the next Tulane receiver with his 28 receptions for 397 yards and 6 TD's. When lined up outside Houston corner Howard Wilson (6-1, 185, RSo.) will cover him in man coverage as Wilson leads "The Jack Boyz" with 12 passes defended, 5 interceptions and 28 solo tackles. Brandon Wilson (5-11, 200, Sr.) lines up as the opposite corner and has 4 passes defended, 3 TFL and an interception. Terrell Williams (6-3, 210, Jr.) adds 21 solo tackles from his nickel back spot.
The aforementioned pair will cover either Darnell Mooney (6-1, 170, Fr.) or Larry Dace III (5-9, 170, RSr.), two water bugs who line up in the slot. Mooney is second in the receiver core with 171 yards on 14 catches with a TD while Dace adds 75 on 5. Devon Breaux (6-0, 180, RSr.) adds track speed on the outside but only has 3 catches so far on the year for 38 yards, a year after leading the team in ypc with a 17.2 average. Trey Scott (6-2, 225, Jr.) is a converted tight end who has only 2 catches for 14 yards but is dangerously athletic and is a nice blocker along the edge, as is Sergio Medina (5-11, 225, RJr.). Big John Washington (6-2, 290, RFr.) is an offensive lineman who's used as a tight end when Tulane's offense tries to outnumber the defense along the perimeter.
Defensively, the Green Wave an aggressive bunch in coordinator Jack Curtis's 4-2-5 scheme. Tulane allows 28.7 points-per-game (72nd) but only 360.7 total yards of offense, ranking them 27th. While allowing 162.8 yards rushing (59th) they only allow 197.8 yards through the air (27th). They'll be facing a Houston offense under coordinator Major Applewhite that averages 38.4 points-per-game to rank them 22nd. Their total offense of 470.8 yards ranks them 33rd; 180 rushing (58th) and 290.8 passing (33rd).
For Tulane's defense, it all starts up front with tackles Tanzel Smart (6-1, 305, Sr.) and Sean Wilson (6-3, 271, Jr.). Smart will be playing on Sunday's in the near future as he's physical, fast and plays with great leverage. He has a motor that doesn't stop as he has 10 TFL, 3 sacks, 24 solo tackles (49 total) and a forced and recovered fumble. Wilson adds 4 TFL and 3 sacks himself. Quinlan Carroll (6-1, 235, RJr.) is an athletic defensive end who will give Houston tackles Josh Jones (6-5, 280, RFr.) and Rodgers or Braylon Jones (6-3, 278, Fr.), if Rodgers doesn't start, trouble on speed rushes. The other defensive end, Ade Aruna (6-5, 245, RJr.) is just as athletic but adds more of a bull rush element despite being a smaller DE. Carroll has 6 TFL and 2 sacks despite starting only one game while Aruna adds 7 TFL, 4 sacks and has recovered 2 fumbles in his 9 starts.
Curtis rotates quite a few defensive linemen in and out of the game, including Daren Williams (6-3, 245, Jr.), Robert Kennedy (6-1, 245, RSo.), Eldrick Washington (6-2, 265, RSo.), Peter Woullard (6-4, 245, RSo.) and Luke Jackson (6-3, 245, RJr.) who combine for 10.5 TFL and 5.5 sacks. They'll play T-E (tackle end) stunts when they don't blitz so Houston's interior line of Noble at center with a combination of guards Kameron Eloph (6-3, 290, So.), Marcus Oliver (6-3, 295, Jr.), Alex Fontana (6-3, 310, Jr.) and Mac Long (6-4, 300, Sr.) will have to make sure that they communicate in which defensive linemen they are responsible for.
When Curtis does send the pressure it's usually in the form of middle linebacker Nico Marley (5-10, 210, Sr.), who leads the defense with 42 solo tackles, 9.5 for loss, 3 sacks and 2 forced fumbles. The grandson of singer Bob Marley, Nico has great instincts and is all over the field. Eric Thomas (5-11, 245, Sr.) is his backup, adding 2 TFL despite not playing much. Rae Juan Marbley (5-11, 230, Jr.) and Zachery Harris (6-0, 220, Jr.), whom are both fast and physical, share the other linebacker spot and have a combined 38 tackles.
Look for Curtis to send pressure early, especially via double A-gap blitzes to shut down Houston's run game. Duke Catalon (6-0 210, So.) is starting to come around after missing a few games due to ankle and concussion issues. For the season he's rushed for 361 yards on 84 carries and 2 TDs. Dillon Birden (5-9, 172, Jr.) has also done a nice job considering he wasn't on anybody's radar to begin the season as he's rushed for 266 yards on 56 carries along with 4 TD's. The offensive line must do a better job in their inside zone blocking scheme to open up lanes as the offense averages just 3.86 yards-per-carry to rank them 100th nationally.
Tulane's secondary does a nice job in pass coverage as they have two hard hitting downhill safeties in Jarrod Franklin (6-1, 210, RJr.) and Roderic Teamer (5-11, 190, So.). Franklin is right behind Marley in tackles with 33 solo (61 total) while Teamer isn't too far behind them, adding 27 solo and 3 for loss. Curtis will send one or the other to fill gaps in the box so Houston QB Greg Ward Jr. (5-foot-11, 190, Sr.) will have to decipher man from zone coverage as Curtis likes to mix things up. Ward is completing nearly 70-percent of his passes and has thrown 14 TD's to 8 interceptions (but 6 of those have come in the last 4 games in which they've gone just 2-2). Ward has matured into a true QB over the past two seasons, being able to decipher mixed coverages while going through his progressions patiently as he averages 302 yards passing-per-game. It's only when he's under duress via pressure that he's made bad decisions passing, which is related to all of the O-line injuries. When he has a clean pocket, Ward is able to pick opposing defenses apart, if not with his arm then his legs as he's great at extending plays outside of the pocket in order to give his receivers time to get open downfield. If he can't find anyone open down field he'll easily pull the ball down as he's scored a team leading 8 TD's rushing.
Bonner returning to his slot receiver position will help as he's become Ward's favorite target this season with 677 yards on 59 receptions and 2 TD's. Richard Allen (5-10, 180, Sr.) and Taris Shenall (5-10, 170, So.) split time at nickel back and will be covering Bonner for the most part. This could be a good thing for the Coogs as both have been burned at times over the course of the season for Tulane. Allen has 21 solo tackles to Shenall's 13 and both have an interception.
On the outside it's been a game of 'pick your poison' for receivers Steven Dunbar (6-3, 210, Jr.) and Chance Allen (6-3, 215, Sr.) as both have 41 grabs on the season with Allen having slightly more receiving yards with 573 to Dunbar's 552. Dunbar leads the unit with 4 TD's while Allen ties Bonner with 2. Parry Nickerson (6-0, 185, RJr.) is Tulane's shut down corner as he has 9 passes defended, including 3 interceptions (of which he's brought back for 133 combined yards). Donnie Allen (6-0, 180, RSo.) lines up opposite of Nickerson and adds 5 passes defended and an interception as well.
Special Teams
The Green Wave excel on kick returns and punt coverage but are lacking in punt returns and kick coverage, just as the Coogs. Tulane averages 22.9 yards per kickoff (34th) return behind Badie's 27.5. The Cougars must play disciplined and stay in their assigned lanes as they allow 23.3 yards per return (101st). The Green Wave have used multiple punt returners, just like Houston, but only averages 2.5 yards-per-return (122nd) behind Hilliard's 25 yards on 7 total returns. The Coogs are third nationally allowing just .3 yards-per-return (allowing just 5 yards on 7 total returns).
Houston averages 23.3 yards on kickoffs (29th) behind Wilson's 25.1 and D'Eriq King's 25.4 while Tulane allows 19.5 yards to rank 45th. Just like Tulane, Houston has used multiple players for punt returns but still hasn't been consistent as they average just 3.9 yards-per-return (111th) as King has the most with 29 yards on 6 returns. Marquez Stevenson (6-0, 175, Fr.) returned a punt against UCF but for negative yards. Special teams coach Jason Washington must continue to get his punt returners to learn when to signal for a fair catch versus when to actually return them as returning punts in traffic can lead to turnovers. Tulane allows 2.1 yards-per-punt-return to rank them eighth nationally.
Tulane's Zachary Block (6-4, 182, So.) averages 42 yards on 45 total punts, pinning opponents inside their 20-yard line on 16 occasions while punting more than 50 yards nine other times. Houston's Dane Roy (6- 7, 230, Fr.) must punt more consistently as he averages just 39 yards on 35 total punts, pinning opponents inside their 20 on 11 occasions while booming punts 50 yards or more just four times. If the game comes down to a field goal, well let's just say both coaches might go for it on fourth down as Tulane's Andrew Dirocco (6-1, 185, Jr.) has connected on 8-of-14 attempts (with three being blocked), after connecting on 17-of-25 over his previous two years. Houston's Ty Cummings (6-0, 180, Sr.) meanwhile is 10-for-14 on field goals and has 26 touchbacks on 60 kickoffs. Block has 17 touchbacks on 39 kickoffs for Tulane, so kick returners for both teams should be able to bring back their returns.
Keys to the Game
Both teams want to control tempo, but go about it in different ways. While Houston is seventh nationally in time of possession (34-minutes, 11 seconds) they want to wear down opposing defenses by running as many plays as possible (they rank fifth with 757 total plays). Tulane will not go up-tempo and wants to grind the game out as they have run only 650 total plays (62nd) but still rank 18th in possession time with 33-minutes, 7 seconds on average. The key for how successful Tulane will be offensively comes down to what they do on early downs. If Houston can cause chaos behind the line of scrimmage and put Tulane in 2nd and 3rd-and-long downs and distances, it will be very difficult for the Green Wave to move the ball. With Houston's defense crowding the box on early downs, look for Tulane to go with their quick passing game to the perimeter in order to open things up later on. How Houston's pass coverage plays (back in zone or tight in man) will also be key.
Offensively for the Coogs, they need to establish their inside run game early. Tulane has been hit-or-miss in rushing defense; on one play they'll blow the line of scrimmage up for a TFL (they rank 36th with 59 TFL), the next play they'll lose contain or miss an assigned run gap and allow a huge play. Tulane can also get after the QB as they have the same amount of sacks as Houston does, 22.
Ward and the rest of the offense must be careful with the ball as Tulane ranks 16th in turnover margin at a plus-7. The Green Wave's defense is stacked with hard hitters on every level as they've recovered 12 fumbles to rank them SECOND nationally. Houston has surrendered the ball eight times this season via fumbles while throwing for nine interceptions. Their minus-3 turnover margin ranks them at a not-so-impressive 90th overall.
The Cougars must score touchdowns once inside the redzone as they rank 36th (34 conversions on 51 attempts) while Tulane's defense ranks 92nd (allowing 21 TD's on 32 attempts). Tulane offensively is ranked only 75th (21-for-35) while Houston's D is 39th as they've only allowed 13 conversions on 23 attempts inside the redzone.
With a talent gap this wide, Tulane cannot commit penalties at the rate they normally do as they average seven for 60 yards-per-game, ranking them in the mid 80's in both categories. Houston conversely cannot give the Green Wave any gifts as they commit only four for 45 yards on average, both in the top-25 nationally.
When all is said and done, Houston should win this game handily, but as we found out against SMU, "any given Saturday" should be the motto Herman preaches to his troops during practice this week. As in, on any given Saturday any team can win (or lose) if their opponent doesn't play with the right mind set and isn't properly motivated.