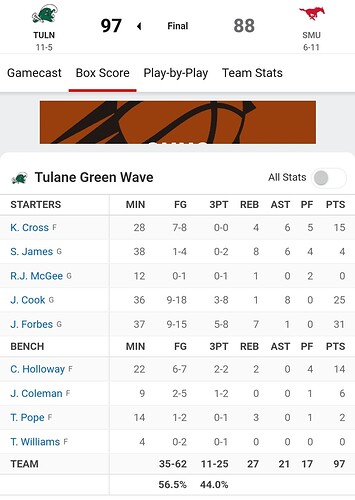 Cook & Forbes had themselves a game tonight.
Will be a tough task, next Tuesday. But 5 days to prepare
UCF plays at Tulane this Saturday

Hopefully the 5 or so days off is enough for Jarace to recover because Tulane is levels better offensively than USF
Goodness, Tulane can score. I'm sure CKS will get the perimeter defense right after giving up 47% from deep vs USF. If J-Walk is 100% and Roberts his typical game, I feel good about this one.
Tulane played tonight, plays a tough UCF Saturday, and then us Tuesday. That's a grind like we just came off of. We have between now and then to rest up and prepare. Hopefully, everyone should be back healthy.
taking my parents to their first game in the Fertitta Center Sunday against Temple (dads an Alumni from the 60's)
soooo, really needing us to curb stomp Tulane so we're still #1.
Watching College Gameday on my first Saturday not having anything to do, and am genuinely sad that there's no Coogs basketball today.
Yeah, no game this weekend stinks.
Exactly…
(Insert "y'all got any more of them" UH basketball games meme here.)
Yeah but with J. Walker's illness couldn't have come at a better time!
Like to have Jarace to match with Cross.
We need to get healthy! Tough stretch coming up!
Stinks that UCF is going down to Tulane.
The game Tuesday is officially for 1st place.
A Coog wins means we get a stranglehold on the rest of the conference.
Tulane was fortunate today. UCFs a team who doesn't like to use their bench and now playing without Darius Johnson, which is crushing, and Durr.
UCF could have won it down the stretch but missed a number of great opportunities.
Losing to Tulane will hurt UCF and Memphis when it comes to selection Sunday… can't afford that.
Greenie weenies look spunky. We should be cautious.

Tulane will be playing their 3rd game in 6 days and their starters played a lot of min. They depend heavily on three players and don't get that much from their bench.
Forbes 38 min
Cook 36 min
Cross 36 min
James 34 min
im not sure that is tulane this year… that was the case last year but theyve gotten deeper this year
my mini take on tulane
tulane is probably the deepest offensive team in the conference, with 6 players capable of going for 25 on any given night depending on who is on (they just rotate on who is guy that night). there the main 3 (cook, forbes and cross), but then theres sion james who had 30 vs memphis, collin holloway whose had a 25pt game this season as a offensive 4, and then Jaden coleman who is having a down year but arguably the best shooter on Tulane, finished last year doing like 15 per… with rj magee and tylan pope are decent offensive player… all 8 players i listed have had atleast 15pts this season
but to counter; that they are a terrible rebounding and defensive team, they ar 6'8 at the 5, and 6'6 at the 4… they do run a zone thats weak against 3 pt shooting. almost all recent major 3pt shooting games' we've had is against them for this reason (ie cam's 30pt game)… hoping for sasser or sharp to have a big game… also wouldn't be shocked to see Terrance at the 4 this game
this also my ongoing theory of why Tulane is terrible out of conference but really good in conference … aac teams are built tough to compete with houston (and formerly cincy w/ cronin)…few aac teams put pure shooters out there that might be liability, while out of conference teams are stacked with shooters who can torch them (ie ucf and memphis #2/#3 in the league have no elite shooters on roster)
Is there a line out yet on COOGS game @ Tulane