Stings. Thinking #7 on Monday.
Well, at least we know we don't lose consecutive games. UCF may bear the full wrath of this loss.
No way we drop that low…lots of teams have lost this week. I am thinking #3.
My guess is anywhere from 2 to 4. Every team has bad losses on their record now.
5th. Only ranked team who took a loss comparable to ours was Xavier and at least that was on the road. Since we will have wins over 2 ranked teams that should give us some benefit of the doubt
That would be nice but we just lost at home to a quad 3 team that is 12-9.
I don't care where we are ranked as long as we get better as a team.
Some of the pressure being No.1 is gone. We get back to playing like a coach Sampson team now
UCF is not a guaranteed win by any means. We're playing between 78-80th in offense. Their defense will come out clogging the lane. The guards will need to bring it.
Doesn't matter. Just finish as the winner at the end of March Madness. #1 ranking right now doesn't guarantee anything for the future.
I'll be there!
Sitting 10 rows up behind the visitors bench and wearing red
Anybody else going?
Temple beat Rutgers, who is legit, at home and almost beat Nova at home…
They just seem like a team that plays up/down to their competition.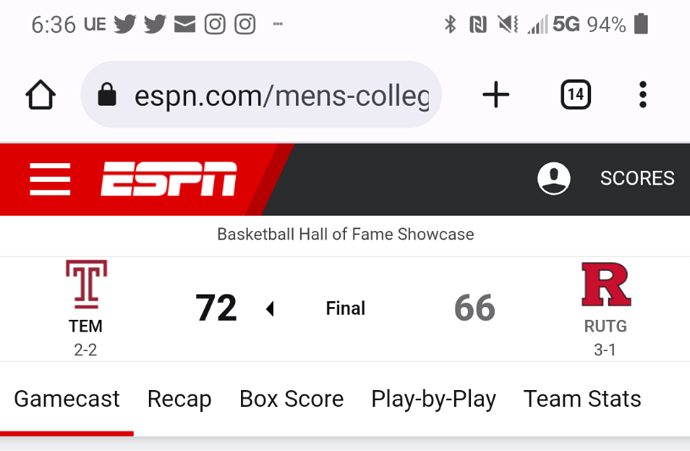 Is it possible for this to become a quad 2 loss?
Nope… do not see them moving up that high… stinks. For what it is work, Temple also beat Nova but of course they are not their usual strong team this year.
I thought they had lost to them… Now I see they have beaten us, Nova and Rutgers…
But lost to Wagner, MD Eastern Shore and Penn… WTF!!!
And Wagner outrebounded them…!
They're up to 126… Oof those quad 4 losses…
Unfortunately we gotta root for them somewhat.
Temple seems to be moving in the upward direction. But if they lets say lost to Tulsa, SMU, USF and dropped below 161 in the NET
Then it becomes a Quad 4 loss for us.
Im pretty confident it'll be Quad 3
Agreed. The combo of clogging the lanes works really good when our guards are missing open floaters.
But what Temple did was shut down our bigs and keep them from easy dunks and layups.
Ironically Roberts was 3-3, while Chaney and Francis both hit their only shot.,
So Temple took Roberts out of his game and our guards basically pooped the floor with missed shots in the lane