Lmaoo hopefully this home game goes better than the last

Emmanuel Sharp shooting 43.3% from 3pt
Marcus Sasser up to 37.3% from 3pt
Almost 5 guys averaging double figures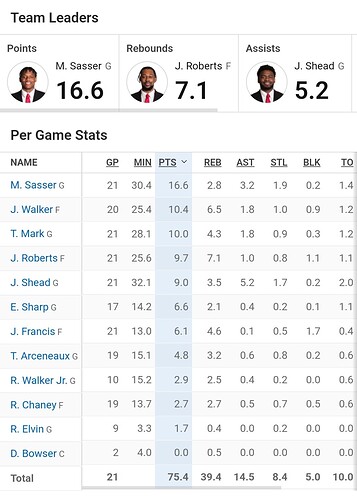 We need to play at home like grown azz men, not tutu wearing fairies. You DO NOT LOSE AT HOME. You don't let some dog come and do it on your yard. Geez. You gotta get your head on straight that this is where we put it on for us, the school and our fans.
Just another grayseater excuse as to why not to show.
@busseycoog bringing dat



I want to see more Sharp.

first major national broadcast!
i hope sasser and jarace have a big game and get back in the all-american conversations with a national audience
The Alabama game was on ABC.
But was it national or regional? Could have been either, I don't know.
ESPN has us as a 97% favorite to win.
And we were 19-20 pt. favorites against Temple. Treat every game as a play-in game to the NCAA tournament.
Things I'd Like to See vs Cincinnati
No less than 75% in FTs made
Chaney/Roberts handle passes under the basket cleanly and either go up with authority or kick it out quickly before the defense can react.
No teardrops
More driving by our guards
Less overdribbling by Sasser, Shead and Mark
The return of Roberts baby hook
No more stepping out of bounds
Things I want to see
90 point for us
50 points for them
Sharp dribble penetration. The one time he did it last game, he was a force
Facts. As long we are in relative control and aren't sweating out the last 8 mins like half our home games so far then I'm happy lmao