Be ready to change that title to @ #1 Houston . . .


We should beat Tulsa and sMU and that lines up us as #1 against Penny. Let me get ahead of ourselves.
next 2 games should be on the less stressful side would love to see some development for sharp and terrance
Can never count on that stuff when refs are involved.
We just went thru the hardest stretch of our schedule
Now 4 of our next 6 at home.
And the 2 road games (at SMU, at ECU).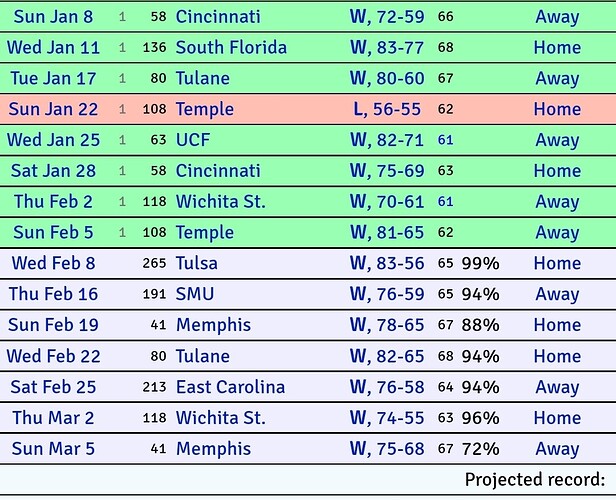 That 2nd half made me feel dang good.
Both Memphis and Tulane games at home should be fun.
No doubt the best half we have played in a long time
I think you saw it today when Shead had to sit the bench with 10 minutes to play. Loved Mark running the point he looked great. Was impressed with Sharp's play during that critical time.
Anyone looking to sell a parking pass for the game Wednesday?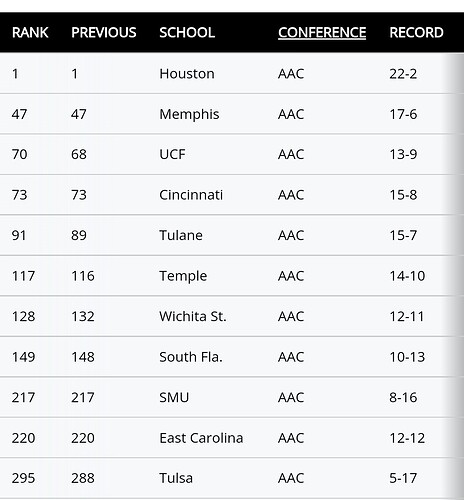 Might be losing a Quad 1 win. UCF is 70th in the NET. If they drop below 75th, it becomes Quad 2
And has been struggling lately
Playing at Memphis & the conference tournament our remaining Quad 1 opportunities
I feel sorry for Tulsa… gonna get the rage from the Coogs after the AP poll disrespect!
What disrespect? Geez !!
Edit: and u see how a quotation error can guve a different meaning. I don't thk the Coogs are being disrespected for a second this year. Lot of talk of them being one of the favs this year. What more do We want. They lose at Home to Team in the NET 100s n only drop to #5. Thats getting much respect in my eyes. Just me I guess

.
It's hard to cure the victimhood mentality of some of our fans.
Drives me crazy Mark. I'm one of the biggest Coog fans out there for 50+ yrs . Other yrs yes… maybe little disrespect. But not this Year. Not at all imo. Even Lunardi… East Coast media to the core gave big props to AAC n especially the Coogs. He said they checked all the boxes.
Those Coog shirts have to come off every once in a while n get washed.

.
Anyhow Always #GoCoogs
Beat Tulsa….23-2.
Beat SMU……24-2
Win balance of AAC schedule….29-2.
Sweet!
Some minuscule bit of optimism, there are 363 teams in D1 now, not 352. So 346 isn't 6 spots from the bottom. Its 17 spots. That's better.