Just went to the link and watched the video of the Walker jam. Team jumping up and down, but I would like to see the expression on coaches face when this happened.
I don't think he has a problem with them dunking the ball and also, they celebrate on the bench all of the time.
Coach never quits yelling. So I doubt it matters if they're celebrating or sitting like church mice.
Is that your best criticism of the game last night???
I have never seen Coach Sampson happy during a game. So him looking unhappy during a breakaway dink wouldn't surprise me.
Probably upset about Walker turning the ball over and not hustling down the court. Turned out amazing, but in a coach's head, he was probably mad at Walker for being a freshman making freshman mistakes.
Coach high fived Arceneaux after he stole the ball and over the shoulder passed to jwalkwr
Coach needs to work on his form - probably from lack of practice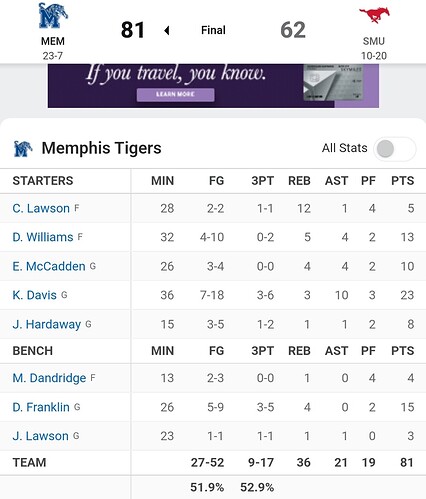 No Alex Lomax for Memphis last night. But he'll probably be available Sunday
Since Keyonte Kennedy's broken hand, Damari Franklin and Elijah McCaden have stepped up
Franklin averaging 11.5ppg over his last 4 games
McCaden averaging 10.7ppg over his last 4 games
we need to get this W.
Muck Femphis!
TA's hustle and work on that play was a stark contrast to the play that led up to it. Great job turning that into a positive play.
Hopefully McCadden won't get superstar treatment from the refs again. 13 FTs from some nobody getting touch foul calls every time he drove it.
Will Jim Nantz call the game Sunday?
Yes, Jim Nantz and Bill Raftery
Exactly. If a no name like him gets paraded to the line on the road then imagine all the calls Davis will get at home

I suspect that Aresco and other leaders of the AAC, will have already met with the 3 refs for Sunday's game informing them that UH will not win as it would most like cost Memphis State to miss the NCAA tourney.
It is all about the Benjamin's for Aresco and he knows that after this year, they will most likely always be a 1 bid league.
Having shared what I believe goes on behind the scenes (been to too many UH/ut Football games in Austin in the 60s, 70s and 80s to doubt it)…….,
I hope we stomp Memphis one or 2 more times headed out the door. I never liked those cheating bastards !!
They way refs start calling fouls like paid by the whistle when UH haf gone up by about 15 on AAC opponent this year to keep the games from being completey destruction was so obvious. The momentum killer whistles agaisnt the Coogs so many times were blatant. The AAC and the refs have not made it hard to see that there were orders to try to protect the other AAC teams against UH and from the conference having a bad image by the Coogs obliterating the conference in basketball and funny thing is UH still almost swept conference play.
full memphis sellout for the game… 18k memphis will be present