2016 Game 4 Preview: Texas State
By: Jimmy Schofield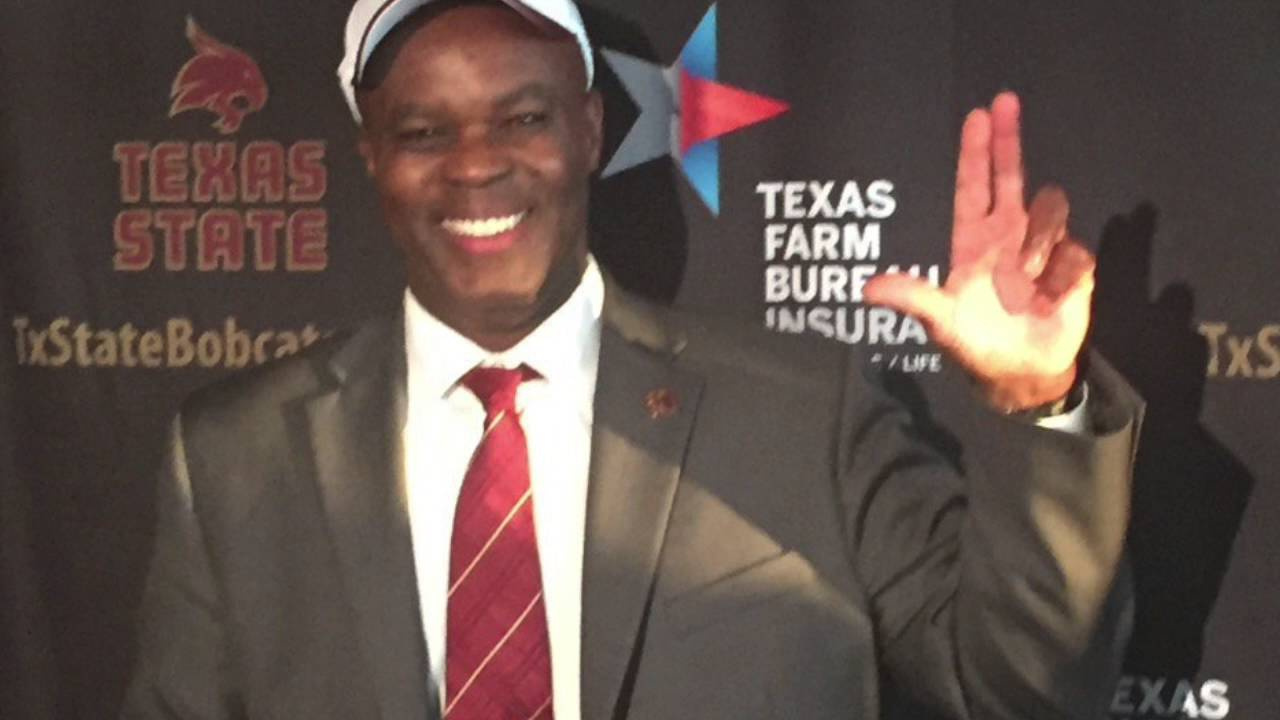 Photo via txstatebobcats.com
Coming off a dominating fourth quarter performance in which they outscored Cincinnati 28-6 in their American Athletic Conference opener last week in a 40-16 victory, your sixth ranked Houston Cougars travel to San Marcos this Saturday as they take on the Bobcats. Game time from Bobcat Stadium is set for 6pm CST and will be broadcast on ESPNU.
After a modest four year run in which Dennis Franchione (who led the Bobcats transition from the FCS to the FBS level in 2012) had a 23-25 record during the 2011 to 2014 seasons, the bottom plummeted last season to the tune of a 3-9 record leading to his resignation over the off-season.
Enter Everett Withers
Withers is in his fourth season overall as a head coach after having led the James Madison Dukes to the FCS playoffs the past two seasons with an overall record of 18-7. He also coached the North Carolina Tar Heels to a bowl game with and finished the 2011 season with a 7-6 record.
A defensive minded coach by nature, Withers has been a secondary coach for 17 seasons and a defensive coordinator for 11 of his 29 years as an assistant including stops at Ohio State, Minnesota, Texas, Louisville and Southern Miss. He and Houston head coach Tom Herman were part of the same Texas staff in 1999 and Ohio State during the 2012 and 2013 seasons.
Withers' James Madison teams during the 2014 and 2015 seasons were known more for their high flying offense however, under the play of quarterback Vad Lee. The Georgia Tech transfer passed for nearly 5,700 yards with 51 touchdowns, completing over 63-percent of his passes while rushing for over 1,630 more in just 21 career games.
I bring this up because the Bobcats have a QB whose play can be similar potentially to that of Lee in four year starter Tyler Jones (6-foot-2 inches, 197 pounds, Sr.). The Stephenville product has flashed major potential over his three seasons in San Marcos, completing a school record 65.4 percent of his passes in 2014 to go along with 22 TD's to only 7 interceptions while rushing for over 500 yards with an additional 6 TD's in leading his team to a 7-5 record.
The dual threat QB has completed nearly 63 percent of his 81 passes this season for 501 yards (including 418 in a 56-54 triple OT win at Ohio to open the season) and passed for 4 TDs to 3 interceptions under first year offensive coordinator Brett Elliot, who came to Texas State with Withers from James Madison after coaching some high flying Southern Miss offenses the previous years as well. They'll use shifts and motions in their spread scheme via the receivers and running backs in order to create unbalanced sets as well as trying to confuse opposing defenses by distracting them from reading their pre-snap keys.
Withers and Elliot also want balance but unfortunately they have a young offensive line that struggled last week at Arkansas in a 42-3 loss after performing admirably well in that upset of Ohio in which they opened up holes to the tune of 107 rushing yards and 440 passing. The Bobcats running game averages an inept 1.9 yards-per-carry thus far on the young season, thanks to 87 yards lost on TEN sacks. The offensive line entered the season with four linemen accounting for 66 returning career starts led by fourth year starter Ryan Melton (6-foot-5, 329, Sr.) at left tackle (or what they call quick tackle), who's moving over from the right side where he started the previous two seasons. Felix Romero (6-foot-4, 303, Sr.) has 26 career starts but missed most of last season due to injury, returns to the right guard spot. Giuliano Cattaneo (6-foot-4, 310, Sr.) returns at center after starting eight games last season as a JC transfer. The two youngsters are redshirt sophomore Tryston Mizerak (6-foot-6, 290) at right tackle (who started three games at center in Cattaneo's absence) and freshmen Jacob Rowland (6-foot-5, 305) and Aaron Brewer (6-foot-3, 295) have rotated at left guard.
It's never good when your QB leads your offense in rushing attempts, but that's exactly what the Bobcats have as Jones has 29 carries for a net minus-22 yards (including lost yardage on the sacks). Stedman Mayberry (5-foot-10, 189, RSo.) won the starting running back job over summer practices and has 113 yards on 27 carries for a 4.4 yards-per-carry average along with a TD. The Cedar Park-Vista Ridge product had 61 yards last season as a reserve and is an all-purpose back as he's second on the team with nine receptions for 60 yards. The only other running back to carry the ball is JC transfer Jericho Worrell (6-feet, 200, Jr.) who's rushed for just 18 yards on 10 carries.
Just as with the running back position, the Bobcats lost all of their wide receivers as they return just two players who caught a pass last year, and that was Mayberry with 5 for 26 yards and tight end Gabe Schrade (6-foot-4, 227, Jr.) who only caught a pass for 11 yards. This season Schrade is tied for second with 8 receptions for 84 yards as they like to flex him out wide to cause mismatches against smaller corners or he'll line up inline in order to force a linebacker or safety to cover him.
The two leading receivers are JC transfers in Eric Luna (6-foot-1, 200, Jr.) and Elijah King (6-foot-2, 180, Jr.) on the outside with 11 and 8 receptions for 99 and 129 yards respectively. Tyler Watts (5-foot-8, 148, So.) and Thurman Morbley (5-foot-11, 166, Fr.) are two speedsters in the slot and have 6 and 5 catches for 66 and 53 yards respectively.
Unfortunately for the Bobcats, the combination of youth and inexperience won't bode well for Saturday's game as they face Todd Orlando's 'Third Ward Defense' that leads the nation in rushing yards allowed with just 38.3 per game and a miniscule 1.46 yards-per-rush which trails only Florida. The down linemen in Orlando's multiple scheme of Jerard Carter (6-foot-3, 290, So.), Cameron Malveaux (6-foot-6, 270, Sr.) at end with B.J. Singleton (6-foot-4, 305, Sr.) in reserve flanking Big Ed Oliver (6-foot-2, 290, Fr.) and Nick Thurman (6-foot-4, 290, Jr.) at the nose have been stout up front through three games, especially Oliver who leads the unit with 8 solo tackles (12 total), 4.5 tackles-for-loss and 2 sacks.
Their dominance up front has allowed the linebacking unit free rein in shooting the gaps as Orlando uses them very aggressively. Steven Taylor (6-foot-1, 225, Sr.) leads the nation early on with 5.5 sacks and is 10th with six tackles-for-loss as he lines up all over the field. His coverage has been impressive as well as he had a lumbering 74-yard pick-6 last week at Cinci. Fellow inside linebacker Mathew Adams (6-foot, 230, Jr.) has the makings of the Coogs next great inside linebacker as he and Taylor lead the defense with 11 solo tackles, while trailing Taylor by a single tackle for the team lead in total tackles with 20.
With Oliver forcing multiple double teams inside, "rush" outside linebacker, Tyus Bowser (6-foot-3, 240, Sr.) has quietly had a very nice start to the season with 3.5 sacks, 2 pass breakups and a forced fumble. The senior has also done a nice job of setting the edge in the run game as he's third on the team in total and solo tackles with 17 and 10 respectively. When playing in their true 3-4 scheme, outside linebackers D'Juan Hines (6-foot-1, 225, Jr.) and Emeke Egbule (6-foot-3, 230, So.) have flashed potential at times but only have a combined nine total tackles (three solo).
With Brandon Wilson (5-foot-11, 200, Sr.) ailing with a lower leg injury (he's questionable for the game as of this writing), fellow safeties Garrett Davis (6-foot-1, 200, So.) and Khalil Williams (6-foot, 200, Jr.) need to step their games up to replace Wilson's versatility. The two young safeties have had troubles communicating numerous times against OU and Cinci in getting burned deep, but that's to be expected from underclassmen who are first year starters. Davis is playing in more of the strong safety role, playing all over the field and helping out in run support as the thumper is tied for third with 8 solo tackles while Williams plays more of the center field free safety role with 8 total tackles himself. If Wilson can't go, look for Terrell Williams (6-foot-3, 210, Jr.) to play at the nickel as he has 8 total tackles as well on the season.
Cornerbacks Howard Wilson (6-foot-1, 185, RSo.) and Jeremy Winchester (6-foot, 190, So.) won't have much help against the Bobcats outside receivers. Wilson started to bring the 'Jack Boyz' back as he had two interceptions last week including a 20 yard pick-6 to end that dominating fourth quarter against the Bearcats. He should have had one earlier in the game but dropped a sure interception in anticipation of running it back. Winchester has been burned a few times this season but has to shake it off as teams will continue to go after him.
Flipping the script, the Bobcats are small up front. I mean really small. In defensive coordinator Randall McCrary's 3-4 multiple scheme, their starting defensive ends, Ishmael Davis and Jordan Mittie are listed at 223 and 235 pounds, with both being underclassmen (freshman and Sophomore respectively). Their nose guard, Dallas McClarty, is "only" 270 pounds. McCrary doesn't have his line play too many games up front via stunts and twists, though they will move linebackers down right before the snap to go from a 3-man to a 4-man or even 5-man front as they try to give exotic blitz looks. Sometimes McCrary will have those same linebackers drop back into coverage at the last second in their zone looks.
Their inside linebacker duo of Bryan London and Lloyd Gabe are 215 and 240 pound respectively. Even though London is a true freshman he plays all over the field as he leads the defense with 22 tackles, 11 solo, including four for loss. Gabe is a junior who also has 11 solo tackles and 18 total. Their outside linebackers, Easy Anyama and Gavin Graham are listed at 220 and 210 pounds and have 8 and 4 solo tackles respectively.
Anyama was a safety last year who started his career on a track scholarship at Texas. He's also from my alma mater, Stafford High School on the SW side of Houston. Graham is a true freshman who's more of a hybrid safety/linebacker as McCrary wants to use speed in a very aggressive fashion. Nikolas Daniels could be a star in the making as the 6-foot, 235 pound true freshman out of League City leads the defense with six tackles-for-loss.
The Bobcats allowed Arkansas to rush for 233 yards last week after allowing Ohio 247 in their opener. So it should be obvious what Houston offensive coordinator Major Applewhite should do at Bobcat Stadium Saturday night; run right at this young, inexperienced and small Texas State front seven. Applewhite's offense has had trouble establishing the between-the-tackles run game against their two FBS opponents, Oklahoma and Cincinnati, combining for only 269 yards but with most of those coming via the perimeter run game. Against Lamar they rushed for 381 yards, accounting for their 216.7 yard average through three games.
Much of the lack of success of the inside run game are twofold; injuries and ineffective line play. Quarterback Greg Ward Jr. (5-foot-11, 190, Sr.) took the team on his shoulders against the Bearcats, rushing for 27 yards on 5 carries and 2 TD's to give the team the lead and some breathing room (before the two pick-6's put the game away). The first TD was a 12 yard scamper in which he had darn near 10 seconds to throw before pulling the ball down and darting between defenders for a 12 yard score. The second was a three yard QB sweep, led by tight end Tyler McCloskey (6-foot-2, 245, Sr.). Ward also completed 5-of-6 passes for 65 yards. Oh, this was all just in the fourth quarter. For the game he rushed for 73 yards on a career high 26 carries (including three kneel downs to end the game). He completed 24-of-36 passes for 326 yards with a TD on a beautiful post to wide receiver Chance Allen (6-foot-3, 215, Sr.). He threw two bad interceptions, one at the goal line, but I attribute that to a bum shoulder he sustained against Oklahoma. In two games he's averaging 323.5 yards through the air while completing 61 percent of his passes.
Running back Duke Catalon (6-foot, 210, So.) has also been ineffective between the tackles for the most part but has had success on the outside zone run game and has 155 yards and a 4.1 yards-per-carry average in the two games he's played in. I personally would hold both he and Ward out Saturday night as the Coogs host a physically tough UConn club the following Thursday, but Herman said that both are good to go for Saturday during his weekly Monday media press conference. Just like in the Lamar game, look for a lot of Mulbah Car (5-foot-11, 194, Fr.), Kevrin Justice (5-foot-11, 190, RFr.) and D'Eriq King (5-foot-10, 170, Fr.) in the run game as they combined for 236 yards against the Cardinals two weeks ago.
Of course none of this will happen if the offensive line play doesn't get straightened out. The guard duo of Alex Fontanta (6-foot-3, 310, Jr.) and Mac Long (6-foot-4, 300, Sr.) have been pushed around against both the Sooners and Bearcats. Look for the competition for both guard spots to be open this week with Marcus Oliver (6-foot-3, 295, Jr.), Mason Denley (6-foot-4, 305, So,) and Kameron Eloph (6-foot-3, 290, So.) to get shots at reclaiming their starting spots. Left and right tackle Josh Jones (6-foot-5, 280, RFr.) and Na'Ty Rodgers (6-foot-5, 292, Jr.) have played ok, but need to play smarter, or commit less penalties.
Allen finally got on track last week with 94 yards on 5 receptions as he has 129 yards on 8 receptions total this season, while fellow outside receiver Steven Dunbar (6-foot-3, 210, Jr.) has 11 catches for 150 yards. The surprise of the offense thus far this season has to be slot receiver Linell Bonner (6-foot, 200, Jr.) who leads the receiver unit in both yards and receptions with 228 and 15 respectively. Both he and King (56 yards on 8 catches) weren't even on the depth chart until a few weeks into the season due to injuries to Ra'Shaad Samples (5-foot-11, 190, Jr.) and Marquez Stevenson (6-feet, 175, Fr.). Outside receiver Isaiah Johnson (6-foot-4, 205, RSo.) has shown the flashes of greatness and has 92 yards on just 3 catches as his speed on the outside will be used to burn an inexperienced Bobcats secondary off of play action once the run game has been established.
As the Bobcats light front seven hasn't been able to get any pressure on their two opposing QB's, they've passed for an average of 317 yards while completing nearly 65 percent of their passes with 6 TD's to ZERO interceptions. In staying with the theme of the Bobcats D, cornerbacks Clarence Guidry III and Brandon McDowell are going to be giving up 4 to 5 inches and 20 pounds to Dunbar and Allen as both are listed at 5-foot-11 and 185 pounds. Guidry is their 'shut down corner' and has two pass breakups while McDowell is second on the team with 10 solo tackles. It's never good when one of the members of the secondary are one of the defense's leading tacklers as it means the front seven isn't doing its job of stopping the run.
Safeties Javante O'Roy (6-feet, 180, Sr.) and Stephan Johnson (6-feet, 189, Jr.) have had to help out so much in run support that they have 29 combined total tackles while Johnson is second on the defense with five tackles-for-loss (of his 11 total tackles). Quentin Tiggs (6-feet, 190, Jr.) started against Arkansas last week in place of Johnson and has 8 total tackles in two games.
Special Teams
Texas State is below average in both return games as they average just 18.4 yards-per-return on kickoffs and 5 on punts as McDowell is their return man in both. They allow 21.8 in kick returns and 5.5 on punt returns. Lumi Kaba was an all-conference punter last year and has pinned opponents inside their 20-yard line on 7 of his 16 punts and has 6 that are more than 50 yards. Marcus Ripley and James Sherman have connected on a field goal each. Sherman is from Spring's Klein Oak HS.
While Houston punter Dane Roy (6-foot-7, 230, Fr.) only averaged 34.7 yards on his 6 punts last week, he placed 4 of them inside Cinci's 20-yard line. For the season the "Puntah" is averaging 39.5 on 11 total punts, with those four inside the 20, six fair catches and two of over 50 yards. Opponents only average 4.4 yards per punt return but more than 27 on kickoffs as they've been gashed for some huge kick returns as players on Jason Washington's unit need to play more disciplined and stay in their assigned lanes.
It seems that King has taken Dunbar's spot as punt returner as the true freshman playmaker had one return for 8 yards last week after Dunbar only brought back two for six total yards over the first two games. If Wilson is out, so is his 32.3 yard kick return average, which is ninth nationally. Dillon Birden (5-foot-9, 172, Jr.) could replace him as he had one kick return last week for 20 yards. Ty Cummings (6-foot, 180, Sr.) connected on a 32 yard field goal last week after missing two the previous game and is now 5-of-7 on the season.
Keys to the game
Domination up front on both lines. With the Bobcats defensive line being so light up front, look for Applewhite's game plan to be as vanilla as it was against Lamar, IE pound the rock on the interior and establish an inside run game. Everything else (speed sweeps, the option game and play action) is based off of that success.
Defensively, don't look for Orlando to change his aggressive ways. If anything look for him to ramp up the pressure against an inexperienced group of skill position players. Stop the run to put Jones in obvious passing situations on second and third downs and then come after him, putting the onus on the young skill players to make plays.
And as always, redzone efficiency, penalties and turnover margin will be key. For the season, the offense has scored TD's on only 9 of 19 trips. That 47-percent conversion rate ranks them an unimpressive 110th nationally. The Bobcats have only reached the endzone five times in their two games, but have scored 7's on four of those opportunities.
The Coogs have only committed 13 penalties for 135 yards, both in the top-35 in the nation while the Bobcats have committed only 11 for 100. After leading the nation over the past few seasons in turnover margin, the Coogs are only at a plus-1 currently, ranking them in the middle of the pack nationally as they have 6 turnovers forced to 5 committed. The Bobcats meanwhile are at a minus-1 with 3 forced to 4 committed.
Prediction
Much like against Lamar, even without Ward or Catalon (potentially), the Bobcats, out of the Sunbelt conference, just don't have the size or depth to hang with the Coogs as this one gets out of hand early and they cruise home. Texas State has never won a game against a ranked opponent and has only seven winning seasons in their last 25 years. Withers has a rebuild on his hands as he has around only 70 scholarship players, but Saturday won't be the day he re-establishes his program.
Houston 49 Texas State 10