2016 Game 5 Preview: Connecticut
By: Jimmy Schofield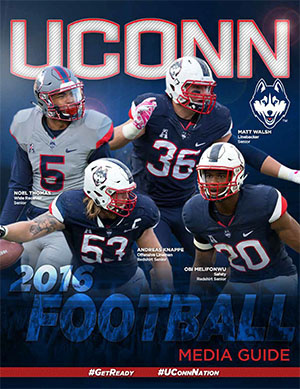 photo courtesy uconnhuskies.com
Holding steady as the sixth ranked team in the nation, your Houston Cougars take to TDECU Stadium this Thursday night for another nationally televised game on ESPN. This week they face the Huskies of Connecticut. Game time is set for 7pm (CST).
The Coogs are coming off an impressive 64-3 victory at Texas State in which they outgained the Bobcats 563 to just 142. Todd Orlando's "Third Ward Defense" is ranked in the top ten in rushing defense (FIRST at just 37 yards-per-game allowed), scoring defense (fourth at 10.5 points-per-game), and total defense (fifth at 228.8 yards allowed). They allow a mere 1.45 yards-per-rush which is also FIRST nationally. While allowing 191.8 yards-per-game through the air (33rd), the "Jack Boys" are starting to improve in pass coverage, much to the help of a pass rush that also ranks in the top ten in sacks (tied for ninth with 10) and tackles-for-loss (tenth with 34).
UConn (2-2), led by third year head coach Bob Diaco (10-19), defeated the Coogs last season 20-17 in East Hartford in a battle of backup quarterbacks (UConn's was knocked out in the first series while Houston's didn't start). That loss was Houston head coach Tom Herman's only defeat in 18 games.
Diaco is an old school coach, as he was a two-time All-Big Ten selection as a linebacker at Iowa under legendary head coach Hayden Fry and was named the team's co-MVP during his senior season of 1995, starting all 23 games over his final two seasons in Iowa City.
While offensive coordinator Frank Verducci wants his offense to grind out the game by controlling the clock with a punishing ground game that sets up play action, his offense this year is run more out of a spread set, featuring two wide receivers and two tight ends. The Huskies average an unimpressive 21.2 points-per-game, ranking them 109th nationally. They average 354.5 yards-per-game of total offense (102nd); 139.2 on the ground (98th), 215.2 through the air (80th).
Quarterback Bryant Shirreffs (6-foot-2, 220 pounds, RJr.) is the definition of a Diaco type of player; a big, tough, physical competitor who's not afraid to get hit. The NC State transfer has no problem pulling the ball down and running if he doesn't see any of his receivers or tight ends open downfield as he's the team's leader with 74 rushing attempts but for only 187 yards (when taking into account their nine sacks and 33 tackles-for-loss allowed), which averages to a mere 2.5 yards-per-attempt (3.5 on runs not being sacked). Shirreffs will run on called draws, sweeps or zone read keepers out of spread or bunched sets.
In their run game, UConn will run out of two tight end sets, using one of them to often shift and motion in order to create an unbalanced formation. By overloading one side of the line Verducci tries to gain a numbers advantage in which they'll run behind, otherwise known as their 'Ace formation.' While Shirreffs is their leading rusher in number of attempts, their leader in actual rushing yards is Arkeel Newsome (5-7, 185, Jr.) who has 211 yards on 52 attempts (4.1 ypc) with two TD's. While Newsome may look like a 'scat-back,' he's their best all-around back as he can run hard between the tackles, and has great vision and speed along with being a great blocker as well. He's also a great threat out of the backfield as he has 47 yards on four receptions out of the backfield.
Ron Johnson (5-11, 220, Jr.) is more their between the tackles and short yardage back as he has 136 yards on 40 carries (3.4 ypc) but has crossed the goal line a team leading four times.
Passing wise, Shirreffs has completed 66.9-percent of 118 total passes, averaging 204.8 yards with two TDs to two interceptions. Against Navy he completed 23-of-26 passes, but he can show "happy feet" in the pocket at times when under pressure, leading to off-target passes, something I'm sure Orlando has noticed on game tape.
Shirreff's top target is Noel Thomas (6-1, 202, Sr.), who leads the receiving unit with 40 receptions (fourth nationally) for 388 yards with a score. Verducci will use Thomas in both the slot and outside in trying to find the biggest mismatch to exploit.
After Thomas, the Huskies have six receivers with between nine and three catches. Hergy Mayala (6-2, 200, So.) is their burner on the outside as he averages 15.4 yards-per-reception on nine total catches. Tight ends Alec Bloom (6-6, 261, Jr.), Tommy Myers (6-5, 260, RJr.) and Tyler Davis (6-4, 235, RFr.) are huge problems when used in the passing game as they cause a matchup nightmare for opposing slower linebackers or smaller safeties in which they'll just out-physical. Davis is especially athletic, being a former high school QB as he often flexes out wide. He's tied with Mayala with 9 receptions and has 80 yards with a TD. Bloom and Myers have 5 and 3 receptions for 63 and 39 yards respectively on the young season.
Up front, the Huskies are starting a first year starter at left tackle in Matt Peart (6-7, 304, RFr.). The redshirt freshman impressed his coaches so much during summer practice that they moved last year's starter at left tackle, Richard Levy (6-6, 316, RSr.), over to right guard. Brendan Vechery (6-6, 309, RJr.) moves from center where he started last season to left guard with another first year starter, Ryan Crozier (6-4, 300, RSo.) taking over in the middle. Andreas Knappe (6-8, 325, RSr.) is a monster of a man who returns at right tackle whose nickname is Thor. As a unit, these behemoths have allowed nine sacks through four games, but Shirreff's has been responsible for a few of them by basically moving into pressure with his aforementioned happy feet as he needs to continue learning how to work the pocket better.
Defensivley for the Coogs, not having Brandon Wilson (5-11, 200, Sr.), as he's been ruled out with a left foot injury, will hurt as he's versatile in helping out in the run game in the box as well as playing coverage from his nickel spot.
This game however will be decided where it always is, up front. The defensive front of Jerard Carter (6-3, 290, So.), Cameron Malveaux (6-6, 270, Sr.) at defensive end with B.J. Singleton (6-foot-4, 305, Sr.) in reserve flanking Big Ed Oliver (6-2, 290, Fr.) and Nick Thurman (6-4, 290, Jr.) must hold at the point of attack against a UConn line that's averaging 310 pounds across the board, not to mention tight ends who both weigh in at over 260 pounds themselves.
Oliver must continue to be the one-man wrecking crew that he's become in the middle (10 solo tackles, 5 TFL and 2 sacks), forcing double teams that allow the linebacking crew to shoot the gaps untouched to pressure the QB and stop the opposing run game. Carter, Malveaux, Singleton and Thurman have a combined 8 solo stops and 3.5 TFL, but have done more than an adequate job at shutting down the A and B gaps allowing said linebackers swoop in for the glory.
Steven Taylor (6-1, 225, Sr.) is second nationally with 5.5 sacks and is in the top-20 with six tackles-for-loss as he lines up all over the field, though listed as an inside linebacker. He also excels in coverage as he and fellow inside linebacker Mathew Adams (6-0, 230, Jr.) will have to contend with UConn's tight ends in pass coverage down the seam as well as their running backs, which they use out of the backfield on swing routes and screens often. Verducci will probably call more screens Thursday night in order to slow down Orlando's pass rush.
Adams has the looks of the next great inside linebacker in the making of a Marcus McGraw or a Derrick Mathews as his combination of speed and size place him all over the field as he leads the defense in solo tackles with 14, 4 TFL, 2 forced fumbles and a sack.
With Oliver et al forcing multiple double teams inside, "rush" outside linebacker, Tyus Bowser (6-3, 240, Sr.) has 10 solo tackles himself including 5 TFL (tying him with Oliver) and 3.5 sacks. He's played well in rush defense as well in setting the edge in not allowing opposing running backs to get outside. Orlando will have Bowser drop back when he calls a zone blitz and Bowser has done a nice job of covering running backs and tight ends thus far with two pass breakups.
D'Juan Hines (6-1, 225, Jr.) and Emeke Egbule (6-3, 230, So.) will have to contribute more from the other outside linebacker spot or lose playing time to Terrell Williams (6-3, 210, Jr.) at nickel back. The JC transfer has 7 solo tackles and a 'hurry' as Orlando likes to use him in the box in one of his many exotic blitz looks in which he has all his defenders standing, often sending safeties or linebackers on delayed blitzes while dropping linemen back in coverage. Hines has six solo stops to Egbule's two.
Coverage wise, look for Howard Wilson (6-1, 185, RSo.) to cover Thomas when he lines up outside. If Verducci puts Thomas in the slot often, which I think he will, Orlando will use one of his safeties, Garrett Davis (6-1, 200, So.) or Khalil Williams (6-0, 200, Jr.) on him but playing back in zone coverage with maybe the other safety over the top. This will put Wilson and Jeremy Winchester (6-0, 190, So.) in man coverage on the outside for much of the night. Wilson has three interceptions the past two games (including a pick-6), 10 solo tackles and 6 passes defended while Winchester has 10 solo stops himself along with 3 passes defended from the other corner back spot. Davis has 12 solo stops while Williams has 6 (but has missed a few tackles), 2 passes defended and a forced fumble. Orlando will really need his safeties to be thumpers against a physical UConn run game.
Defensively, the Huskies allow 22.5 points-per-game (46th) with 381 yards of total offense (55th). Their front seven is stout up front as they allow 119.2 yards rushing (35th) but have had communication problems in the secondary as they allow 261.8 yards passing (100th).
They'll be facing a Cougars offense, under offensive coordinator Major Applewhite, that averages 44.8 points-per-game (12th), 497.5 yards total offense (24th); 223.2 rushing (32nd) and 274.2 passing (37th).
Up front the Huskies are a lot like Cincinnati in that they are a read-and-react type of defense via their 3-4/4-3 multiple scheme. Third year defensive coordinator Anthony Poindexter will line his defense up in 3, 4 and sometimes 5 man fronts while playing a mixture of various zone (cover-2 or single high) or man coverages on the back end. Their defense wants to keep everything in front of them, not allowing any big plays.
Up front they'll play games via line stunts or twists as they won't blitz too often. Their two defensive tackles are monsters in Foley Fatusaki (6-4, 310, RJr.) and Mikal Myers (6-1, 325, RSr.). Both are very experienced as Fatusaki is a team captain. As with all 4-3 fronts, they don't account for much stats wise (1.5 TFL and a sack combined) but they muck everything up along the interior.
Defensive ends Cole Ormsby (6-3, 262, RJr.) and Luke Carrezola (6-3, 255, So.) add 6.5 TFL and a sack combined. Carrezola is a hybrid defensive end/rush backer so one play he may be in a 3-point stance while falling back into coverage on the next as he has four TFL, a sack and a pass defended on the season.
Will linebacker (weakside) Junior Joseph (6-1, 245, RJr.) and middle linebacker Matt Walsh (6-1, 241, Jr.) are hard hitters who flow downhill quickly. Joseph has 15 solo tackles (28 total) and two pass hurries. These linebackers just aren't big and physical but athletic as well with Walsh adding 19 solo tackles (25 total) while veteran Sam (strongside) linebacker Vontae Diggs (6-2, 225, Jr.) is fourth with 12 solo stops (21 total), including two for loss and a pass defended as well. E.J. Levenberry (6-3, 250, RJr.) is a Florida State transfer who always seems to make his way into the backfield as he has 11 total tackles including two for loss and a sack.
The Cougars offensive line has had some change along the interior as they've failed to consistently get their inside zone run game established, especially early in the game. Only because of their pace and the QB running game of Greg Ward Jr. (5-foot-11, 190, Sr.) have they been able to wear opponent's down later in the game. Last week both Kameron Eloph (6-3, 290, So.) and Marcus Oliver (6-3, 295, Jr.) started at left and right guard respectively for the first time this season. Center Will Noble (6-4, 290, So.) will have to continue to be the leader up front and help out with communication against the big UConn defensive front and active linebackers. Alex Fontanta (6-3, 310, Jr.) didn't play in the last game because of an elbow infection according to Herman, but said that he and Mason Denley (6-4, 305, So.) will also see time at both guard spots as the battle to establish that inside run game continues. Mac Long (6-4, 300, Sr.), who started a few games at right guard is battling a leg injury so he's questionable as of this writing.
The tackle combo of Josh Jones (6-5, 280, RFr.) and Na'Ty Rodgers (6-5, 292, Jr.) at left and right tackle along with Tyler McCloskey (6-2, 245, Sr.) must continue to seal the edge to allow Ward and running back Duke Catalon (6-0 210, So.) to run their outside zone run game and QB sweeps. Catalon averages 75 yards in the three games he's played in. He's only carried the ball 48 times because of an ankle injury suffered against Oklahoma to begin the season, and because Herman and Applewhite don't want all of the running load on just one back. While Mulbah Car (5-11, 194, Fr.) is out indefinitely with a probable knee sprain, Kevrin Justice (5-11, 190, RFr.) and D'Eriq King (5-10, 170, Fr.) have done a nice job in the run game, especially King on jet sweeps. The true freshman out of Manvel has 63 yards on 11 carries but also has 117 yards on 12 receptions, with many of them receptions by definition only as they were basically carries on jet sweeps but since the ball was pitched forward by Ward it's defined as a catch, which is good because in the case of a fumble it's just ruled an incompletion.
Ward hasn't particularly had to rely on his legs to win games, minus the 24 carry night at Cinci, as he's matured more into a pure QB this season. Watching him sit in the pocket and go through his progressions has been a pleasure to watch thus far on the season as he's completing 65.7-percent of his 102 passes while averaging 312 yards (18th nationally) with 5 TD's to 2 picks in three games.
Of course it helps when you have two big wide receivers on the outside in Steven Dunbar (6-3, 210, Jr.) and Chance Allen (6-3, 215, Sr.) who have 16 and 12 receptions for 229 and 181 yards respectively with a TD reception each. Slot receiver Linell Bonner (6-0, 200, Jr.) leads the unit with 21 catches for 280 yards with a score and is slowly becoming Ward's go-to target on third down as he's often matched against linebackers or safeties in coverage. The receivers as a unit have also done a nice job blocking in the quick passing screen game whether it's one of their fellow receivers catching the ball or a running back on a swing route.
Huskies free safety Obi Melifonwu (6-3, 217, RSr.) is a versatile defender who will play in the box as he's their leading tackler with 36 (25 solo) and will also play center field in their 1-safety high looks as he looks to tee off on receivers coming over the middle. Anthony Watkins (5-10, 200, RSo.) is the strong safety and has 12 tackles, 7 solo, and a pass defended.
Cornerback Jamar Summers (6-0, 190, Jr.) has five passes defended (four broken up and an interception). He's also a good open field tackler, especially defending against quick screens as he has 18 total (14 solo and two for loss). The shutdown corner is also a threat after corralling a turnover as he has an 86 yarder on a fumble recovery that was returned for a TD. As with all shutdown corners though, his confidence can allow for sloppy technique in allowing him to get beat as he did last week against Syracuse in which he allowed Amba Etta-Tawo to catch 12 passes for 270 yards, including TDs for 57 and 30 yards. Jhavon Williams (5-10, 187, RSr.) mans the other corner spot, adding 14 total tackles (12 solo) and forcing a fumble.
Special Teams
With Wilson out, King will continue to man both the kick and punt return roles, which is a good thing coming off of last week's 99 yard TD return, adding 24 yards on 6 total punt returns. Herman talked about how both coverage units must improve during his weekly Media presser on Monday as the kickoff coverage unit allows 20.9 yards-per-game (66th) but the punt return allows only one yard per return, which ranks them 11th in the nation. Granted it's off of just two returns as punter Dane Roy (6- 7, 230, Fr.) is averaging 39.4 yards-per-punt on 14 total, placing 4 inside the opponents 20 yard line while booming another 2 more than 50 yards.
Reserve receiver Brian Lemelle (5-10, 175, Sr.) has returned one punt for 13 yards for the Huskies. They also average just 20.7 yards-per-kick return on 7 total. Punter Justin Wain (6-3, 214, RSr.) is averaging 42.4 yards-per-punt while placing 10 of his 20 inside the opponent's 20 and booming another 4 more 50+ yards. Kicker Bobby Puyol (5-10, 183, RSr.) has connected on all five of his field goals this season and is 31-for-38 (81-percent) for his career. He also has touchbacks on 11 of his 18 kickoffs.
Coogs kicker Ty Cummings (6-0, 180, Sr.) meanwhile has connected on 6-of-8 field goals himself but missed two extra points last week at Texas State, one which appeared to be partially blocked off of a low trajectory kick. Herman said he still has confidence in his senior kicker. He also has 14 touchbacks on 32 kickoffs.
Keys to the game
Patience both offensively and defensively. UConn will try to methodically implement their game plan of ball control. Verducci will consistently run the ball on first and second down, even if they are unsuccessful early. Diaco doesn't mind punting as he'll continually play a game of field position until it favors his team. Through four games the Huskies have yet to score in the first quarter and have trailed in each game.
The Huskies offense will also use the short passing game as an extension of the run game, but it could also set up double moves for big plays later in the game. This is where the patience for the "Jack Boyz" is paramount in not being over aggressive. Verducci took advantage of this last season with a huge wide receiver double pass for a long TD. Of course a ferocious pass rush can offset this if Shirreff's doesn't have the time in the pocket to throw deep.
When Houston gets the ball they must also have patience in trying to establish their own interior run game against a stout front seven, though Herman did mention not being too stubborn when trying to run between the tackles as they did in last year's loss. The Coogs will certainly out-athlete the Huskies along the perimeter so getting them the ball in space will be key as always.
Red zone efficiency, penalties and turnovers are also huge factors in each game under Herman. Last week the Coogs crossed the goal line on six of seven red zone possessions and are now 15-for-26 on the season. That 57.7-percent conversion percentage ranks them at only 83rd nationally however, against a UConn defense that allows a 46.2 percent conversion rate (6-of-13), good for 28th. The Huskies 50-percent rate offensively (6-of-12) ranks them 100th against a 'Third Ward D' allowing opponent's to cross the goal line only 25-percent of their possessions, ranking them FIFTH nationally. Granted opponents have only gotten into the red zone a total of FOUR times in four games.
The Coogs have a turnover margin of plus-2 (seven produced to five lost) while the Huskies are at a MINUS-4 (2 produced to 6 lost) so the 'Jack Boys' forcing TO's will help put the offense in good field position. Scoring early on the Huskies forces them to get out of their game plan of ball control, though they are patient as stated earlier, possessing the ball for more than 34-minutes per game (15th). While one usually would think of a Tom Herman offense as fast paced and explosive, they are about controlling the ball as well behind a physical run game as they rank SECOND nationally in time of possession with more than 37-minutes per game.
And finally, minus a kick out of bounds and a hold that was declined on a sack, the Coogs committed ZERO penalties last week, something Herman mentioned after the game about his guys being very disciplined. For the season they now average 33.8 yards-per-game (eighth) in penalty yards on just 13 total penalties (fifth). The Huskies are perhaps the most disciplined team in the nation penalty wise, committing only nine for 76 yards ranking them third and first respectively.
In the end, Ward and his teammates will look for atonement against the team that has given them their only loss during the #HTownTakeover era, piling up the yards after a slow start as the Huskies just won't be able to keep up with the Cougars athletes.
Final Score
Houston 38 Connecticut 10