2016 Game 6 Preview: Navy
By: Jimmy Schofield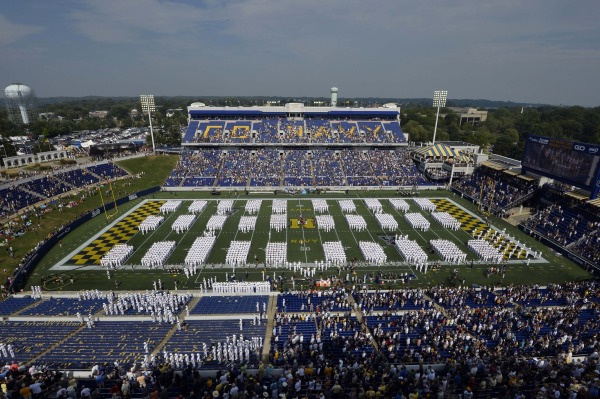 Photo courtesy Tommy Gilligan - USA Today Sports
Your fifth ranked Houston Cougars travel to Annapolis, Maryland this Saturday (Oct. 8) to take on the Navy Midshipmen in a key American Athletic Conference Wester Division matchup. Kick off at Navy-Marine Corps Memorial Stadium is set for 2pm (CST) and will be televised on the CBS Sports Network.
The Midshipmen (3-1 and 2-0 in conference play) are coached by Ken Niumatalolo, who's the winning-est coach in Naval Academy football history at 71-38 in his ninth season at Annapolis. After losing only two games the entire season last year, Niumatalolo's squad returns only two starters on offense, but still averages over 250 yards per game on the ground, good for 14th nationally. The one game they lost last year was to the Cougars (5-0, 2-0), coached by Tom Herman (18-1 in his second season), 52-31 in a game that determined last year's Western division winner.
With record setting quarterback Keenan Reynolds off to the NFL, the team had belonged to senior Tago Smith, who started a few games for Reynolds during his sophomore season and was set to take over for his final year. Unfortunately for the Middies, Smith was lost for the season after a knee injury during their first game so Will Worth (6-foot-1, 205 pounds, Sr.) took over and led the Academy to wins over UConn and Tulane with game winning runs in the final minutes of their respective games.
When one thinks of Navy football, they automatically think of the triple option offense. The basic triple option in laymen's terms; the quarterback has the option to hand the ball off to his fullback up the middle or keeps the ball depending on what his read is from the edge of the defensive line. If the ends engage up the field the QB will allow his FB to rush the ball through the A or B gaps in what's known as the "dive play." This is the most basic play run out of the triple option.
For Navy, this handoff would to Chris High (6-foot, 224, Jr.). When your fullback can average eight yards per pop (295 yards on 37 carries with five TDs), this keeps the run in play on all three downs, key to constantly moving the chains which controls the clock and wears opposing defenses down. Shawn White (6-1, 225, Sr.) is the other fullback and has 13 carries for 44 yards and two touchdowns himself.
If the defensive end crashes down on the dive, the QB usually keeps the ball at this "mesh point" and runs horizontally towards the edge of the line where he'll read his next key, which is usually an outside linebacker or safety. If this defender goes all out for him, the QB will pitch it to his slot back who trails a few yards behind. The slot back is usually able to outflank the defense for huge chunks of yards on the perimeter.
The two Navy slot backs are Dishan Romine (5-11, 178, Sr.) and Toneo Gulley (5-8, 196, Sr.), whom average 7.8 and 8.5 yards-per-carry respectively. Romine has 124 yards on 16 carries with Gulley adding 119 on 14. These two are also effective via the toss sweep and offensive coordinator Ivin Jasper will have his backs carry behind unbalanced lines to give his offense a numbers advantage to one side of the field.
While Worth is a tough and physical runner, he's not the fastest option QB which makes it more difficult for him to get to the edges to pitch the ball. This is why he and the fullbacks have the most carries this season. In fact, Worth leads the team in carries with 70 but for only 173 yards after accounting for sacks (14). He does lead the team with five touchdowns however. With his lack of speed they have been running more midline option where the QB keeps the ball, running along the interior behind his fullback or one of the slot backs who are used as extra blockers.
A major key in stopping the triple option, after stopping the dive, is to run the play out to the sideline so you can get as many defenders flying to the ball as possible while also using the sideline itself as a defender. The fast, flying Cougars defense excels in this, but this can also be used against them as in over aggressive defenders can over run the ball.
As Herman mentioned during his weekly media press conference on Monday (via uhcougars.com) on stopping the triple option, "It's totally different. All the assignments, run fits and even where you line up on defense are different. We have had success against the run in previous games, but that's a conventional two back or spread run. We haven't played a triple option run since Navy last year. We've got to vary our looks a little bit this year, because we did have quite a bit of success last year slowing down their running game. I'm sure they will have some wrinkles to combat that. There are some adjustments we have to do."
The key is for each defender to do his job. If you're a middle linebacker and you try to stop the QB (who you think has the ball), then the fullback gets by you for 10 yards. If you're an outside linebacker and you try to stop the pitch, The QB gets by you for a 40 yard gain (in theory anyway as I don't think Worth has any 40 yard runs in him).
If you're a safety and you commit to the QB too soon, he pitches and one of the slot backs get by you for a 70 yard TD run. If you're one of the cornerbacks and you try to come up in run support too soon, you get beat deep via the play action pass. This is why Navy wide receiver Jamir Tillman (6-4, 212, Sr.) is averaging 15.1 yards per reception (271 yards on 18 catches). Reserve slot back Calvin Cass Jr. (5-10, 206, Sr.) is averaging 30 yards-per-reception but only has three catches as does Gulley (for 45 yards) mainly on wheel routes coming out of the backfield. Brandon Colon (6-4, 223, Jr.) is averaging 29.5 yards on just two receptions as the receiving core is averaging 17.9 receptions as a whole in a much different Navy offense as they are passing more than in recent years. Worth has completed 58.5-percent of his 53 attempts for 527 yards but only passed for one TD to two interceptions. The other starting wide receiver, Tyler Carmona (6-4, 220, Jr.) is used mainly as a blocker as he lines up inline as a tight end in a lot of sets, adding just one catch for six yards through four games.
The offensive line had to replace all five starters and the unit of Blake Copeland (6-4, 281, Sr.), Adam West (6-3, 297, Sr.), Parker Wade (6-2, 271, Jr.), Evan Martin (6-3, 294, Jr.) and Andrew Wood (6-4, 300, So.) from left to right tackle, haven't done a stellar job in pass protection, giving up those 14 sacks as earlier mentioned. When they want to add more size up front Jake Hawk (6-6, 312, So.) and Maurice Morris (6-2, 327, Sr.) sub in at tackle and center respectively.
In order to overcome their size limitations they'll "cut block" opposing defensive linemen in order to get them on the ground or not thinking about tackling. This could be a problem for Houston's defensive line which is aggressive in disengaging blocks at the point of attack and attacking the line of scrimmage as fast as it can.
The front seven of down linemen Jerard Carter (6-3, 290, So.), Ed Oliver (6-2, 290, Fr.), Cameron Malveaux (6-6, 270, Sr.) along with linebackers Steven Taylor (6-1, 225, Sr.), Mathew Adams (6-0, 230, Jr.), D'Juan Hines (6-1, 225, Jr.) and Emeke Egbule (6-3, 230, So.) must have good eye discipline, penetrate and rally to the ball.
Adams, who was a beast last year against Navy with 11 tackles, returns this week after sitting out against UConn as he and outside linebacker Tyus Bowser (6-3, 240, Sr.) got into a scuffle last Friday in which Bowser suffered an injury that will keep him out for an undetermined amount of time. With Bowser and his five tackles-for-loss and three-and-a-half sacks gone, both Egbule and Hines will have to do a good job in containment on Navy's outside run game. Taylor leads the D with 27 total tackles including six for loss and five and a half sacks.
Defensive coordinator Todd Orlando's "Third Ward Defense" is still FIRST nationally in run defense, allowing opponents to average just 42 yards-per-game while averaging a mere 1.63 yards-per-carry.
Orlando's defense is susceptible to the pass however, and the secondary of Howard Wilson (6-1, 185, RSo.) and Jeremy Winchester (6-0, 190, So.) at cornerback with Garrett Davis (6-1, 200, So.) and Khalil Williams (6-0, 200, Jr.) at safety MUST play with eye discipline or they could be beat deep off of play-action. If nickel back Brandon Wilson (5-11, 200, Sr.) is still out with a foot injury, Terrell Williams (6-3, 210, Jr.) will get more action and will be key in run support in the box, something Wilson excelled at. Davis leads the D in solo tackles with 16.
And while Wilson and his fellow secondary teammates won't be needed as much in pass coverage against the triple option, I found this nugget in Pro Football Focus, "Wilson has touched the ball nearly as often as the receivers he has been covering as he has three interceptions and two passes defensed while allowing eight catches for 51 yards on his 19 targets (2.7 yards per target). Opposing quarterbacks have a passer rating of 10.1 when targeting him."
Offensively for the Coogs, QB Greg Ward Jr. (5-foot-11, 190, Sr.) was just named the AAC's offensive player of the week (for the third time in five weeks) after carving up UConn's defense to the tune of 32 completions in 38 attempts for 389 yards and three TDs. For the season, Ward is completing an amazing 70.7-percent of his passes (fifth nationally) for 331 yards (13th) with eight TDs (while adding another five on the ground) to only two interceptions.
Offensive coordinator Major Applewhite's offense is averaging 44.2 points-per-game (12th) and 506 yards of total offense (19th), 201.4 on the ground (42nd) and 304.6 passing (25th). Navy's defense, led by third year coordinator Dale Pehrson, allows 20.5 points-per-game (35th) and 377.2 yards of total offense (57th); 166.2 on the ground (74th) and 211 through the air (46th).
The key for the Coogs offense will be getting the inside run game back on track. That will include a heavy dose of running back Duke Catalon (6-0 210, So.), who sat out last week due to a concussion, but should be back for this game. For the season Catalon averages 4.7 yards-per-carry (225 yards on 48 attempts with a TD) and could be a dynamic receiver but just has 9 receptions for 49 yards and another score. With Mulbah Car (5-11, 194, Fr.) out with a knee sprain and Kevrin Justice (5-11, 190, RFr.) not seeing as many touches over the past few games, most of the running game will be on the shoulders of Catalon, Ward and the slot receivers who add 70 yards on 16 carries.
The Coogs offensive line of Josh Jones (6-5, 280, RFr.), Marcus Oliver (6-3, 295, Jr.), Will Noble (6-4, 290, So.), Kameron Eloph (6-3, 290, So.) and Na'Ty Rodgers (6-5, 292, Jr.) must get a push against a smaller defensive front seven of Navy consisting of Jarvis Polu (6-3, 280, So.), Patrick Forrestal (6-4, 305, Sr.), Amos Mason (6-1, 266, Sr.) as the down linemen with linebackers Brandon Jones (6-4, 225, Jr.) and D.J. Palmore (6-3, 236, Jr.) on the outside with Micah Thomas (6-1, 249, Jr.) and Winn Howard (6-2, 216, Jr.) at inside linebacker.
The Coogs may be catching a break Saturday as inside linebacker Daniel Gonzales (6-2, 240, Sr.) will probably be out as he hurt a knee at Air Force last week. Their defensive leader had 23 tackles through three-and-a-half games. Thomas is their leading tackler with 32 total (19 solo) with freshman strong safety Alohi Gilman (6-0, 200) second with 23 while adding two fumble recoveries. Palmore leads their defensive front with four tackles-for-loss and three sacks as they have just six total as a unit. Reserve linebacker Josiah Powell (6-3, 224, Sr.) adds three tackles-for-loss and a sack. Polu and Mason may be small at both end spots, but they use their quickness to shoot the gaps to cause chaos behind the line of scrimmage in Pehrson's aggressive 3-4 scheme.
The Cougars passing offense has done a tremendous job of taking advantage of the best matchup each particular game between outside receivers Steven Dunbar (6-3, 210, Jr.), Chance Allen (6-3, 215, Sr.) and slot receiver Linell Bonner (6-0, 200, Jr.). Last week it was Bonner's turn as he torched UConn's safeties for 159 yards on 12 receptions and a beautiful one handed snare of a pass on an out route in man coverage resulting in a TD in the third quarter. For the season Bonner leads the unit with 439 yards on 33 receptions. Dunbar has 326 yards on 21 catches (for a 15.5 yards-per-reception average) while Allen adds 266 yards on 19 grabs. Bonner and Dunbar both have two TDs to Allen's one. They all do a great job of getting down field via flawless route running as the line has given Ward time to throw deep.
The receivers blocking down field has also been exceptional on the screen and outside running games, something true freshman D'Eriq King (5-10, 170) has helped contribute in as he has 149 yards on 19 catches with a score on a 48 yard pitch-and-catch against Texas State a few weeks back. Tight end Tyler McCloskey (6-2, 245, Sr.) has also improved his route running with 80 yards on 7 receptions while tying Bonner and Dunbar with two TDs.
The Midshipmen's shut down corner is Tyris Wooten (6-1, 180, Jr.) who has 20 tackles (16 solo) and a pass breakup. Fellow starting corner Elijah Merchant may be smaller at 5-10, but at 196 pounds, the Humble, Texas product is a hard hitter as he's forced a fumble and has a sack along with a pass breakup. Free safety Sean Williams is active on the back end with 20 total tackles including one for loss, while nickel back Diaquan Thomasson (6-0, 205, Sr.) has their only interception on the season.
Special Teams
The Midshipmen allow only 14.7 yards-per-return on kickoffs (FIFTH nationally) but eight per return on punts (albeit on only four total). With Wilson still out potentially for the Coogs, King is averaging 26 yards on two kick returns plus that 99 yarder against the Bobcats two weeks ago. King averages just 4.6 yards on five punt returns, and must do a better job on determining whether or not he should fair catch a punt or not.
The Coogs kick coverage teams allow 20.2 (51st) as they can still sometimes get out of their assigned lanes, something they need to clean up, while allowing just two yards on three punt returns. That .7 average has them ranked eighth nationally.
The Midshipmen average 24.6 yards-per-return (30th) on 7 kick returns, with Romine averaging 22 per. The Middies average 10.3 yards (42nd) on 6 total punt returns. Reserve receiver Craig Scott (6-2, 189, Jr.) averages 9.2 yards on his four returns.
Houston punter Dane Roy (6- 7, 230, Fr.) is averaging 40.3 yards-per-punt and has placed 33-percent of them inside the opponents 20-yard line (7 of 21) while booming three more 50-plus yards. Ty Cummings (6-0, 180, Sr.) meanwhile has connected on 6-of-8 field goals while 18 of his 37 kickoffs have gone for touchbacks.
Erik Harris (5-10, 184, So.) has been a weapon for Navy as he averages 45.4 yards-per-punt, placing five of his 10 inside the 20-yard line while forcing another five fair catches. He did have one blocked at Air Force last week though. The Midshipmen have only attempted two field goals as Bennett Moehring (5-9, 180, So.) has connected from 23 yards but missed from 32. He also has only four touchbacks on 20 kickoffs so King (or Wilson) should get some work in the kick return game.
Keys to the game
One major key in stopping Navy's offense will simply be to keep them off the field. The Coogs can do this with an efficient run game and/or the short passing game. An efficient offense is important because your offensive possessions are usually limited, though Navy is only averaging 29-minutes of possession time this season. Scoring touchdowns is always a must as the Coogs have crossed the goal line on 20-of-31 red zone possessions, good for just 64th nationally at 64.5-percent. The Middies have allowed only nine red zone possessions defensively, allowing only three TDs, ranking them FIFTH in the nation.
Navy meanwhile has scored on 13 of its 18 possessions inside the 20, ranking them 38th at 72-percent. Orlando's defense is allowing opponents to score at just a 40-percent clip, allowing only two TDs in just five total red zone possessions, ranking them tenth.
I feel confident that the Cougars can stop the Navy run game just as Air Force did last week (holding them to just 57 yards on 38 attempts) as I see no way Navy's offensive line keeps the Cougars aggressive front seven out of the backfield, particularly one Ed Oliver. If the nose guard continues blowing up plays at the point of attack (13 solo tackles, 6 for loss and 3 sacks), the Midshipmen will be in second and third-and-long all day, which is what they want to avoid.
Final Prediction
Houston 38 Navy 10