2016 Game 7 Preview: Tulsa
By: Jimmy Schofield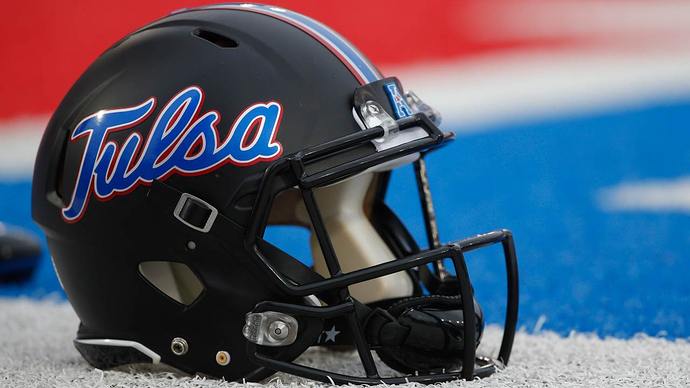 Photo courtesy
newson6.com
After only the second loss of the Tom Herman era (20 games), your 12th ranked Houston Cougars look to rebound this Saturday (October 15) against fellow American Athletic Conference Western division foe, the Tulsa Golden Hurricane. Game time at TDECU Stadium is set for 6pm (CST) and will be broadcast on ESPN2.
The Golden Hurricane (4-1, 1-0) are led by second year head coach Phillip Montgomery, who led Tulsa to six wins last year after they had won just five the previous two seasons combined. Montgomery was the offensive coordinator at Baylor for seven years prior to taking his first head coaching job. He also was a running backs, quarterbacks and co-offensive coordinator for our Cougars from the 2003 through 2007 seasons. Having played quarterback and free safety at Tarleton State from 1991 through 1994, it's no wonder the Eastland, Texas native is known as an offensive guru, having perspective as he played on both sides of the ball.
Serving as his own offensive coordinator, Montgomery's offense is much like that of Baylor over the seasons; they want to spread you out wide and attack horizontally as well as vertically via their up-tempo, no huddle spread attack. Much like Baylor, you'll see the Tulsa wide receivers with very wide splits (usually in double stack formations on either side), almost touching the sidelines. It's simple really; their offense is based on a numbers game in the box. After getting to the line quickly, the QB will look towards the sidelines for any readjustments from the coaches. What Montgomery and his staff are doing is counting defenders in the box. If opposing defense is spread wide to counter the wide receiver splits, Montgomery has no problem calling a run play. If the box is loaded he'll call a pass play; whether it's a quick screen to the flat or a deep post via play action.
It helps that their QB is a veteran and basically a coach on the field. Dane Evans (6-foot-1, 210 pounds, Sr.) is actually a coach's son. The Sanger, Texas product is a four year starter and has produced some mighty gaudy numbers; in 33 career games entering the season (including 30 starts), Evans has passed for 8,332 yards, completing over 56-percent of his passes and thrown 52 touchdowns. He needed 2,604 passing yards and 31 TD passes to tie the school records in both categories. So far this year Evans has passed for 1,135 yards (227 yards-per-game), completing over 58-percent with 9 TDs but 7 interceptions. He can make every throw needed on the field and is deceptively agile for his size. Losing around 10 pounds from last season, he's being used more on zone read keepers as he's scored the game winning touchdowns in both of their past two games, a 48-41 double overtime win at Fresno State in which they overcame a 31 point first half deficit, followed by a 43-40 overtime win at home against SMU in which they overcame an early 14-3 deficit from the Ponies.
Coming from Houston and Baylor, one would think that Montgomery would emphasize the passing game first, but that isn't the case as they average 244 yards passing which ranks them just 56th nationally. For the season the Golden Hurricane average 39.4 points-per-game (25th) and 474.4 yards of total offense (30th).
The Golden Hurricane actually want to pound the ball between the tackles as they average 230.4 rushing yards-per-game to rank them 25th nationally. As with most offenses these days, they have a thunder and lightning duo with D'Angelo Brewer (5-9, 185, Jr.) and James Flanders (5-10, 205, Sr.). Though Brewer is more the scat back he is a powerful runner who can explode through the hole on the interior or around the edge as he's averaging 143 yards-per-game (716 yards on 135 carries) to rank him FOURTH nationally. Flanders meanwhile is a downhill between the tackles runner who's explosive once he gets through that first level of the defense as he averages 6.3 yards-per-carry (390 yards on 62 carries) and has a 61-yard touchdown run to his name (last week against SMU). Brewer averages 5.3 yards-per-carry and 27 carries per game, the most in the FBS. Both have crossed the goal line four times this season and after last week's game, the duo surpassed the 100 yard mark for the second week in a row.
They run behind a veteran offensive line of Evan Plagg (6-4, 292, Jr.), Tyler Bowling (6-6, 325, So.), Chandler Miller (6-3, 290, So.), Blake Belcher (6-5, 304, Jr.) and Willie Wright (6-3, 296, So.) from left to right tackle. Plagg, Miller, Belcher and Wright are all multiple year starters with Wright, a Houston Cypress Ridge High School product, having replaced Belcher at right tackle last year after an injury. Both Belcher and Wright were injured last week but are still listed as starters according to Tulsa's 'Game Notes.' They were replaced by veterans Zac Uhles (6-3, 276, Jr.) and Alex Pagonis (6-5, 320, Sr.) along the right side. Tight end Chris Minter (6-3, 247, So.) is used mainly as a blocker as he has no receptions on the season.
These injuries could be a huge factor in determining who wins the battle in the trenches as Houston's defense will be frothing at the mouth after last week's performance against Navy in which they allowed 306 rushing yards in that 46-40 loss. Defensive coordinator Todd Orlando's "Third Ward Defense" went from first in the nation in rushing defense in which they were allowing just over 40 yards rushing per game, to ranking FOURTH, allowing 86.
While they won't have to worry about the triple option this week, they do have their own injuries to worry about, particularly to outside rush backer Tyus Bowser (6-3, 240, Sr.) who's still out indefinitely along with corner/nickel back Brandon Wilson (5-11, 200, Sr.), who's listed as a starter this week but is being brought back slowly after suffering a high ankle sprain four games ago at Cincinnati.
The front seven of down linemen Jerard Carter (6-3, 290, So.), Ed Oliver (6-2, 290, Fr.), Cameron Malveaux (6-6, 270, Sr.) along with linebackers Steven Taylor (6-1, 225, Sr.), Mathew Adams (6-0, 230, Jr.), D'Juan Hines (6-1, 225, Jr.) and Emeke Egbule (6-3, 230, So.) must stop the run first or Montgomery will continue pounding the ball between the tackles as Brewer has 84 carries combined over the past two games. Adams leads the team in total and solo tackles with 36 and 23 respectively while tying Taylor with six tackles-for-loss. Oliver is second with 22 solo tackles, amazing considering he's a nose guard who's being constantly double teamed in this, his true freshman season. He also leads the team in TFL with 7.5 while adding three sacks and passes defended to boot. Malveaux is good at leveraging his 6-6 frame as he has 4 TFL. The defense is in the top 16 nationally in both sacks (18) and TFL (46) but the front seven must get their hands up to combat the quick passing game of Tulsa.
When Tulsa takes to the air, Evans targets three receivers in particular; outside receivers Josh Atkinson (6-2, 208, Sr.) and Justin Hobbs (6-4, 207, So.) and slot receiver Keevan Lucas (5-10, 198, Sr.), who leads the way with 508 yards on 36 receptions as he'll move all over the field as Montgomery likes to cause mismatches against safeties or linebackers. Lucas is a good route runner who has "blow the top off" speed on deep posts as he averages 14.1 yards-per-reception with 5 TDs.
Atkinson meanwhile has 354 yards on 32 catches (11.1 per catch) and two TDs. He's very physical but like Lucas has the speed to burn cornerbacks deep. Hobbs adds 260 yards on 20 receptions (13 per) with an additional two TDs. Nigel Carter (6-3, 205, Jr.) adds 5 catches for 47 yards as the top reserve receiver.
The Tulsa receivers are also experienced at running rub or pick routes off of shallow crossers to get open and Montgomery will get the ball to them on quick slants versus man coverage as well so it's imperative that the Cougars secondary communicate with one another in order to avoid allowing receivers to become wide open.
Lucas may have extra motivation for Saturday's game as he was averaging 114 yards-per-game until he injured a knee against the Coogs last season, costing him the rest of the year (after only their fourth game).
Houston's secondary, "The Jack Boyz" haven't been doing much Jacking lately as they have only four interceptions. Three of those interceptions (including a pick-6) are by Howard Wilson (6-1, 185, RSo.), who's become the defenses shut down corner as he has 6 passes defended along with a fumble recovery. Look for whomever the other corner, Jeremy Winchester (6-0, 190, So.), is covering to be thrown to often, though he does have four passes defended and 17 solo tackles on the season.
The safety duo of Garrett Davis (6-1, 200, So.) and Khalil Williams (6-0, 200, Jr.) must do a better job of playing more disciplined football, especially not biting off of play action. The first year starters have a combined 39 solo tackles (Davis with 20 and 4 for loss). The defense is allowing just 17 points-per-game (14th) and 272 yards of total offense (7th); 186 passing (24th).
The Golden Hurricanes defense is allowing 32 points-per-game (94th) and 387.4 yards of total offense (57th); 155.4 rushing (60th), 232 passing (70th). Co defensive coordinators Brian Norwood and Bill Young believe in attacking opposing offenses via the blitz but want to avoid huge plays by keeping everyone in front of them behind zone coverages. They would rather give up short completions on underneath routes so their linebackers and safeties can come downhill and hit opposing receivers hard as they want to string plays from sideline to sideline.
Offensively for the Coogs, **Major Applewhite'**s unit is averaging 43.5 points-per-game (10th) and 502.3 yards of total offense (19th); 313.7 passing (19th) and 188.7 yards rushing (52nd). The Coogs need to establish an interior run game against a Tulsa defensive front that isn't big but is very active via stunts and twists in their 4-3 scheme. Their two defensive ends, Jeremy Smith (6-5, 260, Jr.) and Jesse Brubaker (6-3, 270, Jr.) have a combined 3.5 sacks as the team has a total of just nine on the season. Brubaker plays all over the field as he has 5 TFL, 1.5 sacks, an interception on a deflection along with both a forced and fumble recovery. Smith is very active as well as he has four TFL. Petera Wilson (6-2, 230, Jr.) is their best speed rusher off the edge as 3.5 of his total 8 tackles are for loss. He also leads the team with 3.5 sacks.
The interior is manned by tackles Jerry Uwaezuoke (6-3, 286, Jr.) and Hayden Carmen (6-4, 289, Sr.). Uwaezuoke has 1.5 TFL and half a sack while Carmen is good at getting his hands up as he has three pass deflections and a fumble recovery. Reserve tackle Kolton Shindelar (6-6, 276, Jr.) adds one of their four interceptions.
With Marcus Oliver (6-3, 295, Jr.) out for the Coogs with a high ankle sprain, it looks like it'll be 'musical guards' once again for offensive line coach Derek Warehime's unit as Alex Fontana (6-3, 310, Jr.) and Mac Long (6-4, 300, Sr.) will continue to share the right guard spot opposite Kameron Eloph (6-3, 290, So.) in what will be the fourth starting different lineup in seven games. Warehime and his crew should be used to this however, after starting 11 different combinations in 14 games last season.
Unfortunately the line doesn't seem to be gelling as last year's did, especially in run blocking, though tackles Josh Jones (6-5, 280, RFr.) and Na'Ty Rodgers (6-5, 292, Jr.) are doing a decent job on holding blocks on the perimeter along with tight end Tyler McCloskey (6-2, 245, Sr.).
Houston Center Will Noble (6-4, 290, So.) must continue to make the correct line calls as Tulsa likes to tackle up the A and B gaps via linebackers Trent Martin (6-2, 232, Sr.) and Matt Linscott (6-1, 223, Sr.). While they don't necessarily produce sacks, the two are ball hawks with 20 and 19 solo tackles respectively with Linscott four TFL. Martin adds 2.5 TFL and no sacks but does have four pass breakups which is second on the defense via various zone drops from his Mike linebacker spot. Craig Suits (6-0, 220, Jr.) is their weakside linebacker and has 17 solo tackles with 3 for loss.
Cougars running back Duke Catalon (6-0 210, So.) has missed three games due to ankle and concussion issues and as of this writing it hasn't been determined if he's going to play or not as he's still going through the concussion protocol as of this writing. Even after missing half of the teams six games he still leads the running backs with 225 rushing yards on 48 carries with a score. If he's unable to play, the combo of Dillon Birden (5-9, 172, Jr.) and Mulbah Car (5-11, 194, Fr.) will take handoffs as Car has 158 yards on 35 carries (4.5 per carry average) with one score to Birden's 103 yards on 30 carries for only a 3.4 average. Though just listed at 173 pounds, Birden isn't afraid to pound it between the tackles as he leads all running backs in TDs with three.
As inefficient as the run blocking has been, the pass protection has been on-point as Greg Ward Jr. (5-foot-11, 190, Sr.) is averaging 336.8 yards-per-game passing, which ranks him EIGHTH in the nation. The Tyler, Texas native is completing 68.9-percent of his passes (ninth) while tossing 11 TDs to just 4 interceptions. Unfortunately two of those came last week, one resulting in a 'pick-6' against the Midshipmen, so just as the front seven is looking to atone for its bad game, I'm sure Ward is as well. The senior QB also leads the O in rushing with 272 total but is just averaging 3.4 yards-per-carry, mainly because of the 11 sacks allowed by the O-line.
One of the best kept secrets in the nation is the Cougars wide receivers trio of Steven Dunbar (6-3, 210, Jr.) and Chance Allen (6-3, 215, Sr.) on the outside, with Linell Bonner (6-0, 200, Jr.) at the slot. Bonner leads the unit in both receptions and yards with 42 for 556 respectively, while Dunbar has 30 for 438 and Allen 26 for 353. Dunbar has 3 TD receptions to 2 by Bonner and Allen. Applewhite needs to figure out ways to get slot receiver D'Eriq King (5-10, 170) more involved in the offense as the slippery quick true freshman averages 6.6 yards-per-touch on 22 catches and 13 carries (232 total yards) whether it's a run off a jet sweep or a reception via a quick screen.
Whichever receiver has the best game will depend on what Applewhite deems as the best matchup. Norwood and Young aren't afraid to put their corners in man coverage on the outside as they're 16th nationally in passes broken up with 27. Keanu Hill (6-2, 185, Jr.) and Kerwin Thomas (5-10, 170, Jr.) are their cornerbacks and have 5 and 3 breakups respectively with Hill adding a forced fumble. Thomas was injured last week during the first half against SMU so Reggie Robinson (6-1, 190, RFr.) filled in and had 2 pass breakups against the Ponies and has 3 on the season himself.
Strong safety Jeremy Brady (5-10, 197, Sr.) is the leader of the secondary and leads the team with 21 solo tackles while adding an interception and a forced fumble. Chances are where ever the ball is; you'll see him close by. Perhaps their most athletic defender is nickel back McKinley Whitfield (6-4, 212, So.), who has 13 solo tackles, 2 for loss, an interception and a fumble recovery and two blocked kicks in special teams to boot. Jordan Mitchell (6-2, 187, Jr.) has just 6 solo tackles (of his 9 total) but adds another 3 pass breakups from his deep free safety spot in their one man high zone looks as it's his job to not get beaten deep.
Special Teams
The Cougars need to improve their coverage units which allowed Navy 200 yards on 6 kickoff returns including an 85 yarder that put them at the Coogs 15 yard line early in the first quarter. For the season coordinator Jason Washington's unit is allowing an average of 23.5 yards per return, ranking them 105th nationally. Punt return wise they only allow .7 yards (2 yards on 3 returns), than ranks them eighth. Herman emphasized that the kick coverage unit must get shored up this week during his weekly media press conference.
Tulsa has two dangerous return men in third string running back Raymond Taylor (5-8, 195, Sr.), who averages 40.8 yards on 4 returns, with a high of 62, while reserve receiver Bishop Louie (5-10, 172, Jr) averages 21.8 on 13 returns but has a high of 52. As a team they average 23.4 per kickoff return (38th) and 12.6 on 16 punt returns, ranking them at 26th behind reserve corner Keidrien Wadley's (6-1, 185, RFr.) 11.6 yard average off of 14 returns.
Like their coverage units, the Cougars return teams must improve as well. Without Wilson to return kickoffs, both that and punt returns have fallen into the hands of King, who averages 30.6 yards off 7 returns, mainly off of that 99 yard TD return against Texas State a few weeks ago. He averages just 4.6 yards per punt return however as the Coogs rank FIFTH nationally in kick return average at 28.7 but only 98th in punt returns at 4.1 per. Tulsa allows opponents 24.6 yards off of kick returns (111th) and 10.6 off punt returns (103rd) so hopefully the Coogs can find that hidden yardage in their return games come Saturday night.
Dalton Parks (6-3, 209, Sr.) is averaging 41.6 yards-per-punt, forcing 11 fair catches while placing 9 of his 30 total punts inside the opponent's 20-yard line. Redford Jones (5-10, 175, Jr.) has 15 touchbacks on 37 kickoffs as the average start line for Tulsa's opponents is the 28 yard line. He's also connected on 10-of-14 field goals with a high of 43, which seems to be his limit as he's missed from 42, 44, 45 and 52 yards out so far this season.
Ty Cummings (6-0, 180, Sr.) meanwhile has connected on 8-of-10 field goals with a high of 47, while 19 of his 44 kickoffs have gone for touchbacks. Opponents have started at their 31 yard line after Cougars kickoffs. Dane Roy (6- 7, 230, Fr.) is averaging 40.3 yards-per-punt and has placed 33-percent of them inside the opponents 20-yard line (7 of 21) while booming three more 50-plus yards.
Keys to the game
Orlando's defense needs to get back to its dominance in stopping the run. Once they do that they can pin their ears back and come after Evans as his offensive line has allowed 17 sacks this season, ranking them 112th nationally. With the exotic blitz looks the Cougars employ, Evans could be in a heap of trouble if put into second and third-and-long situations Saturday night.
In a game against a balanced and efficient offense like that of Tulsa's, the Cougars must control the ball and score touchdowns once they get into the red zone. For the season they've crossed the goal line on 24-of-36 such attempts. That 66.7-percent rate ranks them at 50th nationally while Tulsa's defense allows a 55-percent conversion rate (11-for-20) to rank them 41st. Offensively, Tulsa has scored TD's on only half of their 22 attempts. That 50-percent mark ranks them at 107th while the "Third Ward Defense" has only allowed opponents to reach their 20-yard line 11 times the entire season. The 45.5-percent conversion rate (5-for-11) ranks them 15th nationally.
The Cougars must play a disciplined game in terms of penalties as well as they average just three for 30.8 yards which ranks them SECOND nationally, though that roughing the kicker penalty against Isaiah Johnson last week was costly in that it extended a Navy scoring drive just before the half. Tulsa meanwhile is averaging just over seven for 70 yards, ranking them in the bottom 20 in the nation in both.
Final Prediction
Hell hath no fury like a Tom Herman team scorned. After last week's disappointing loss, I look for the Cougars to be motivated and rebound in all three phases of the game Saturday night.
Houston 45 Tulsa 21