2016 Game 8 Preview: SMU
By: Jimmy Schofield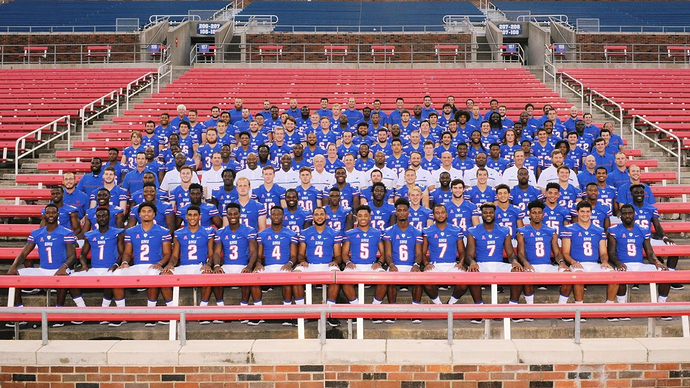 Photo courtesy
smumustangs.com
Your 12th ranked Houston Cougars head down the home stretch as they travel up I-45 to take on the SMU Mustangs this Saturday (Oct 22). Game time at Gerald R. Ford Stadium is set for 6pm (CDT) and will be televised on ESPN2.
The Mustangs (2-4, 0-2 in American Athletic Conference play) are coming off an off-week after suffering a tough 43-40 overtime loss against Tulsa. They've been plagued by injuries which have forced them to play a lot of underclassmen under head coach Chad Morris. The second year head coach is much like that of Houston's head man, Tom Herman, in that he's recruiting Texas heavily in order to turn his program around as 86 of their listed 110 man roster are from Texas with over half being from North Texas and the Dallas area. Their last two recruiting classes have been nothing but Texas kids in fact.
Morris is a Texas high school coaching legend as he had a 169-38 record overall in 16 years while winning back-to-back state titles, and going undefeated, in his final two seasons as a prep coach at Lake Travis during the 2008 and 09 seasons. In all, Morris took six of his teams to Texas State Championship Games, with three of those teams capturing state titles, and earned Coach of the Year honors 11 times. Morris then took his talents to Tulsa for a season before becoming the offensive coordinator at Clemson for three, setting school records for total offense and scoring (over 500 yards and 40 points per game) multiple years before parlaying those accomplishments into becoming the head man on 'The Hilltop.'
This year he's decided to let his offensive coordinator, Joe Craddoock, who followed him from Clemson. The Ponies run your typical up-tempo, no huddle spread offense. They'll use motion to confuse defenders while running the same play from multiple sets as well as employing some RPO (run/pass option) elements to their offense. SMU averages 23.1 points-per-game (104th nationally) and 415.3 yards total offense (62nd); 239.8 passing (52nd) and 175.5 rushing (64th).
They'll be facing a Houston defense, under coordinator Todd Orlando, looking to get back on its feet from two subpar showings, allowing over 300 yards rushing at Navy two weeks ago while allowing 365 yards through the air versus Tulsa last week. The "Third Ward Defense" is allowing opponents to score only 19 points-per-game (20th) while allowing just under 300 total yards per game of total offense at 298.7 (10th). Orlando's mentality is to shut down the run first, and the stats bear that out as they rank third nationally in allowing just 87.1 yards-per-game on the ground while allowing 211.6 passing (51st).
The lack of SMU's production offensively can be explained easily, injuries. Entering the season the starting quarterback was slated to be Matt Davis, who had started 16 games over the previous two seasons after transferring from Texas A&M. He passed for nearly 3,000 yards last year while running for over 700 more. In their first game at North Texas, the senior signal caller threw for two touchdowns and ran for almost 100 yards but tore an ACL, knocking him out for the season.
Ben Hicks (6-foot-1, 215, RFr.) entered the game and has been their starter ever since. At one point in the recruiting process Hicks had interest in Houston, but ultimately signed with SMU at the thought of playing early under Morris's high powered offense before enrolling in January of 2015. For the season the Waco-Midway product has completed just over half of his passes (111-of-214), while averaging just 214 yards-per-game with only 6 TDs to 9 interceptions.
Besides making the usual redshirt freshman mistakes such as locking onto receivers, Hicks just hasn't had much time to go through his progressions as he's working behind a line that's experienced but is playing musical chairs because of what else, injuries. Jerry Saena (6-4, 311, Jr), a first year starter, started the first five games at right guard before taking over at left tackle against Tulsa because of an injury to starter Nick Natour (6-4, 289, So.). Braylon Hyder (6-2, 313, Jr.) replaced Saena at right guard with Daniel McCarty (6-3, 283, Jr.) at left guard, having started four of six games there. Chauncey Briggs (6-6, 293, Sr.) has started five of six games at right tackle and Evan Brown (6-3, 308, Jr.) has started every game at center. Natour, a first year starter, returns to left tackle according to the Ponies latest depth chart with Saena moving back to right guard, moving Hyder back to the bench as a swing man on the interior. Briggs and Brown are both multiple year starters, just not at the positions they are playing at Saturday night. In all, the Ponies have had four different starting combinations in six games.
The make-shift SMU offensive line which has allowed 13 sacks (59th) will be facing a hungry Cougars defensive front looking to eat as they only sacked Tulsa's Dane Evans once last week, though pressuring him multiple times. If the front seven of down linemen Jerard Carter (6-3, 290, So.), Ed Oliver (6-2, 290, Fr.), Cameron Malveaux (6-6, 270, Sr.) along with linebackers Steven Taylor (6-1, 225, Sr.), Mathew Adams (6-0, 230, Jr.), D'Juan Hines (6-1, 225, Jr.) and Emeke Egbule (6-3, 230, So.) can move Hicks "off his spot" I don't think he has the experience to readjust in the pocket while keeping his eyes down field. For the season the Coogs have 51 tackles-for-loss and 19 sacks, ranking them 14th and 21st respectively.
The defensive front has their own injuries to deal with, particularly to Carter and Adams according to Herman at his latest media press conference Monday afternoon, but both should be able to play. If Oliver isn't double teamed at the point of attack, look for the true freshman nose guard to have another huge game as he's had double digit tackles in the past two games and leads the team with 43 total, 29 solo and 9.5 for loss while adding three sacks and five passes defended via knocking passes down at the line of scrimmage. Adams has 27 solo tackles, 6 for loss, from one of the middle linebacker spots while Taylor leads the team with 5.5 sacks, though he's been quiet the past few games in tackles as he's only fourth on the defense with 23 total and 14 solo tackles.
They'll take on an SMU run game led by running back Braedon West (5-10, 170, So.) who like Hicks, was also interested in Houston at one point early in the recruiting process. West averages 5.4 yards-per-carry (521 yards on 97 carries) with a long of 66 while crossing the goal line three times on the season. He's also a good route runner as he'll line up in the slot and go in motion often as he adds 28 yards on 7 receptions. Ke'Mon Freeman is their power runner at 5-11, 212 pounds. The true freshman has 286 yards on 68 carries with a score. Freeman is also listed as their backup QB as he passed for over 3,300 yards with 29 TDs and just 6 interceptions last season at Liberty-Eylau. Xavier Jones (5-10, 198, So.) who averages a whopping 9.1 yards-per-carry (140 yards on 15 carries) was their starter but has been having hamstring issues the past few games and isn't listed on their three-deep at RB. Jordan Carmouche is another physical back at 6-0, 240 pounds. The true freshman has 15 carries for 46 yards through three games.
Their passing game for the Ponies is also centered on youth as Courtland Sutton (6-4, 215, So.), James Proche (5-11, 183, RFr.) and Xavier Castille (5-11, 195, So.) are all underclassmen that have flashed plenty of potential on the season. Courtland is a big, physical outside receiver who has a huge catch radius as he's pulled down 30 balls for 590 yards with 4 scores. He's also a speedster as he has an 88 yard TD to his name while averaging 19.6 yards-per-reception. Proche is a shifty slot receiver who is often used in motion as he leads the unit in receptions with 33, for 340 yards and a score. Castille adds 172 yards on 19 catches. Nobody else has more than Jeremiah Gaines (6-2, 260, Sr.) 7 receptions for 77 yards. The tight end, on top of being a good inline blocker, is a good route runner when flexed out wide and effective in the red zone as he adds two TD grabs. Freeman adds 6 catches for 45 yards as they'll toss to their backs coming out of the backfield on swing routes.
If I were Orlando I would have the two corners, Howard Wilson (6-1, 185, RSo.) and Jeremy Winchester (6-0, 190, So.), playing up closer on SMU's outside receivers or Craddock will have Hicks passing to the outside on simple smoke screens all game long as they act as an extension of the run game as a part of the RPO package. Wilson has become the lockdown corner with 9 passes defended and 4 interceptions while adding a fumble recovery. Winchester has 6 passes defended of his own along with 20 solo tackles, one more than Wilson.
The safety duo of Garrett Davis (6-1, 200, So.) and Khalil Williams (6-0, 200, Jr.) must help in run support as well as helping Winchester over the top in man coverage. Davis had the play of the game last week against Tulsa, forcing a fumble that led to the game winning score and is tied with Adams for second with 27 solo tackles while William trails them with 23. They are both excellent open field tacklers, though the entire defense needs to improve on their tackling after the performance of the past two weeks. Davis is used as more of an around-the-box safety as he has five TFL and two sacks.
Brandon Wilson (5-11, 200, Sr.) and Terrell Williams (6-3, 210, Jr.) should both be able to make more plays when Orlando goes to his nickel and dime packages as Wilson will be playing his second consecutive game coming off of an high ankle sprain while Williams was ejected early in last week's game against Tulsa because of a bogus targeting call.
Defensively, the Mustangs allow 32.7 points-per-game (97th) under defensive coordinator Van Malone's aggressive 4-2-5 scheme. While allowing a lot of yards; 454.8 per game (109th), they also force turnovers, 15 to be exact. Their 13 interceptions ranks them second nationally, one behind Troy. The Ponies allow 191.8 yards on the ground (91st) and 263 through the air (96th).
Houston's offense, under the direction of second year coordinator Major Applewhite, averages 42.7 points-per-game (11th) and 505.1 yards of total offense (16th); 200 on the ground (42nd) and 305.1 through the air (20th).
The Mustangs have an active front four, led by defensive end Justin Lawler (6-4, 262, Jr.) and defensive tackles Zelt Minor (6-2, 285, Sr.) and Deon Green (6-4, 290, Sr.). Lawler leads the team in sacks (4.5) and 6.5 of his total 22 tackles are for loss. Minor is just as disruptive on the inside as he adds 6 TFL. Jarvis Pruitt (6-3, 247, Sr.) adds three sacks and TFL combined from the other defensive end spot. Mason Gentry (6-6, 294, Sr.) brings two TFL as a reserve defensive tackle along with Green's three as the starter.
They'll be facing a Cougars offensive line struggling with injuries. As of this writing, Marcus Oliver (6-3, 295, Jr.) and Na'Ty Rodgers (6-5, 292, Jr.) may try to play after sitting or missing last week's game; Oliver not playing due to a high ankle sprain and Rodgers leaving early last week after suffering a lower leg injury himself. Braylon Jones (6-3, 278, Fr.) subbed for Rodgers nicely at right tackle while Alex Fontana (6-3, 310, Jr.) struggled filling in for Oliver at right guard with two more holding penalties. Center Will Noble (6-4, 290, So.) struggled on a few snaps with a bad shoulder but also seems good to go this week. Kameron Eloph (6-3, 290, So.) and Josh Jones (6-5, 280, RFr.) have been the only two healthy starters are left guard and center respectively, along with Tyler McCloskey (6-2, 245, Sr.) who's been doing a stellar job blocking on the perimeter all season long.
Ironically, the pass protection has been better than the running blocking for a line that's used four different starting lineups, and what could be five in eight games this year. Derek Warehime's unit has to be comfortable with that as they had 11 different starting combos in 14 games last season.
Minor will be a major issue for the Coogs interior linemen so that will be a matchup to watch Saturday night as Applewhite will again look to get the inside zone running game going behind running backs Dillon Birden (5-9, 172, Jr.) and Mulbah Car (5-11, 194, Fr.). Birden had his best game of the season last week as he rushed for 82 yards on 14 carries with three TD's. He averages 4.2 yards-per-carry on the season (185 yards on 42 carries) with 6 TDs. Car has 206 yards on 49 carries with two scores on the year. Running back Duke Catalon (6-0 210, So.) has seen a neurologist according to Herman, during his presser yesterday, to further diagnose his concussion issues and is doubtful for Saturday's game.
Herman also mentioned that he would like for QB Greg Ward Jr. (5-foot-11, 190, Sr.) to run less so he's not physically taxed as much, but the zone read game is part of their offensive package and when the game is on the line he wants the ball in the hands of his best player. Ward has rushed for a team high 414 yards on 105 (for just 3.9 yards-per-carry) with 6 TD's.
Where the senior signal caller is excelling is the passing game, where he's averaging 323 passing yards per game to rank ninth nationally while completing 70.1 percent of his 224 passes to rank him seventh. If the smaller Ponies defensive front doesn't keep contain on the Tyler, Texas product, he won't hesitate to use his feet to flee the pocket as his 392 yards of total offense per game ranks him fourth in the entire nation. While tossing 11 TDs, he's also thrown to the other team five times, something the Ponies might try to game plan around defensively as their starting corners Horace Richardson (6-0, 201, Sr.) and Jordan Wyatt (6-0, 195, So.) each have four interceptions, tied for second nationally.
Anthony Rhone (6-0, 230, Jr.) is the Ponies middle linebacker and has 25 solo tackles as he patrols the middle of the field in their zone drops. Jackson Mitchell (6-0, 234, Sr.) and Kyran Mitchell (6-0, 210, So.) are the weakside linebacker and Star spots respectively. The star is a hybrid linebacker/safety as the younger Mitchell makes plays all over the field, with 20 solo tackles, 2 for loss, and interception and a fumble recovery.
SMU's safeties are very active as well as Darrion Millines (6-0, 208, Sr.) is their leading tackler with 36 total and 28 solo. He also adds three interceptions while Rodney Clemons (6-0, 185 RFr.) adds 23 solo tackles and another interception from the free safety spot. They'll be roaming the middle of the field against Houston slot receivers Linell Bonner (6-0, 200, Jr.) and D'Eriq King (5-10, 170, Fr.). Bonner has become Ward's go-to target as he leads the team with 55 catches for 653 yards and 2 TD's. While he's not a burner he has sure hands, as evidenced by two spectacular one handed grabs against UConn and Tulsa last week), as well as being a great blocker down field in the run game. King has become a jack-of-all trades as his backup as the true freshman adds 22 receptions for 170 yards with a TD while carrying the rock 14 times for 63 more yards.
On the outside it's been a game of 'pick your poison' for receivers Steven Dunbar (6-3, 210, Jr.) and Chance Allen (6-3, 215, Sr.) as both have 33 grabs on the season with Dunbar having slightly more receiving yards with 480 to Allen's 442. Dunbar also has one more TD with three. Allen was hurt last week with a wicked shot to the head but will try to go on Saturday, according to Herman. If he can't, or isn't effective, Isaiah Johnson (6-4, 205, So.) is waiting in reserve with 128 yards on 8 catches. He could have had plenty more but he and Ward have been just shy on numerous deep posts with Johnson dropping a few and Ward overthrowing his speedy receiver. Another fun matchup should be watching SMU's lockdown corners, Richardson and Wyatt, playing Dunbar and Allen in man coverage as neither will back down physically.
Special Teams
The Ponies average just 18 yards on kickoff returns and 5 yards on punt returns, with reserve safety Kevin Johnson averaging 19.4 on 13 kick returns and Proche averaging slightly less at 18.4 on 10 returns. Both are in the bottom 30 in the nation while Coogs special teams coordinator **Jason Washington'**s coverage units allow 23.4 and .7 yards on kick and punt returns respectively, on average. Herman has said he wants to see better coverage on kicks, which ranks just 103rd but can't get much better on punt coverage as they rank seventh nationally, allowing just two yards on three returns.
King looks to be the main kick returner now for the Coogs with Wilson still recovering from his high ankle sprain as the true freshman is averaging 25.4 yards on 10 kick returns. Wilson had been averaging 29.8 on 8. Their 25.8 return average as a unit ranks them 16th nationally.
Washington's return and coverage units return the opposite of how they cover, while playing great in the punt return game and struggling in kick return coverage, the return units are more effective in the kick return game than the punt return game, where King averages just 4.6 yards on 5 returns, and he took over for Dunbar who returns just 2 punts for 6 yards himself. Their total 4.1 yard punt return average ranks them at 99th. At this point I'm just happy when they fair catch a ball without fumbling it.
The Ponies meanwhile struggle in both kick and punt return coverage, allowing opponents to average 25.9 yards on kick returns and a whopping 10.5 on 14 total punt returns, ranking them 117th and 99th respectively.
Both teams went to Australia for their punter, with the Coogs Dane Roy (6- 7, 230, Fr.) struggling as he averages just 38.7 yards-per-punt, but forcing 8 of his 25 total inside the opponents 20-yard line. The Mustangs Jamie Sackville (5-11, 193) is a true freshman who averages almost 40 yards while pinning opponents inside their 20-yard line on 10 of his 30 total punts. Both have punts of at least 50 yards as well.
The kicking game advantage is probably a push as the Ponies kicker; Josh Williams (5-11, 170, So.) has connected on 11-of-13 field goals while adding 10 touchbacks on 26 kickoffs. For the Coogs, Ty Cummings (6-0, 180, Sr.), has been successful on 9-of-11 field goals and has 22 touchbacks on 51 total kickoffs.
One area the Mustangs may have the advantage in the special teams game is blocked kicks as Lawler has two on the season.
Keys to the game
The Coogs need to get off to a fast start and not allow the Mustangs any early momentum. When in the red zone they need to continue putting up 7's instead of 3's. In 41 trips inside the 20, they've crossed the goal line 28 times. That 69-percent conversion rate ranks them 37th nationally while the Ponies red zone defense (56-percent on 14-of-25 attempts) ranks them 41st.
SMU on the other hand has been horrible in scoring TD's inside the 20 as they've only been successful on 8 of 26 attempts. That 31-percent mark ranks SMU dead LAST in the nation. If SMU wants to hang with Houston they need to keep up the scoring pace. The Coogs red zone TD defense is at 50-percent (8-of-16), which ranks them tied for 19th.
Turnovers can often sway a game and the Mustangs have been great at forcing turnovers as stated before, ranking second in the nation with 13 interceptions. With a turnover margin of plus-2, the Mustangs rank 38th while the Coogs are in an unfamiliar position of ranking 82nd, forcing only 9 while giving up the rock 11 times.
The Cougars also need to play a cleaner game penalty wise as they committed 10 last week for 104 yards. For the season they rank in the top-20 in both penalties per game at four and yards with just over 40. SMU meanwhile average just five for 55 so they don't hurt themselves too much either.
While this looks like a total mismatch on paper, the Coogs have proven over the past two weeks that if they don't bring their A game, anybody can beat them. While injuries have played a key role in their loss against Navy and near defeat against Tulsa, they may have lost the focus of one of Herman's main points of emphasis, going #1-0 in everything you do. This means taking each rep, each practice and each game at a time. Hopefully these past two performances have shown on tape that the teams needs to settle back down, not worry about the playoff or conference title picture, and just focus on SMU.