2016 Game 3 Preview: Cincinnati
By: Jimmy Schofield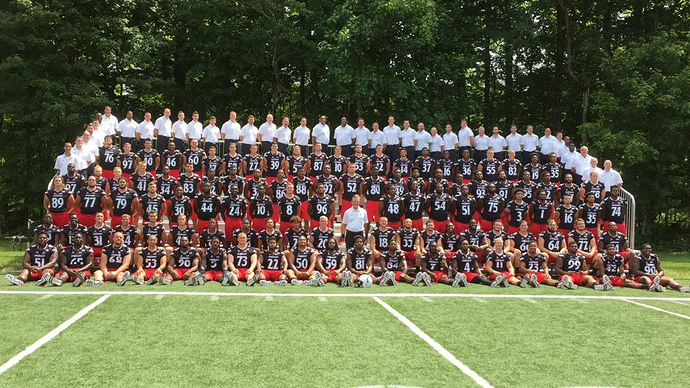 Team photo via
GoBearcats.com
Your sixth ranked Houston Cougars travel to Nippert Stadium for a Thursday night primetime showdown against the Bearcats of Cincinnati in the American Athletic Conference opener for both teams. Game time is set for 6:30pm (CST) and will be televised on ESPN.
The Bearcats (2-0) are coached by Tommy Tuberville, who's 27-13 in his fourth season at Cincinnati (157-90 overall in 20 seasons). Tuberville is also known as "The Riverboat Gambler" for his aggressive coaching (the Bearcats have converted all four fourth down opportunities in two games).
Offensively, the Bearcats utilize an up-tempo, no huddle spread scheme under first year coordinator Zac Taylor that's the definition of balance, averaging 255 yards through the air while rushing for 201 yards-per-game. Quarterback Hayden Moore (6-foot-3, 218 pounds, So.) won the job over Gunner Kiel over Fall practice because of his consistency and control of the offense. Moore stands tall in the pocket and is smart with the ball, something that could not be said of Kiel, who probably has a better overall arm than the true sophomore. Kiel could sling it, but his decision making was his ultimate undoing as he tossed 24 interceptions over the past two seasons and isn't as mobile as Moore, who is a true threat in the read option run game and can also roll out of the pocket if pressure is getting to him. So far on the young season, Moore has completed just over 60-percent of his passes for 510 yards with five touchdowns to one interception. The deceptively athletic sophomore also averages 5.5 yards-per-attempt on 13 rushes, while crossing the goal line an additional two times.
Moore has an offensive line that may not be as experience as Tuberville would like (60 returning starts entering the season), but they've done a nice job thus far in pass and run blocking. Multiple year starter Deyshawn Bond (6-foot-1, 292, Sr.) returns at center. He's flanked by first year starter Keith Minor (6-foot-4, 282, So.) at left guard and veteran Ryan Leahy (6-foot-6, 296, Sr.) at right guard. Behemoth Idarius Ray (6-foot-6, 325, Sr.) is listed as a co-starter alongside Minor according to Cincinnati's current 'game notes.'
While the Bearcats have experience along the interior of the line, they introduce two new starters at both edge spots in Ryan Stout (6-foot-6, 293, So.) and Korey Cunningham (6-foot-6, 318, Jr.) at left and right tackle respectively. Overall, the unit is very athletic in their man/zone blocking schemes, allowing only two sacks in 66 total drop backs.
Who controls the line of scrimmage will determine the winner of this game as the Cougars defense, under second year coordinator Todd Orlando, has only allowed an average of 73 yards rushing in two games. The defensive line rotation of starting ends Jerard Carter (6-foot-3, 290, So.), Cameron Malveaux (6-foot-6, 270, Sr.) with B.J. Singleton (6-foot-4, 305, Sr.) in reserve flanking Big Ed Oliver (6-foot-2, 290, Fr.) and Nick Thurman (6-foot-4, 290, Jr.) at the nose have been great not only at the point of attack but at penetration and causing chaos behind the line of scrimmage. Oliver, the true freshman sensation has lived up to his five star billing thus far as he leads the defense with 4.5 tackles-for-loss and 7 solo tackles while Malveaux, Carter, Thurman and Singleton have combined for 8 total tackles and 2.5 TFL as it's their job to stymie the offensive line from getting out to the second level to block linebackers and safeties.
That stellar play along the defensive front has allowed linebackers Steven Taylor (6-foot-1, 225, Sr.) and Mathew Adams (6-foot, 230, Jr.) to shoot the gaps unimpeded numerous times as they have 12 total tackles combined (6 solo for Taylor, 7 for Adams). Taylor, who lines up all over the field, leads the defense with 3.5 sacks (after amassing 10 last season) and is second to Oliver with 4 TFL.
As a "rush" outside linebacker, Tyus Bowser (6-foot-3, 240, Sr.) has done a nice job of setting the edge in the run game while also pressuring the QB as his overall game has improved to the tune of 6 unassisted tackles (10 total), 3.5 TFL and 2.5 sacks. When playing in their true 3-4 scheme, outside linebackers D'Juan Hines (6-foot-1, 225, Jr.) and Emeke Egbule (6-foot-3, 230, So.) have flashed potential at times but only have a combined two sacks this season.
Playing against pass happy spread teams allows Brandon Wilson (5-foot-11, 200, Sr.) to play all over the field at nickel back as he has 12 total tackles (6 unassisted). Wilson, the strongest player pound-for-pound on the team according to head strength coach Yancy McKnight, will be one of the key players of the game Thursday as he's versatile enough to play against the Bearcats physical run game, but also athletic enough to cover backs or tight ends coming out of the backfield. He injured a lower leg against Lamar last week but has been cleared to play Thursday night.
Orlando's "Third Ward defense" will try to stop the Bearcats 'thunder and lightning' duo of Tion Green (6-foot, 230, Sr.) and Mike Boone (5-foot-10, 205, So.). The running backs have rushed for a combined 263 yards on 64 carries thus far on the young season. Green is the between-the-tackles, physical back who also has nice hands out of the backfield as he has 50 yards on 6 receptions. He has the most career TD's of any returning AAC running back with 17 and is the type of back who gets stronger as the game progresses. Boone meanwhile also loves contact and will run out of a wildcat formation as well.
Both are threats in the passing game as Taylor will have both motion out of the backfield in order to create mismatches against linebackers or safeties in the passing game. You'll see this a lot Thursday night via wide receivers motioning across various formations in order to spring receivers off the line of scrimmage freely. This is also done in order to create confusion in opposing defensive backfields.
The biggest threat the Cougars face in the passing game is wide receiver Nate Cole (6-foot-1, 210, Sr.) in the slot. He's a physical receiver with great athletic ability and is able to 'high-point' the ball as he leads the team with 12 receptions for 145 yards and 3 TDs. The Bearcats lost their top six wideouts from last season, but they've simply reloaded as JC transfer Devin Gray (6-foot-1, 177) is the first UC receiver to debut with a 100-yard game (111 yards on 5 receptions against Tennessee-Martin). Gray is a true deep threat as are fellow outside receivers Khalil Lewis (6-foot, 205, So.) and Jerron Rollins (6-foot-2, 193, Fr.), who have shown tons of potential in fall camp and early in the season. Gray averages 18.6 yards on 9 receptions and had a 79 yard run last week at Purdue on a reverse. The Bearcats offense will spread defenses out horizontally in order to beat them vertically via these speedy receivers.
The Coogs have allowed 381 passing yards through two games, but 323 of those came in the first game against Oklahoma as they totally shut down an overmatched Lamar team last week in a 42-0 victory. Cornerbacks Howard Wilson (6-foot-1, 185, RSo.) and Jeremy Winchester (6-foot, 190, So.) won't have much help against the Bearcats fast outside receivers, especially on deep posts, as safeties Garrett Davis (6-foot-1, 200, So.) and Khalil Williams (6-foot, 200, Jr.) will be patrolling the middle of the field and helping out in run support. The two young corners weren't tested a lot against OU surprisingly as neither has a pass breakup yet, but look for that to change against Moore and company. Wilson is better in run support than Winchester, adding a tackle-for-loss and a fumble recovery.
DJ Dowdy (6-foot-4, 250, Sr.) will need to be accounted for by Davis, Williams, Bowser or Adams as Taylor will also use the physical Bearcats tight end in a modified two-back set so he gets a free release off the line of scrimmage. Dowdy is a strong blocker but will also flex out to cause mismatches against smaller defenders. Dowdy has only one catch this year, but it went for a TD on a 20-yard corner route. Tyler Cogswell (6-foot-5, 254, Jr.) is more the prototypical blocking inline tight end.
Look for Taylor to try to confuse the young Cougars secondary via motion and various formations that allow receivers clean breaks off the line. Orlando will counter this via pressure, pressure and more pressure in hopes that Moore won't have time to get the ball off in the Bearcats offense which is based on précised timed routes.
Defensively, the Bearcats are the definition of a read-and-react defense under co-coordinators Robert Prunty (fourth season) and Jeff Koontz (first) in their 4-3 scheme. They've allowed over 100 yards in both of their games thus far (140 average allowed) but are big up front behind tackles Alex Pace (6-foot-2, 298, Sr.) and Cortez Broughton (6-foot-2, 297, So.). Houston head coach Tom Herman mentioned both in his weekly media press conference on Monday, saying both are strong and get off the ball really well. The two have combined for 3 total tackles-for-loss with Pace adding a recovered fumble.
The defensive end rotation of Mark Wilson (6-foot-3, 243, Jr.), Kimoni Fitz (6-foot-3, 252, So.), Kevin Mouhon (6-foot-1, 245, So.) and Landon Brazile (6-foot-5, 257, So.) have a combined 6.5 tackles and a sack. The Bearcats won't blitz too often (I counted only five on 82 total offensive snaps for Purdue last week), but they will play line games up front via various stunts and twists so it will be important for an inexperienced Cougars offensive line to communicate, especially center Will Noble (6-foot-4, 290, So.). The second year starting center will be flanked by two new starters in Alex Fontanta (6-foot-3, 310, Jr.) and Mac Long (6-foot-4, 300, Sr.) at left and right guard respectively. Fontana started last week against Lamar, replacing last year's starter, Mason Denley (6-foot-4, 305, So.); who started last year during the middle of his true freshman season because of injuries. Long was the surprise of camp, taking over for Kameron Eloph (6-foot-3, 290, So.) who also started last year on the interior after being converted from defensive line early in the season.
The two tackle spots are also occupied by two new starters in Josh Jones (6-foot-5, 280, RFr.) and Na'Ty Rodgers (6-foot-5, 292, Jr.) at left and right tackle respectively. Thus far Herman is not happy with the interior line blocking as running back Duke Catalon (6-foot, 210, So.) found limited space on interior lanes against Oklahoma in their 33-23 opening week victory, rushing for 88 yards on 22 carries, but with most coming outside. The transfer from Texas sat out last week because of an ankle injury, giving way to Kevrin Justice (5-foot-11, 190, RFr.) and Mulbah Car (5-foot-11, 194, Fr.) who rushed for 111 and 109 yards respectively last week against the overmatched FCS foe. Catalon is still sore but is good to go according to Herman.
Establishing an inside run game will be a major focus for second year offensive coordinator Major Applewhite against a group of linebackers who love to play downhill, led by Eric Wilson (6-foot-2, 225, Sr.) from his weakside spot. Wilson leads the team in tackles with 24 (12 unassisted) after having led the team last year with 106 and once again uses his speed, athleticism and headiness as he leads this season in tackles-for-loss and sacks with 3.5 and 2 respectively. Calling the defense is middle linebacker Bryce Jenkins (6-foot-1, 231, So.), who has 8 total tackles.
The most versatile defender is Mike Tyson (6-foot-2, 201, Sr.) from his strongside linebacker spot as he's instinctual and strong enough to play the run game despite having the size of a safety, but athletic enough to play in coverage as he intercepted THREE Purdue passes last week. He'll probably spy Coogs QB Greg Ward Jr. (5-foot-11, 190, Sr.) who sat out last week with an injured shoulder after slicing-and-dicing the Sooners offense for 321 passing yards on 23-of-40 completions. Ward had only ONE net yard against OU after rushing for 1,108 last year to go along with 21 TD's on the ground. Look for Applewhite to get the dark horse Heisman candidate going in the run game via QB sweeps, draws and zone read keepers based off what the defensive ends are doing. The QB/RB mesh (or handoff) will be key against the Bearcats defense as thus far Cougar QB's have fumbled twice this season (Kyle Postma last week) in the read option handoff. Turnovers can change the momentum of a game quickly.
Tight end Tyler McCloskey (6-foot-2, 245, Sr.) plays a huge role in the outside run game so keep an eye on number 45 Thursday night. If Ward breaks free on a few sweeps, chances are it'll be McCloskey sealing the edge on kick-out blocks.
Wide receivers Steven Dunbar (6-foot-3, 210, Jr.) and Chance Allen (6-foot-3, 215, Sr.) are still the top targets for Ward from their outside spots, though Allen has only 35 yards through the first two games on just three receptions total after amassing 752 yards on 56 receptions last season. Dunbar meanwhile has 132 yards on nine receptions. Linell Bonner (6-foot, 200, Jr.) and D'Eriq King (5-foot-10, 170, Fr.) have really been impressive considering they weren't even on the depth chart at slot receiver until a few weeks ago after injuries. Bonner is second on the unit with 109 yards on seven catches while King has added 53 on seven himself, mainly on "flip" passes as he motions across the formation that's basically a hand off.
What's especially been impressive about Ward thus far has been his improvement on his supposed weakness; passing downfield, especially on the back shoulder fade. How the Bearcats secondary, who have allowed 547 passing yards total on the season will be key. Last week they allowed 401 against the Boilermakers, but with most coming in the fourth quarter when they were up comfortably in their 38-20 victory. The safeties, Zach Edwards (6-foot-1, 200, Sr.) and Tyrell Gilbert (6-foot-1, 200, So.) will be making plays all over the field as they are second on the team with 14 total tackles each.
With both safeties helping plenty in run support, the cornerbacks will be put on an island in man coverage on the outside receivers at times. How the smaller Grant Coleman (6-foot, 179, Jr.) and Linden Stephens (6-foot, 188, Jr.) match up with Dunbar and Allen outside will be key, though Prunty will have his secondary give Applewhite and Ward plenty of cover-2, five underneath with the linebackers dropping off in various zone looks as well. Alex Thomas (6-foot-1, 180, So.) and Carter Jacobs (6-foot-1, 199, Jr.) play in their sub nickel and dime packages with Thomas tying Gilbert's three passes defended. Gilbert has two interceptions (for 84 return yards) with Stephens and Thomas adding one each.
Special Teams
Herman places a strong emphasis on special teams, and without it the Coogs may not have beaten the Sooners as everyone, including UC's coaches, remembers Brandon Wilson's 109 return for a TD off of a missed field goal attempt. In the return games, the Coogs have been 'meh' thus far, returning only four punts for 14 total yards by Dunbar and true freshman safety Colin Wilder. Wilson is hit-or-miss in the kick return game via his questionable decisions in deciding on whether or not to return them out of the end zone. While averaging 27.2 yards on four returns, two of them haven't gone past the 15-yard line. Cinci meanwhile has returned only one punt for two yards and averages 12.8 yards on 4 kick returns, via backup receiver Brayden Beard (6-foot, 180, RFr.), Kahlil Lewis and Mike Boone.
The Coogs have allowed opponents to return four punts for 14 total yards and allow a 22.9 yard average on 7 kick returns. The Bearcats have allowed two punt returns for 10 yards and 7 kick returns for 15.1 yards. Starting field position via the return games will no doubt help both clubs in what's sure to be a high scoring affair.
If the game is decided by a field goal, it may be a coin toss between the Bearcats combination of Andrew Gantz (5-foot-9, 178, Jr.) and Josh Pasley (6-foot, 182, Jr.) and Houston's Ty Cummings (6-foot, 180, Sr.). Gantz has connected on 38-of-48 career attempts including his only attempt this season, a 26 yarder last week, and looks to be the full time kicker after coming back from an injury. He had a long of 51 yards last season. Pasley connected on 9-of-13 last season in the junior college ranks. Cummings meanwhile struggled last week against Lamar, missing two from 31 and 25 yards on out, after connecting on all four the previous week and is 12-of-14 for his career. He had a long of 47 against OU.
Keys to the game
My keys to the game remain the same regardless of opponent; third down conversions, red zone efficiency, penalties and turnover margin. While Applewhite's offense has converted on 21-of-38 third downs (55-percent), which keeps the chains moving between the 20's, when they get in the red zone they've only crossed the goal line on 7-of-15 opportunities. After converting more than 73-percent of their chances last season, ranking them inside the top-10 nationally, that meager 47-percent this season isn't going to cut it for Herman, Applewhite or Ward. Scoring 3's instead of 7's gets you beat against good teams. The Coogs have committed 9 penalties for 90 yards through two games and have a turnover ratio of plus-1 (forcing three while committing two).
The Bearcats on the other hand, have converted on 18-of-34 third downs (53-percent) and have scored TD's on six of eight possessions inside the redzone. They've committed 10 penalties for 105 yards with a turnover margin of an impressive plus-5 (eight forced while committing three).
Prediction
A sellout is expected in Nippert Stadium so communication will be tough for the visiting team, which often leads to pre-snap penalties, but Herman trains his team for chaos every day in practice. That, along with the interior running game finally getting going against a weaker UC defensive front will allow Houston to control a tight game, pulling away in the end. Of course if Ward, Catalon and Wilson prove to be ineffective because of their injuries, all bets are off.
Houston 41 Cincinnati 27