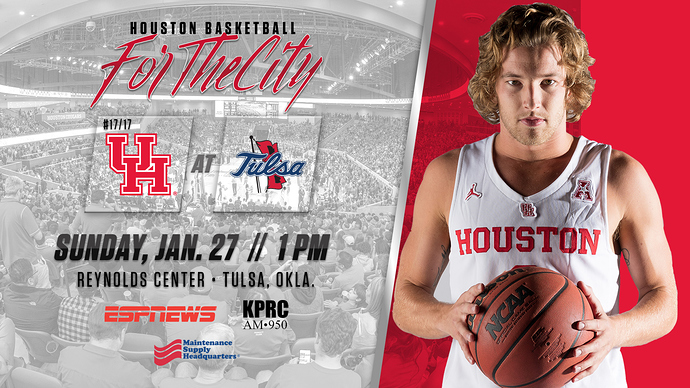 ABOUT TULSA
• Tulsa has posted a 12-8 record in 2018-19 with a 2-5 mark in American Athletic Conference play… Golden Hurricane stands in ninth in the latest league standings.
• Tulsa is 10-1 in home games inside the Reynolds Center this season.
• Golden Hurricane has lost its last two and three of its last four games… Only an 89-83 home win over UConn on Jan. 16 prevents a longer streak.
• In its most recent action, Tulsa dropped an 88-64 decision at Cincinnati on Thursday.
• Against Cincinnati, five Golden Hurricane players scored in double digits led by senior guard Sterling Taplin's 12 points… Senior forward DaQuan Jeffries added 11 points with six points, two blocks and two rebounds, while junior forward Martins Igbanu, junior guard Curran Scott and sophomore guard Darien Jackson chipped in with 10 points apiece.
• This season, Jeffries leads Tulsa with 13.4 points and 5.7 rebounds per game… Igbanu stands second on the team with 12.0 points and 5.5 rebounds per game… Taplin ranks third with 10.0 points per game but leads the Golden Hurricane with 4.6 assists per contest.
• Head Coach Frank Haith is in his fifth season at Tulsa and his 15th season as a collegiate head coach… Has compiled an 89-60 record at Tulsa and is 271-189 as a collegiate head coach…. Previously built a 129-101 record at Miami (Fla.) (2004-11) and was 53-28 at Missouri (2011-14).
• Haith has posted a 4-5 record against Houston during his career with all nine previous meetings coming during his Tulsa tenure.
• Haith is 4-5 against Houston Head Coach Kelvin Sampson during their careers with all nine previous meetings coming during their Tulsa and Houston tenures, respectively.
• 1988 graduate of Elon.