Let's go! Let's finish 1-0 today heading into Week 2.
I only ask that we play so well Pearland never has to make a post.
O/U on seeing a Coog paw down during the game? Haha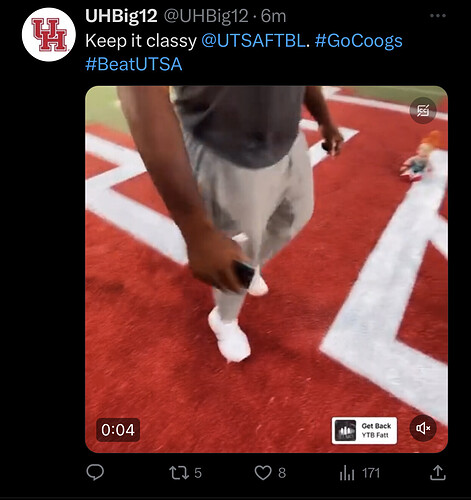 https://x.com/uhbig12/status/1697985522012913675?s=46&t=QaTBQ_PFQ7gLVOFwqBKG5Q
Underdogs, Gameday crew just picked UTSA, UTSA players stomping on our logo, packed house…. This is where we usually play our best.
It's been a while since I've been this excited kicking off a new season. Can't wait til 6p!
Doubtful it's a packed house, there are tons of tickets for sale on stub hub, hope we get 30K, im worried about the crowd now
That's why i love the Big 12, we'll be underdigs all season
I wonder if Clark is playing for utsa
Hey guys. Does anyone know if our athletic department seriously isn't offering the Oilers tribute merch. I would buy a hat, t-shirt and hell maybe even a jersey. Do they not like money?
We found our seat counter. No matter what is announced this guy will let us know the "actual" attendance
Is that only for today or will you buy it in the future?
No i bet he does his seat counting on the tv from the couch
Every week my man I drive in from out of town and for basketball also no need to question me on that I'm just tired of our city and our attendance problems, Rice and UT today in 102 degrees it will be sold out, us not so much
U don't know what the hell ur talking about