No hosses equals mistakes, and all the coaching doesn't make a difference.
Coaches should have prepared for that. The talent/injury situation will buy this staff another year.
Uhh … sorry but we DIDN'T recruit chopped liver to shore up the front line defense when they go down …
At least all the propaganda we have heard about these kids tells me they have the wherewithal to get the JOB DONE when the time comes …
They simply are NOT BEING TAUGHT CORRECTLY and MOTIVATED by the right defensive teachers … that hasn't been a secret for two seasons now …
IT'S TIME TO RIGHT THE SHIP …
Blame it on whatever you want to, but our defensive line is decimated and Temple made chopped liver out of our reserves tonight. Temple manhandled our defensive line all night .
I figure there will be coaching changes made on the defensive side at the end of this season. But I am here to tell you that tonight no defensive coach in America could have taken our defense and stopped the Owl running game…
Not attending another game until this teasip is gone.
Firemajor has been fired. Troll deleted. All of one post and joined 5 minutes ago.
This depth argument is just an excuse. Every team has depth issues somewhere, except Alabama. Every team has injuries this time of year. GOOD coaches make their teams functional enough to at least win. The entire defensive staff needs to go.
For example, Temple was missing 2 OL yesterday.
It's pretty rare to lose your entire starting D-line, Let alone add your starting safety and at least one linebacker as well.
Yes but it's also pretty rare to be stupid enough to stay in a 3 man front, have the backers not fill gaps, but sit in a zone and allow 2 string offensive linemen to get hands on them repeatedly. These injuries become more prevalent due to the play calling. How long do you think we will have linebackers if they keep getting mitts put on them by 300 pound guys? Face it, the DC is terrible and has zero answers to offset any flaws. Name ANY bright spot in the defense. I'll wait…
LOLOL!! 1000 year ban!! Patrick …the Hanging Judge!! This made my morning.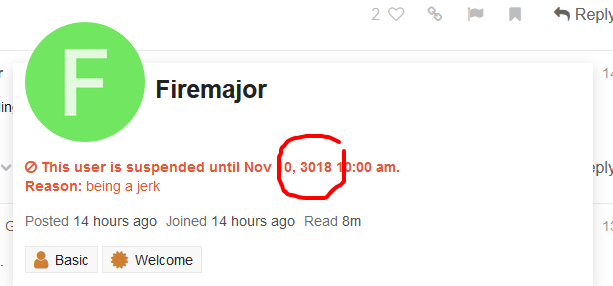 OK, props to C2A.
And I just noticed the 'for being a jerk' part. Awesome
I completely agree no depth at all………….it all brings up are the coaches recruiting the right players. I did like Young and what he was doing last night but we need a lot more. It also hurts that we lost lost the juco kid.
Depth? In the 2nd half we had a DT who weighed in at 188. There's a reason they could run between the tackles unmolested and it has nothing to do with coaching, schemes or playcalling.
Now you may return to your previous ranting
I know we always have to fire someone here because it's the internet, but that was a patchwork d-line at best last night. Depth is one thing but most teams aren't going to their 3rd team to start.
There's a reason some players are just backups.
This is going to give them a pass. They hooked their trailer to Big Ed and will live to fight next year.