Sweet! Just hope the same thing doesn't happen the last time we made the cover at the beginning of the year. If I remember correctly, that was the Miami beatdown.

Is this nationwide, or does Sports Illustrated have regional covers?
Is this next week or tomorrow? The football tweet said tomorrow. I'm hoping it is national.
4 regional covers. Other 3 are Michigan (Peppers), Clemson (Watson), and UCLA (Rosen).
So how can a Coogfan in a different region get the Greg Ward cover?
'91 flashbacks have been flashing through my head this offseason and now it's a big flashing sign.
Just got to believe in Herman and the team. Much better coaching staff in place now than in 1991.
NOOOOOOOooooooo!!! … the infamous SI jinx …
Seems most of us have been down this path before …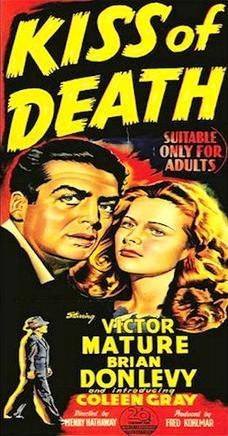 Well at least we don't have Richard Widmark pushing a crippled ole lady down the stairs …

Love the Houston on the uniform, big and bold. I don't believe in curses; I believe in hard work.
Exactly.
Nobody cares (about a jinx). Work Harder!
Really? Love the new unis but that font is too
Boo-ku.
If they are red and white with Houston printed on them, then I'm happy with the uniforms.
Please, please let's not screw this up. Please.
And Greg Ward is the only one whose name is on every cover
You can also get a high quality color print of the cover framed or unframed. I wonder if UH gets royalties from that.
I don't think a school can profit if it is an individual. The media guides are the closest thing and seeing as they are $5, involve information on the whole team, the opponent, past players and the coaches, it would be hard for any one player to sue saying the school was making a big profit from their name. The publicity however is priceless.
I'm not going to lie, I know that Greg is trying to stay focus and not buy into the hype and all, but as a fan, I'm damn proud to see a guy from my alma mater make it on the cover. So spending $85 bucks for a framed cover to hang up in my game room is money well spent. I will hang up this picture next to the autographed picture of Case Keenum(in his UH jersey). I think I've been spoiled to watch the Kevin Kolb era, the Case Keenum era, and now, the Greg Ward Era. I'm only jealous of the long-timers who were around and got to watch the Bill Yeoman and Run 'N Shoot years. Just damn proud of my school and the excitement associated with this season is eating at me. Can football season start already? Go Coogs!
It's regional. I think there are 4 regions so it's still a big deal.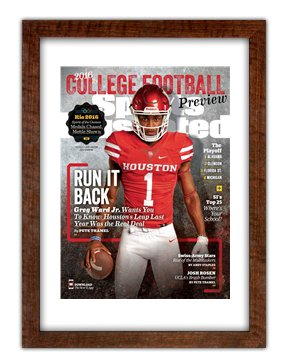 Framed copy is $80, but unframed 11x14 is $20