Another Coog photobombing them
At least Wade Philips defense showed up for the Superbowl as always…not much from the side he wasn't responsible for…
I'd like this post twice if I could!!!
We're not going back to the kissing thing are we?

No
Glad to see the King is healthy and in good spirits!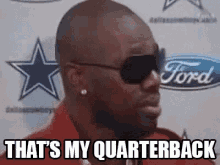 Great honor. Well deserved.
One thing I wonder about…CDH says he doesn't want King running (at least the way I heard it). One of king's great athletic attributes and abilities is his mobility and speed. I would hate to lose that potential.
You can't take that away from him…if Dana want to win, let him win with his legs, don't become Sumlin with Case…
The evening continued as High School Athlete of the Year was presented to Woodlands High School track and football standout Kasean Clark , while University of Houston quarterback D'Eriq King received the College Athlete of the Year.
"It's been a lot of hard work since my high school days," King explained after receiving the award. "It's very humbling, and I'm excited that I get to play in my hometown in front of my family and friends. It's just been a wild ride."