Shannon called the plays here last and many blasted him for lack of imagination.
Maybe, just maybe Miami has better players, especially in the OL
Perhaps but also more likely DANA was holding things back as I suspect he currently is w this former Analyst now calling plays for UH
Maybe just maybe, Miami has a much better playbook to call plays from.
During the game, the announcers were praising the confident and explosive play calling of Shannon Dawson.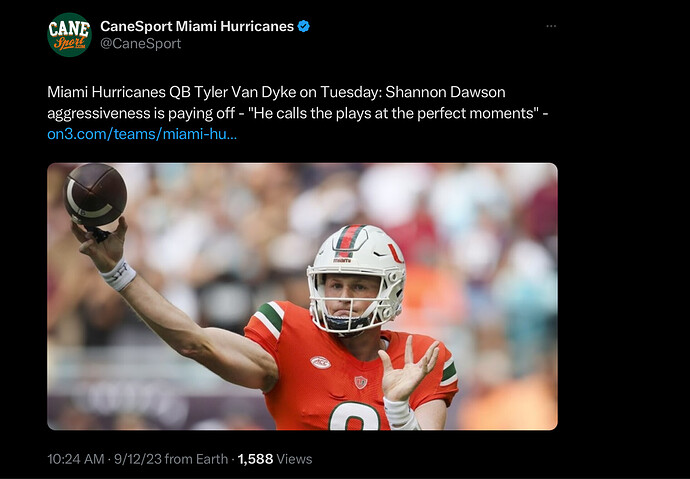 I said that last year and people thought I was joking. Dana wants ball control to help the D. You can be Mike Martz and if the HC tells you to run the ball on first down then you run the ball on first down.
I also think its player quality, too. But that's on Dana as well.
A few years ago I thought you had to execute the HC's plan, come Hell or high water. But I've seen the quality of the lines under Dana. Its hard to play knuckle-dragger FB when you aren't a knuckle dragger. The kids just don't seem to be able to take Dana's philosophy and run with it. How many times is Dana gonna go to the well with the modified Helton offense.
If you look at 1st down play calling in college or pro, about 75% are run plays or safe bubble screens. To move the chains you must be 2nd and 5-7 yards, 2nd and 10 and your odds go down. You must be able to run the ball. The one exception, is after a turnover you may see teams take a shot down field or if they are already in scoring position.
Really? I am sure it has nothing to do with the talent level of players lol…I think we need an upgrade in coaching also, but at the same time I have to believe Miami has a better offensive line…we will just have to see how our OL develops throughout the year.
After the Rice game I have no confidence in Belk either…
See you at the game Saturday!