It's free to watch on Roku et al. you just have to give the church your info. I guess thats a fair trade off.
1567 U-verse. Not sure if all tiers receive the channel.
Don't think this streamer gets that channel. Guess it is radio for me.
I think u can download app on ur phone or on Apple TV maybe
dejon was at home with his family on thanksgiving (from his instagram) when everyone was on the plane to the game…he isnt going to play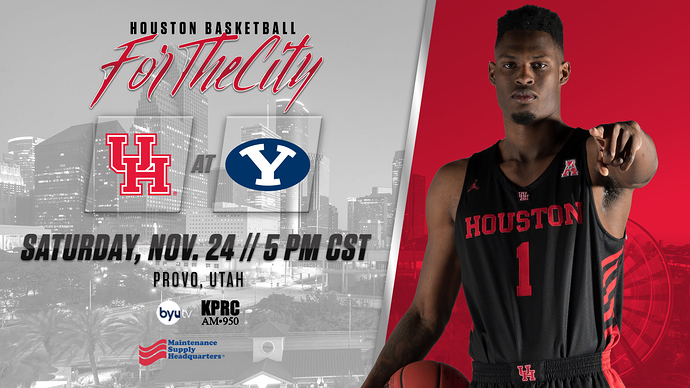 ABOUT BYU
• BYU brings a 5-1 record into Saturday's game following Wednesday's 105-78 win over Rice inside the Marriott Center… Cougars are 5-0 at home this season.
• Against Rice, forward Yoeli Childs led BYU with 28 points on 13-of-18 shooting and seven rebounds and added five assists… Guard Jahshire Hardnett added 20 points on 6-of-7 shooting with three rebounds, while guard TJ Haws finished with 18 points, four rebounds and a game-high eight assists.
• This season, Childs leads BYU with 20.7 points and 12.5 rebounds per game… Haw stands second with 14.2 points per contest and leads the Cougars with 5.5 assists per game, while Hardnett ranks third with 12.7 points per game.
• Head Coach and Houston alum David Rose is in his 14th season at BYU and overall as a collegiate head coach.
• Rose has compiled a 334-123 record at BYU during his career.
• Rose is 0-1 against his alma mater during his career… In his first season at BYU, his Cougars dropped a 77-67 decision to Houston's Cougars in the NIT First Round in Hofheinz Pavilion on March 15, 2006.
• Saturday's game will be the first time that Rose has faced Houston Head Coach Kelvin Sampson during his career.
• 1984 graduate of Houston.
Anyone know if Comcast has this channel?
Spread for game is BYU -1
Former UH player and coach of BYU David Rose says he is still a huge fan of UH program and thinks Sampson is one of the best coaches in College basketball
Think the Coogs are going to make a national statement this game
I think we might be better than BYU but I'd feel better about the outcome if it wasn't at BYU and they didn't have 3 more games experience than us. Neutral site game I think we are favored.
ESPN BPI gives us 62% chance of winning
Where are you seeing that? Not that I put any weight into anything related to ESPN but if you go to the Houston BYU game page on ESPN, it shows BYU as a 59.5% chance to win.
I think Vegas is right more often than ESPN. It has BYU as a 1.5 point favorite which in basketball is a toss up.
almost gametime…
first big game of the year