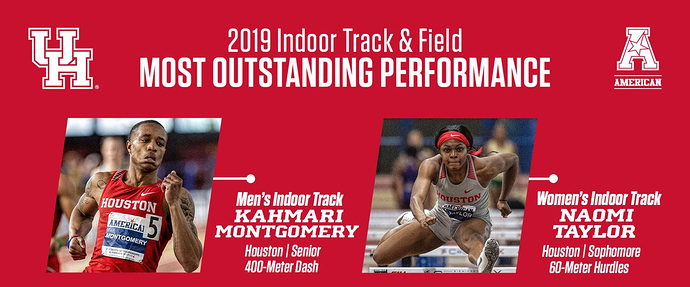 MEN'S INDOOR TRACK MOST OUTSTANDING PERFORMANCE
Kahmari Montgomery * Houston * Senior * 400-Meter Dash
Montgomery earned his second-straight award after helping the Cougars earn their fifth-straight conference indoor title. Montgomery ran the fastest 400-meter dash in the world and NCAA this year, setting The American's meet record and Birmingham CrossPlex facility record for a second-consecutive year with his time of 45.04 seconds. Montgomery, who held the fastest CrossPlex and American record entering the meet, ran the two-lap sprint 1.72 seconds faster than this year's American runner-up.
WOMEN'S INDOOR TRACK MOST OUTSTANDING PERFORMANCE
Naomi Taylor * Houston * Sophomore * 60-Meter Hurdles
Taylor owns the top-two 60-meter hurdle times in conference history after setting the meet record in last Friday's championships prelims (8.08 seconds) and running for the next-best time in the finals to capture gold (8.21 seconds). Her prelim time of 8.08 seconds ranks 10th nationally. Taylor improved from her second-place finish in last year's conference indoor championships.