Houston Cougars 2020 position preview: Wide receiver
By: Jimmy Schofield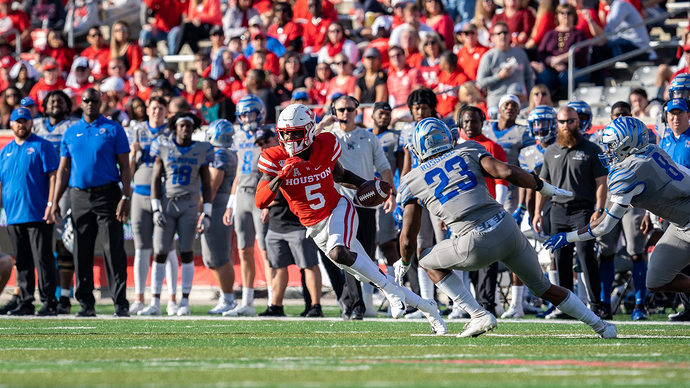 photo via
uhcougars.com
Though the 2019 Houston Cougars only averaged a meager 203.3 yards-per-game passing (91st nationally), the wide receiver unit is probably the deepest position on the team as it has the most talent returning, led by Marquez Stevenson (6-feet-1, 190, RSr.). Coming off back-to-back American Athletic All-Conference First team honors for the 2018 and 2019 seasons, Stevenson could have declared for the NFL draft this past off-season, but he decided to come back for his final go-round which was probably head coach Dana Holgorsen 's biggest recruiting win for the 2020 class.
What Stevenson has can't be replaced, greasy fast speed. The Shreveport, La. native has averaged 15.4 yards-per-reception over the past two seasons in which he has amassed 127 receptions for 1,962 yards and 18 touchdowns. His first two seasons were limited to only two games due to injuries (collarbone and an ACL tear). He can be as dynamic from the slot, taking a short screen 75 yards, as he can from the outside in which he uses his 4.40 40 speed to burn opposing corners deep via the post route. Stevenson has led the FBS the past two seasons with 10 catches of 50 yards or more. It will ultimately be up to offensive coordinator Shannon Dawson , in his first year calling plays for the Coogs, to get the ball into Stevenson's hands as much as possible, whether it be the short crosser, the deep out or post. He's also a threat running the ball via the speed sweep or reverse as he's averaged almost a first down every time he carries the rock (9.3 yards-per carry on 23 carries for 215 yards and two TDs). Stevenson has also averaged 24.8 yards-per-return on 30 career kick returns as well.
Stevenson is versatile in that he can play in either the slot in order to get mismatches against linebackers or safeties on screens or short crossers, but can also play outside in order to take advantage of his explosiveness on those deep posts. Keith Corbin (6-1, 197, RSr.) and Tre'von Bradley (6-1, 195, RJr.) are the odds on favorites to join Stevenson in the starting lineup. Corbin redshirted last season after four games after averaging 17.5 yards-per-catch on 11 receptions. His breakout season came during his junior year when the Beaumont Westbrook product amassed 691 yards on 40 catches with 10 of his 12 career TD's. In 34 career games, Corbin averages 16.6 yards-per-reception (1,115 yards on 67 catches). Wide receivers coach Tyron Carrier will need to get better consistency out of Corbin as he's known to make the spectacular catch followed by an easy drop. While Corbin is in his final season, Bradley is just entering his prime as he started the final five games last season at an outside spot, totaling 326 yards on just 16 receptions for a staggering 20.4 yards-per-reception average (leading the unit). The Cleburne product had just three catches, for 59 yards his redshirt freshman season, playing mainly on special teams after redshirting his true freshman season. Bradley is another 'athlete' (being listed so via 247's recruiting rankings) who averaged nine yards per carry as a quarterback in high school.
As you can sense, speed is a key with this receiver crew, and they have a lot of it. The "possession" receiver of the unit is Jeremy Singleton (6-0, 185, RJr.). The Brother Martin (New Orleans) product averaged "only" 14.7 yards-per-reception last season (381 yards on 26 grabs) mainly from the slot. He should be a steady contributor after improving from his redshirt freshman season in which he caught 19 passes for 285 yards (15 ypr) as he's solid fundamentally in finding open holes in opposing zone defenses.
Bryson Smith (6-0, 190, RJr.) has also seen his playing time steadily increase over the past few seasons (after redshirting in 2017) after converting from quarterback at John Tyler and early in his career at UH, though he can and still will lineup as a "Wildcat" QB. His redshirt freshman season was his best statistically, as he caught 30 passes for 285 yards, though from a more experienced signal caller, as opposed to last year where he dipped to just 9 catches for 62 yards. He did throw for two TD's on three pass completions (on four attempts) for the season, totaling 105 yards. Though his time at QB has seemed to pass, fulltime, he seems like a solid backup in the slot where he can take a handoff via speed sweep, or be used in a myriad of ways as a receiver in the screen, intermediate and deep passing games.
After the aforementioned first five, other scholarship receivers looking to step up to impress Carrier, Dawson and Holgorsen include; Ke'Andre Street (6-3, 200, RFr.), Ja'Kori Morgan (6-2, 204, RSo.) and Peyton Sawyer (5-11, 173, RSo.).
Street did not see any action his true freshman season but has the prerequisite the offensive staff is looking for, speed, to go along with something else you can't coach, size. Street averaged more than 24 yards-per-reception his junior season at John Tyler (873 yards on 36 grabs). He also has tons of untouched athleticism as he played defensive end at times for the Lions. Morgan has played mainly on special teams (12 games over the past two seasons) but averaged nearly 15 yards-per-reception (2,040 yards via 137 career catches) over his high school career at Clear Lake. He also averaged 13.5 yards-per-rush (229 yards on 17 carries). Sawyer, meanwhile, has just three catches for 25 yards over his short career at UH but is a solid teammate who had 90 catches his final two seasons in high school at Clear Spring. He can also contribute on special teams if the top kick or punt returners go down as he has a combined 57 yards on a kick and punt return each, after averaging 35 and 17 yards per kick and punt return in high school.
As far as the 2020 class is concerned at the position, one to keep an eye on is Nathaniel Dell (5-10, 160, RSo.). He has the nickname "Tank" because of the chip on his shoulder over doubts people have of him because of his size. One thing that stands out about the Independence CC product (via Mainland High in Daytona Beach, Fla.) is his shiftiness. He can stop on a dime and has great change of direction. His verified 4.3, 40 track speed also doesn't hurt. Dell is also a great kick and punt returner, as he averaged 32 yards on 12 kick returns and a touchdown while averaging 35 yards on three punt returns last season at Independence. It's not every day where you could potentially hear, "Tank takes it 99 yards to the house on the kickoff!" He also had 52 receptions for 766 yards (14.7 ypr) and eight touchdowns last year. Dell averaged an amazing 32 yards-per-reception on just 12 catches during his true freshman season at Alabama A&M after just four games before redshirting, then transferring to Independence.
True freshman looking to impress include Dylan Robinson (6-1, 190), Darius Edmonds (6-4, 205) and Khiyon Wafer (6-1, 180). Robinson 118 receptions for 2,325 yards (19.7 ypr) and 29 touchdowns during his final two years at Atascocita while Edmonds averaged 18 ypr (702 yards on 38 grabs) as a late bloomer at tight end as a teammate of Robinson's. Wafer, meanwhile, averaged more than 19 yards a grab (1,277 yards on 65 receptions) at Frisco-Independence just one season after catching just 13 passes for 216 yards at Hebron High as he's just starting t hit his upside.
The tight end position these days is all about size and athleticism, or how you can put opposing linebackers and safeties in mismatches in space due to their lack of size or speed. Tight ends/inside receivers coach Corby Meekins , has plenty of both. Christian Trahan (6-3, 235, Jr.) is the leader for this group experience wise as he had 244 yards on 22 catches and a TD last season after a true freshman season in which he caught just one pass for 13 yards. Trahan is an important presence in the middle of the field with solid hands that his quarterbacks can rely on as a safety outlet if his receivers are covered. Parker Eichenberger (6-3, 225, Jr.) is more an inline blocker or H-back (lined up in the backfield) type, coming from powerhouse Katy teams that always favored running the ball. Even though he's smaller than Trahan, Eichenberger isn't afraid to get his nose bloody as a blocker.
Two other intriguing athletes to keep an eye on at tight end include true freshman Trevonte Sylvester (6-5, 220) and Dekalen Goodson (6-2, 225, RSo.). Sylvester played mainly as a strong side defensive end last season for Breaux Bridge (La.) but also played on offense at tight end and tackle. He was also the starting center on their hoops team that won state in 2018. Goodson also played on the defensive side of the ball at linebacker his first two seasons but saw the field in just one game last year so a position switch may do him some good.
Stay logged into Coogfans as game week approaches, in which we'll post our final position preview article next week, on the quarterbacks.