Houston Cougars 2021 position preview: Defensive Line
By: Jimmy Schofield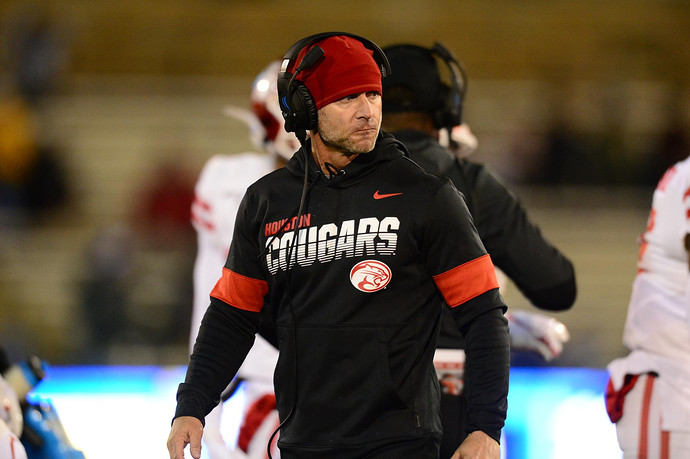 Defensive line coach Brian Early. Photo courtesy
uhcougars.com
The Houston Cougars defense has not lived up to expectations under third year head coach Dana Holgorsen , allowing 32 points-per game last season (80th nationally), after allowing 34 PPG (113th) in 2019. The improvement has been steady, if slow however, as the unit allowed 37.2 PPG in 2018 (118th) in the last year of the two-year Major Applewhite era.
After a tumultuous offseason filled with rumors of co-defensive coordinator and safeties coach Doug Belk leaving for other programs, Holgorsen let Joe Cauthen go and promoted Doug Belt to defensive coordinator solo (while continuing to coach safeties). The scheme (4-2-5 base) will remain the same according to the head coach, with "a few tweaks" as Belk wants to play more aggressive and wants his defense to be "fast and physical" and to "finish plays." Belk has been with Holgorsen for the past five seasons as he was the cornerbacks coach at West Virginia during the 2017 and 2018 seasons. "Doug is one of the brightest, young and upcoming coaches out there and he's committed to finishing what we've started," Holgorsen said of the Valdosta, Georgia native during a Spring ball media conference call.
If the defense is to turn things around, the defensive front must do a better job against the run as they allowed 167.5 yards-per-game (66th nationally) last season and 4.3 yards-per-rush (67th). This was down from the 179 YPG on the ground (85th) and 5.2 YPR (117th) during the 2019 season. The pass defense allowed 231 passing yards-per-game (62nd) but allowed to many big plays in the passing game, allowing 13.2 yards-per-reception. This was an improvement over 2019 after allowing 288.4 YPG (124th) through the air. The defense allowed 398.5 yards-per-game of total defense (55th) last season and 5.8 yards-per-play (74th) after allowing 467.4 total YPG (118th) and 6.8 YPP (127th) in 2019. Those stats were also an improvement over 2018 in which the Cougars finished near the bottom nationally in nearly every major defensive statistic among the 129 FBS football programs. They finished 115th in rushing defense (221.1 ypg) and 127th in total defense (496.8 ypg) that season. They also were 90th in yards allowed per play (5.95). It all starts up front under third year defensive line coach Brian Early , described as "passionate and intense" by Belk, which contrasts nicely with the defensive coordinator's laid back 'player's coach' style of coaching.
In keeping with the aggressive defense theme, Belk and Early will want to improve on last season's 59 TFL (49th) and 24 sacks (39th), which were produced in just eight games, in contrast to the 68 (92nd) and 22 sacks (90th) respectively for the previous season.
In Belk's 4-2-5 scheme, a 3-tech defensive tackle and a nose guard are bookend by a strong side defensive end and a weakside defensive end or pass rush specialist termed the "Bandit." For the purposes of this article, we will lay out the depth chart at these four positions. As all defensive lines should be built from the inside-out, we will start with the two interior line spots followed by the two defensive end positions.
Logan Hall (6-6, 260, Jr.) has been the talk of the offseason, "He's playing better than anyone on our team," Holgorsen said near the end of Spring ball. The Belton native has played in every game, 33 (with 11 starts) over his three-year career. After gaining more than 20 'good' pounds, Hall has the muscle to bull rush interior offensive linemen while retaining the athleticism and 'quick twitch' needed for someone his height in order to 'get skinny' and explode through the A or B-gaps when going one-on-one against a bigger offensive guard. Of his 51 career tackles, 26 are solo, adding seven tackles-for-loss, two sacks and a forced fumble. "He's improved more than anyone on the defense," Early said during Spring ball. "There are times he's been completely taken over and been unblockable. He has been given God given talent with his length and has such a high upside. He's a Sunday player for sure one day as long as he continues to improve which we know he will."
Starting next to Hall will probably be Latrell Bankston (6-0, 300, Jr.) or Sedrick Williams (6-1, 302, Jr.). Jamykal Neal (6-1, 315, Jr.) and Olivier Charles-Pierre (6-2, 375, Sr.) will also see significant playing time along the interior line. Bankston is a transfer from Iowa State, where he amassed 4.5 tackles-for-loss (16 total) while adding 3.5 sacks in his lone season in Ames. Two seasons ago the Woodstock, Georgia native had 22 TFL and 11.5 sacks at Hutchinson CC. What surprised Early about Bankston was how "twitchy and athletic" he is for such a big man, meaning his job will not be to just occupy blockers. The defensive line coach said Bankston practiced half of the spring at the nose with the other half at the 3-tech defensive tackle spot. Holgorsen has also been impressed with both Bankston and Williams as he said both have been very disruptive.
Williams opted out last season due to Covid-19 complications but had impressed Early during Spring ball saying he was a "tough dude and plays with a high motor." Nothing changed this past Spring as Early said he was impressed with Williams as he played half of Spring ball at the 3-tech spot before fracturing a rib but will play "significant snaps" this Fall. The Houma, Louisiana native showed off plenty of athleticism two seasons ago as he had 48 total tackles, including 7 sacks and two blocked kicks at Kilgore JC. He was named first-team Juco All-American and MVP of the Southwest Junior College Football Conference in 2019, just one season after amassing 60 total tackles, including 4.5 sacks and another two blocked kicks as well (something special teams coach Mark Scott probably noticed).
Neal has played in 14 games (with two starts) the past two seasons after transferring from Hutchinson Community College and has 15 total tackles in limited snaps. Charles-Pierre, or OCP as the coaches call him, returns with the most experience at the nose. Originally out of Quebec, Charles-Pierre committed to play for Arkansas State two years ago before changing his mind after Early and Cauthen were hired by Holgorsen. Charles-Pierre began his college career at New Mexico Military Institute where he had 30 tackles (including 5.5 for loss) in 2018 after not playing much in 2017. The knock-on Charles-Pierre is he gets winded too easily, but he has nice hands and good feet. He must get stronger though as he rarely commanded a double team last season and did not make as huge an impact as his coaches wanted, with just 21 total tackles, 8 solo, 3 for loss and 1.5 sacks in 20 career games. Via the roster it looks like he has added about 30 pounds as he is up to 375 from last year's 345 so his limited snaps may continue unless he gets his weight under control.
Atlias Bell (6-1, 280, RJr.) did not participate this Spring because of shoulder surgery and has played in just nine games over his two seasons (15 total tackles, 8 solo, 2.5 for loss) but has bulked up some 30 pounds so hopefully he can withstand the contact in the trenches with that shoulder. The New Orleans native was ranked as the 14th ranked JC defensive tackle, by 247sports, had 47 total tackles (12.5 for loss) in 11 games in 2018 for Iowa Western. We mention Chidozie Nwankwo (5-11, 293, Fr.) last among the interior linemen as he may or may not play this season due to an assault allegation. Last season the Richmond-Foster product impressed with seven starts in eight games as a true freshman as he had 11 tackles, 8 solo, and 1.5 TFL at the nose.
The best player on the defense last season was Payton Turner. Replacing the newest New Orleans Saint (and his career 25 TFL) at the 'Bandit' will be between the combination of Derek Parrish (6-2, 245, RJr.) and David Anenih (6-3, 249, Sr.). Parrish has continued to improve over his four seasons as he has always been a strong run stopper at the strongside defensive end spot but has really gotten after the quarterback last season too as he's amassed 5.5 TFL and 3.5 sacks last season among his 25 total tackles (17 solo). His athleticism really showed itself as he took a fumble 85 yards to the house in a 56-21 win against USF last season in which it could also have been ruled an interception as he stripped the QB and caught the ball in midair. After being named the fifth ranked inside linebacker in the state of Texas by Scout, the Pearland native started making a name for himself early in his career on special teams before transitioning to the strong-side defensive end spot. For his career, Parish has 42 solo tackles (84 total) over 33 games including nine starts at defensive end.
Anenih is a true speed edge rusher with legit track speed, which explains his 22 TFL and 15.5 sacks over the last three seasons (16 starts in 42 career games), despite getting off to a slow start as you would expect of a true freshman with 2 TFL and sacks each. The Arlington Mansfield-Timberview product has 69 career tackles (42 solo), five passes defensed and two interceptions as he always seems to be around the ball.
D'Anthony Jones (6-2, 270, RJr.) will probably man the strong-side defensive end spot though he has a nice combination of both speed and power that will allow him to lineup anywhere along the defensive line. Jones got off to a hot start last season before slowing down due an assortment of injuries as he played in just four games amassing nine total tackles, seven solo, and 1.5 TFL and a sack. Two seasons ago at Long Beach City College, Jones exploded for 62 total tackles, including 10.5 sacks as he was named the National Northern League's Defensive Player of the Year as well as being ranked the number six OLB by 247 sports.
Nelson Ceaser (6-3, 245, RFr.) is "flashing and making plays every practice and has a chance to be a really special player" Early said after an impressive Spring by the Mo City-Ridge Point product. Ceaser finished his career at Ridge Point with 131 career tackles including an amazing 38 for loss, 21 sacks and 7 forced fumbles, showing a real 'speed rush' element but has added 15 pounds of muscle in hopes of staying on the field on run downs. The former 4-star recruit has two tackles, including 1.5 TFL and 1.5 sacks in five career games.
Rafael Szymanski (6-4, 230, Fr.) transferred from New Mexico Military Institute and has tons of potential according to Early. He was another midterm enrollee but did not play during the Spring because of a foot fracture.
Alexander Duke (6-2, 245, RJr.) appears to have been lost in the shuffle as he has only played in 17 games over his four seasons (redshirting his true freshman campaign), while amassing just nine total tackles. The Houston-Bellaire product will help depth wise and contribute on scout teams which is not lightly glossed over by the coaching staff.
Garfield Lawrence (6-4, 240) was a late signee out of Tyler Legacy. A 3-star prospect according to 247, Lawrence signed with the Coogs over Texas after decomitting from Kansas. A long, lengthy athlete, Lawrence compiled 71 tackles last season for the Raiders, including 10 TFL, 8 sacks and 3 forced fumbles. He will not likely see much playing time but has a lot of potential as he already enters college at 240 pounds and has the frame to add a solid 30 to become a Payton Turner-like edge defender.
Coach Holgorsen has mentioned numerous times how his squad is "finally starting to look like a football team" in terms of not only depth, but how his players look, particularly the defensive line which is probably the deepest unit on the team. Holgorsen has mentioned how much their bodies have changed, bulk wise and length wise via recruiting. The length and weight will allow the defensive front to accomplish a goal Belk mentioned, "block destruction," meaning he wants his front in the backfield as much as possible. Early is also happy that the roster has "16 defensive linemen on scholarship, a first time for us since I've been here." That's down to 15 now after the transfer of Tre Williams to Arkansas (without playing a snap for UH).
Early's best combo along the line could be Hall at DT with Bankston at the nose with Parrish and Anenih on the edges. Add in Williams, Neal, OCP with possibly Bell at the 3-tech spot backing Hall inside and there's depth a-plenty. With Jones and Ceaser also adding depth at defensive end, Early looks to have a nifty 10-man rotation up front. Regardless of who starts, all will be needed to heavily contribute this season due to injuries along with keeping everyone fresh which helps productivity late in games which is often the difference between winning and losing. Stay logged into Coogfans.com as we break down each position over the next two months as next week we focus on the heart of the defense, the linebacking core.